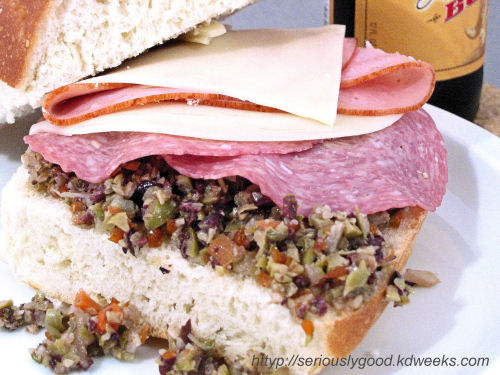 Author Notes: By most accounts the muffaletta was invented at Central Grocery in New Orleans. It has since joined the various Po' Boys as a city staple. The key to it is the olive salad, and it's an outstanding brown-bag (or picnic) choice because the sandwich gets better if made, wrapped tightly in plastic, and allowed to meld for 2 - 4 hours. - Kevin
Serves 4
Olive Salad
1

cup pimento-stuffed Spanish olives

1/2

cup pitted Kalamata olives

1/2

cup pitted Sicilian-style green olives

1/2

cup giardiniera (Italian pickled vegetables)

1/4

cup pepperoncini

1/4

cup pickled onions

1/4

cup olive oil

1

lg. clove garlic, chopped

1

lemon, juiced

1

tablespoon capers

1

tablespoon minced fresh oregano

1/4

teaspoon ground black pepper
Drain all ingredients. Place everything in a food processor and pulse until coarsely chopped. Refrigerate overnight.
Mixture will keep for six months sealed in a glass jar in the refrigerator.
Sandwich
1

loaf Italian bread, split in half and cut into quarters*

1

cup olive salad

1/4

pound sliced ham

1/4

pound sliced mortadella

1/4

pound sliced Genoa salami

1/4

pound sliced mozarella

1/4

pound sliced provolone
Spread olive salad on the bottom of each section of bread. (Note: It must be on the bottom so the bread will absorb the juices.)
Array one fourth of each remaining ingredient over the salad.
Place top slice if bread on sandwich.
For best results, wrap each sandwich tightly in plastic wrap and let it meld for a couple of hours or as long as 8 hours.
*Note: Central Grocery uses a round, rather flat loaf of bread about 8-inches in diameter and sells whole and half sandwiches (although a quarter is perfect for most people). This bread is denser than most Italian bread and I've had a sandwich that was 24 hours old (brought to me by a friend) that was perfect.
Jump to

Comments

(

1

)
Tags: Italian, muffaletta, New Orleans, Salads, Sandwiches