54
Save
If you like it, save it!
Save and organize all of the stuff you love in one place.
Got it!
If you like something…
Click the heart, it's called favoriting. Favorite the stuff you like.
Got it!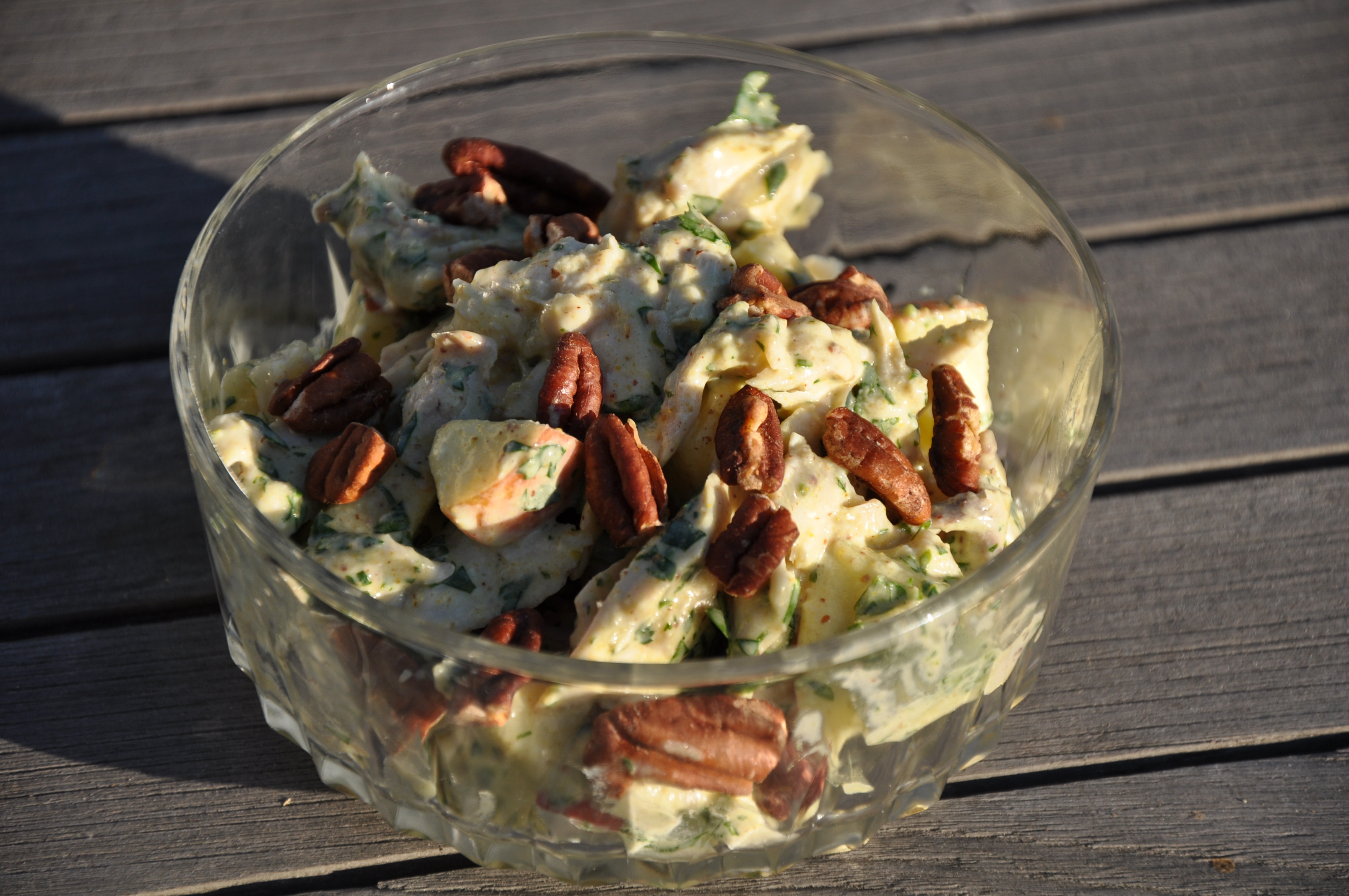 Author Notes: One of my favorite ways to use leftover chicken, or the small bits that remain after making stock, is in a light chicken salad using my own curry powder. This salad comes together quickly and tastes great. In fact, it's even better after a few hours, or the next day, making it ideal for brown bagging. Enjoy!! - AntoniaJames
Serves 2
Chicken Salad
1 medium apple (your favorite variety for eating out of hand)

Juice of one small lime

1 tablespoon mayonnaise

2 tablespoons plain low-fat yogurt

1 teaspoon fruit-based or stone ground mustard (or Dijon) (See note below.)

Salt

½ teaspoon curry powder (or more to taste)

1/4 teaspoon finely grated ginger (optional) (See note below.)

1 ½ cup cooked chicken, in bite size pieces

¼ cup chopped celery

1 tablespoon finely chopped cilantro

1 tablespoon finely chopped celery leaves (I use Chinese celery.)

Freshly ground pepper to taste

¼ cup coarsely chopped pecans, walnuts or almonds (preferably toasted)
Quarter, core and coarsely chop the apple. (Don't peel it.) Toss it with the lime juice.
Add the mayonnaise, yogurt, mustard, salt, curry powder and grated fresh ginger, if using. Stir well to combine.
Add the chicken, the celery and the chopped herbs. Toss lightly.
Test for salt and add more, if necessary. Add pepper to taste and toss again.
Before eating, add the nuts and toss one more time. If taking this for lunch later, put the nuts on top, then mix them in before eating, if you want them to remain as crisp as possible. (They'll get a bit soggy if they sit in the dressing for more than hour or two.)
Enjoy!!
N.B. I've indicated that the fresh ginger is optional because it actually adds a bit of heat, which some people like, but others really don't. Add it or not, to taste.
About the mustard: I like to use my own Apple Mustard, or pear Mostarda Mantovana (which I make often during pear season!) in this salad.
Curry Powder
2 teaspoons cumin seed

2 teaspoons coriander seeds

¼ teaspoon cardamom seeds

1 small stick of cinnamon

1 teaspoon yellow mustard seeds

5 whole cloves

½ teaspoon turmeric

Ground cayenne to taste (optional)
Toast the cumin, coriander and cardamom lightly in a small skillet just until fragrant, shaking the pan frequently. The minute they seem to be turning a darker color, remove all of the seeds right away, lest they burn.
Break the cinnamon stick into about five or six pieces. Very lightly toast it in the skillet, for no more than a minute or so on medium heat.
Grind the toasted seeds, the cinnamon stick, the mustard seeds and the cloves to a fine powder. (Check the grinder once or twice to dislodge any cinnamon pieces that may have stuck to the blade.)
Put into a jar and add the turmeric and the cayenne, if using. Put on the lid and shake well to combine. Use within a few weeks.
Enjoy!!
Tags: curry, curry, leftovers, leftovers, leftovers, light, picnic, serves a crowd, tasty