Butternut Squash & Beef Stew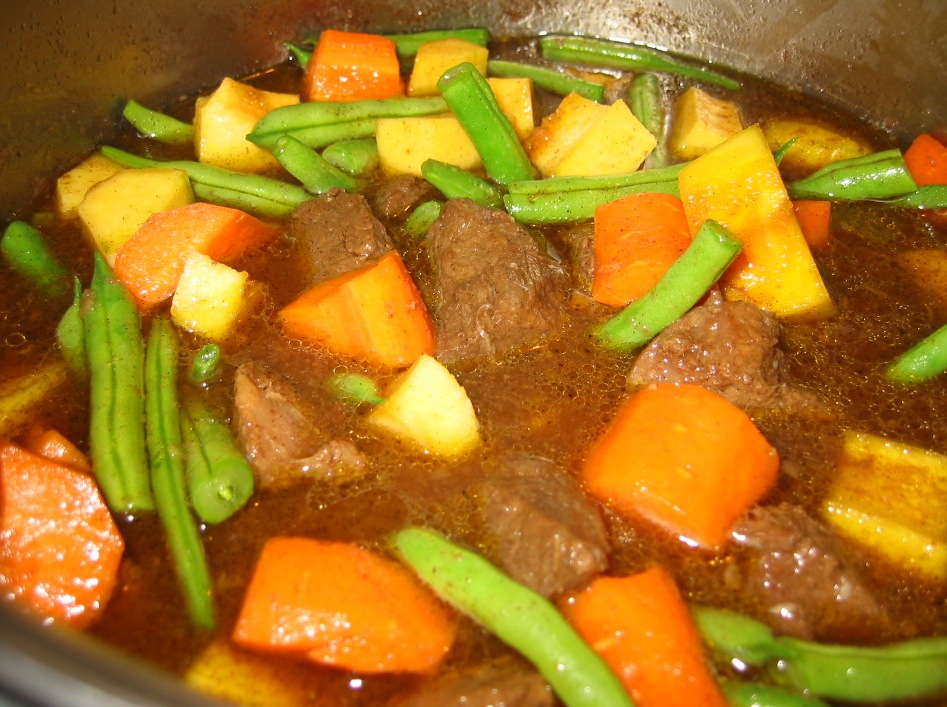 Author Notes: At the time of year when cool, crisp air has set in, this recipe will help warm your home and family. The spices compliment the squash, as well as the beef and the aroma will fill your kitchen with fall flavors. I like to serve this over brown rice and a dollop of Greek yogurt. - lapadia
Serves 4-6, depending on serving size
2-1/2 cups cubed butternut squash

2 pounds beef stew meat

Flour for coating the meat (I like to use Wondra)

1/2 cup olive oil – use 3 tablespoons for each layer of meat to be browned

3/4 cups minced onion

1 teaspoon cinnamon

1 teaspoon minced ginger

1/2 teaspoon ground cardamom

1/4 teaspoon clove

1/4 teaspoon nutmeg

1/2 vanilla bean, split and scraped

Pinch of cayenne pepper

2 cups beef broth

Optional - 1 cup misc. garden vegetables

1-1/2 tablespoon cornstarch

3 tablespoons water
Dredge meat with flour and brown in a Dutch oven.
Brown 1 layer of meat at a time, this usually takes 2 (maybe 3) times. Take meat out with a slotted spoon, set aside.
Pour off all but 2 tablespoons of the fat remaining in the Dutch oven. Add the minced onion and sauté until soft.
Add the meat back and all the spices; mix well.
Add beef broth to the pot; simmer covered until meat is close to the tender stage, about 1 hour maybe a little more.
Add the squash and vegetables (optional); simmer covered until tender, about 1 hour.
At the point the meat, squash and vegetables (optional) are completely tender, dissolve the cornstarch in water. Add to the stew. Stir until thickened.
* Recipe is adapted from "Too many Tomatoes, Squash, Beans, and Other Good Things".
Jump to

Comments

(

10

)