Orecchiette with Roasted Butternut Squash, Kale, and Caramelized Red Onion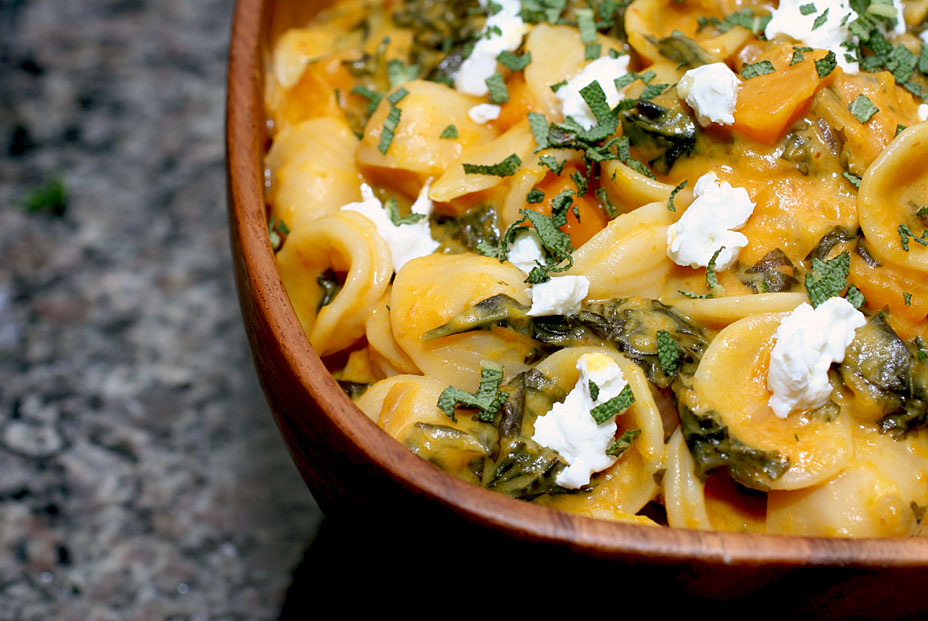 Author Notes: This recipe is for the butternut squash lover! It was inspired by a pasta dish that I had at an Italian restaurant in Charlottesville (which is outstanding if you are ever in the area - Tavola). Their version had less butternut squash and a little more cream. I love butternut squash but if you don't have the same mild obsession as I do, only roast the squash and add it at the very end so it retains it shape. I love this dish both ways! - brooke's kitchen
Serves 4
1

large butternut squash, diced into small squares

4

tablespoons olive oil, divided

1

red onion, sliced thinly

1

bunch kale

1/2

pound orecchiette

1/2

cup white wine

2

cups chicken broth

1/4

teaspoon nutmeg

pinches cayenne pepper

1

ounce goat cheese (optional)

1/2

cup heavy cream

1

tablespoon sage

parmesan cheese (to serve)
Preheat oven to 425 degrees. Toss all but 1 cup of butternut squash with 1 tablespoon olive oil, salt, pepper, pinch of cayenne pepper, and nutmeg. Roast until butternut squash are tender and caramelized, about 30 minutes. Set aside.
Heat 1 tablespoon olive oil in a medium saucepan over low heat. Cook sliced red onions until caramelized, about 30 minutes. Set aside.
Heat a pot of water over high heat until boiling. Salt water generously. Cook orecchiette according to package instructions, until al dente.
Meanwhile, heat one tablespoon olive oil in a heavy pan over medium-high heat. Cook the remaining cup of butternut squash for approximately 3 minutes. Add garlic and cook for another minute. Add 1/2 cup chicken broth and cook until broth is almost completely absorbed.
Remove middle stem from kale and roughly chop. Add kale to butternut squash and stir until kale has softened. Add caramelized red onions.
Add white wine and cook for 2 minutes. Add remaining chicken broth and reduce, about 10 minutes.
Turn heat to low and add heavy cream. When pasta is al dente, add it to the pan with the sauce. Add roasted butternut squash.
Loosen sauce with pasta water if needed. Sprinkle with goat cheese (optional), parmesan cheese, and sage.
Jump to

Comments

(

2

)
Tags: butternut squash, pasta, savory, Vegetarian, winter