Poached Egg Soup (Changua con Huevo)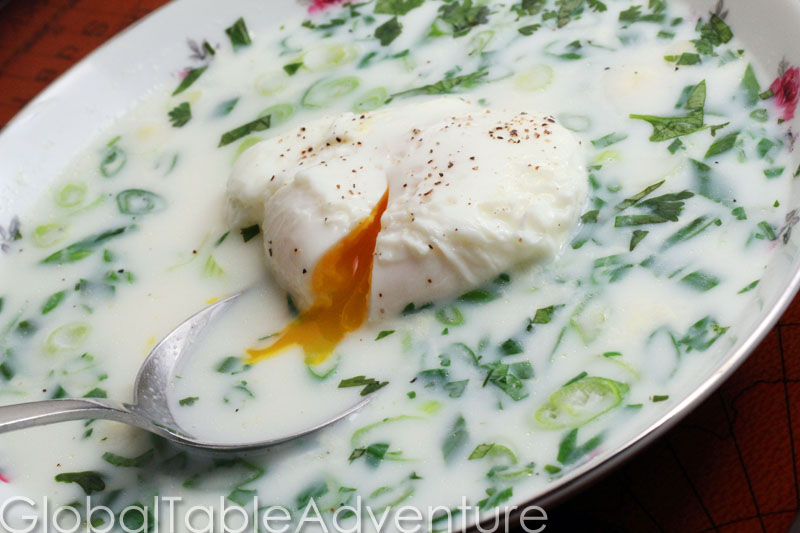 Author Notes: All over the world people rely on eggs to stretch tight budgets. Changua con Huevo, our Colombian inspired poached egg soup, is big on flavor, even while being kind to the pocket book.

You can serve it for an elegant holiday brunch or a light dinner - the light broth is wonderful with a hunk of bread. Your guests will be warmed by a delicate poached egg, swimming in a simple broth seasoned with sliced green onion and cilantro. A lovely contrast of textures and bright, fresh flavor. Be sure to serve it with plenty of toasted, crusty bread. THE BEST PART? You'll be in and out of the kitchen in fifteen minutes or less.

HOST/HOSTESS TIP: If you're making this for a large group, the poached eggs can be made ahead and stored in ice water. Just reheat in the broth prior to serving! - Sasha @ GlobalTableAdventure - Sasha (Global Table Adventure)
Food52 Review: I admit it: I was "hovering," waiting, waiting, waiting for the list of EP candidates to post. I rapidly scrolled down the list, spotted this, and jumped on it. It had me from the extremely sensual photo. This soup is one of those creations where the whole is much, much more than the sum of its parts. Simple to prepare, certainly, but it is deceptively so. There is a complexity to it in its flavors -- the surprise of the cilantro, the amazing textures, the crunch of the green onions, the lovely blend of milk (true confession -- I used half milk/half cream) and the stock, and that poached egg, oh my! Such profound comfort on many levels. Sasha@GlobalTableAdventure should call this Soup for a Queen, because you will feel like one when you treat yourself to it. - boulangere - boulangere
Serves 4
4

cups broth (vegetable or chicken)

2

cups milk

4

eggs

3

green onions, sliced

1

sprig Cilantro, chopped

salt

pepper
Add stock and milk to a large pot over medium heat. Heat until almost simmering. Meanwhile, divide the green onion and cilantro between 4 bowls (to taste).
When a few bubbles barely break through the surface of the hot liquid, you are ready to poach the eggs. Gently add the eggs to the liquid and cook for 2-4 minutes, depending how runny you like your egg yolk. You can lift the egg up with a slotted spoon and gently jiggle it to see how runny it is. Slip it back into the broth if you think it needs more time.
NOTE: Never let the water boil or bubble quickly or you'll get shredded shards of egg all over the place. In this recipe, the cooking liquid is opaque, thanks to the milk. Since you won't be able to see the eggs, very gently stir with your spoon until you feel slight resistance. That is an egg. Pick it up…
To assemble the soup, place one poached egg in each bowl, on top of the green onions and cilantro. Ladle broth over the top. Sprinkle with plenty of salt and cracked pepper. Serve immediately.
IF PREPARING THE EGGS AHEAD: Poach the eggs in water, instead of the broth/milk mixture. When cooked to desired doneness (about 3-4 minutes), remove and place in ice water. Store in refrigerator until meal time. Right before serving, slip the poached eggs in the hot broth to reheat. Just for one minute. Then continue with step 4 above.
Jump to

Comments

(

13

)