Sweet and Spicy Pretzel and Nut Mix
18
Save
If you like it, save it!
Save and organize all of the stuff you love in one place.
Got it!
If you like something…
Click the heart, it's called favoriting. Favorite the stuff you like.
Got it!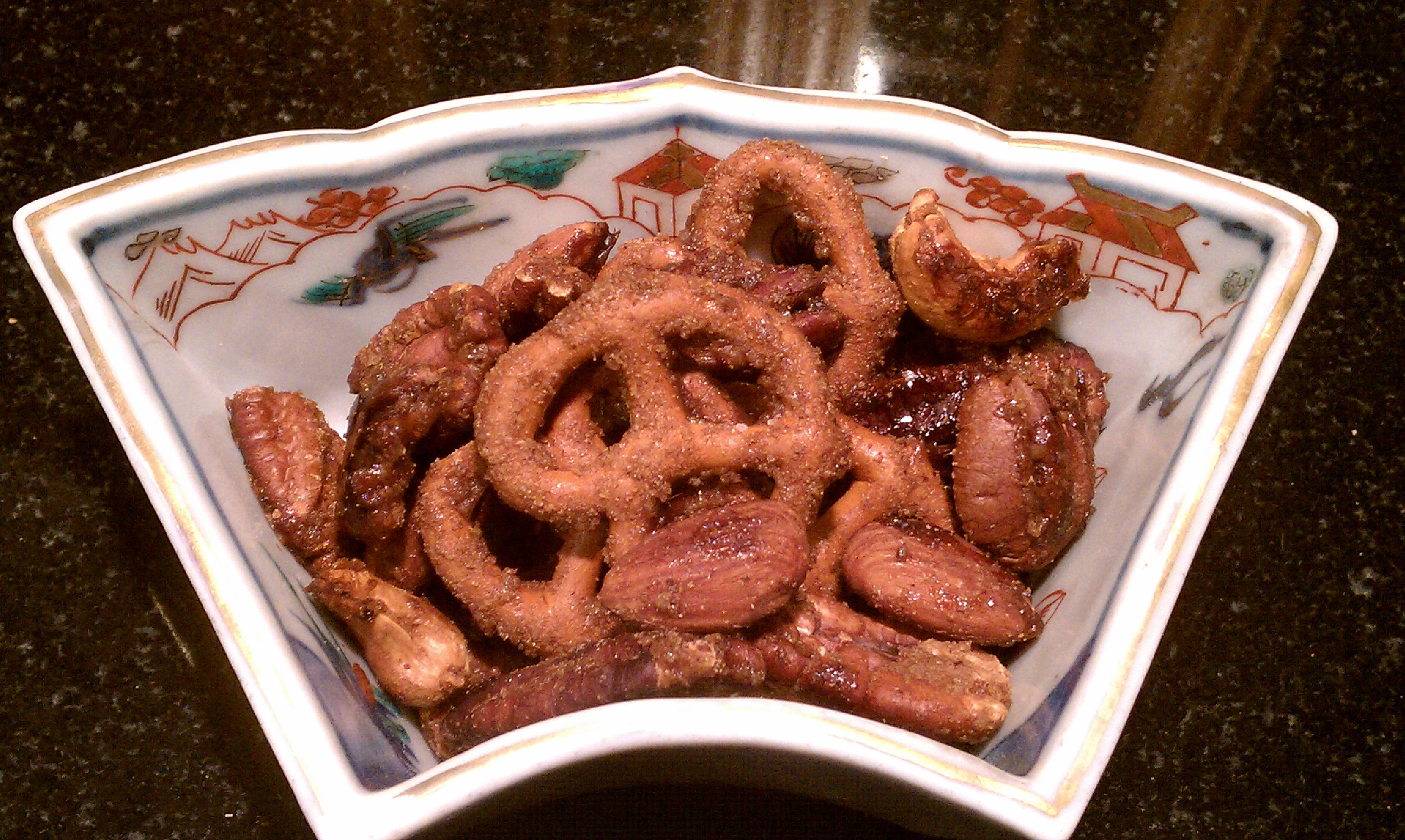 Author Notes: For his holiday party last year, my husband needed an hors d'oeuvre or snack to bring to his holiday party at work. We both love nuts--especially when they're roasted with sweet and hot spices--so I adapted this recipe from David Lebovitz. I changed the spice mix. The chocolate gives it some depth, and the ginger and cayenne add sweet heat. The great thing about this recipe is that you can make a ton of it. And the not great thing--you won't be able to stop eating it. - drbabs
Makes about 8 cups
4

cups large raw nuts (I used a combination of pecans, almonds and cashews)

2

tablespoons butter, melted

1/3

cup dark brown sugar

1/2

teaspoon cinnamon

1

teaspoon allspice

1

teaspoon ground cloves

1

teaspoon ground ginger

1

teaspoon cayenne or aleppo pepper

1

tablespoon unsweetened cocoa powder

3

tablespoons maple syrup

2

teaspoons kosher salt

4

cups unsalted pretzel twists
Heat the oven to 350. Line a large cookie sheet with foil or parchment. Spread the nuts in an even layer and bake for about 10 minutes, turning the cookie sheet and stirring halfway through, just till nuts are lightly roasted and beginning to smell fragrant.
While the nuts are toasting, place the brown sugar, spices (not the salt), maple syrup and melted butter into a large bowl and stir together. Pour in the warm nuts and stir till coated.
Add in the pretzels and salt and stir till thoroughly blended and coated, taking care not to break up pretzels. Spread the mixture onto the lined cookie sheet. Bake for 12-15 minutes, stirring twice during baking. Watch them carefully so they don't burn.
Remove from the oven and cool completely. Using tongs, move the pretzels to a cooling rack so that they pretzels and nuts cool separately.
Let everything cool completely before storing it. The snack mix will stay fresh for about a week when stored in an airtight container.
Jump to

Comments

(

4

)
Tags: gift, Holidays, sweet and savory