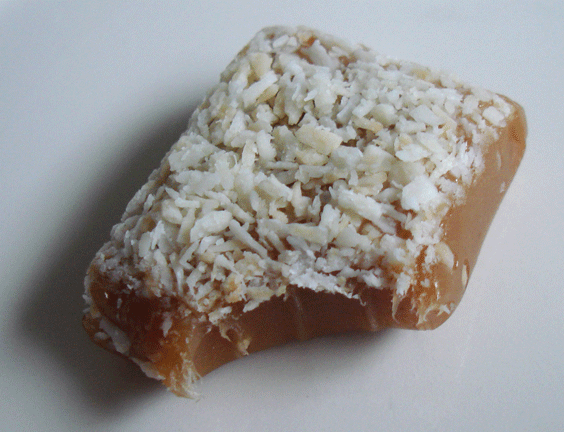 Author Notes: I wanted to make a coconut milk based caramel with a distinct coconut flavor. I searched for a recipe and found an interesting vegan one: http://dicedtomato.blogspot.com/2010/01/updated-coconut-milk-caramels.html. I wanted to use butter (since I had purchased 4 lbs of unsalted butter from Costco for my caramel making extravaganza.) I also wanted to use less corn syrup & increase the coconut factor. I decided to top the caramels with lightly toasted unsweetened flaked coconut, and add some vanilla and coconut extract. - hardlikearmour
Food52 Review: These caramels are delicious. They're velvety with a perfectly balanced coconut flavor, distinct but not overpowering. The instructions were clear and the caramels were easy to make. The toasted coconut added a welcomed crunch to a well balanced bite. I will be making these again and again, and many family members may be getting some for Christmas!


- Marcal
Makes about 100 caramels (9- by 13-inch pan)
1

13.5 oz can coconut milk (not lite, I used Chaokoh brand)

14

tablespoons unsalted butter (or Earth Balance vegan butter replacement)

1/2

teaspoon kosher salt (Diamond brand preferred)

1/2

cup water

1/4

teaspoon cream of tartar

3

cups sugar

1/2

cup light corn syrup

1

teaspoon vanilla extract

1

teaspoon coconut extract (or replace with an additional teaspoon vanilla extract)

1

cup lightly toasted unsweetened shredded coconut
Line a 9- by 13-inch baking pan with parchment paper, so the paper is only going up 2 opposite sides (essentially forming a sling to remove the caramel with later). Spray with neutral flavored cooking spray.
Combine coconut milk, butter, and salt in a 1 to 2 quart sauce pan. Heat over medium low heat while preparing sugar mixture.
Dissolve the cream of tartar in the water in a 6-quart stock pot. Add in the sugar and corn syrup, and bring to a boil over medium-high heat swirling pan occasionally to dissolve the sugar. Once sugar is dissolved and mixture is boiling you will need to keep a pretty close eye on the pan. If you are using a candy thermometer you will notice the mixture hovers near the boiling point for a while then starts to climb fairly rapidly. As the mixture approaches 310 degrees F, you will want to start swirling it fairly frequently as caramelization is imminent. Once caramel color is to your liking remove pan from heat. The pan will retain some heat so I like to remove the caramelized sugar mixture from the heat at about 325-330º F, or when it is a golden brown color.
Slowly pour the warm coconut mixture into the the sugar mixture. It will boil violently and create hot steam, so use caution. Stir with a wooden spoon until sugar syrup has all dissolved into the cream.
Return caramel mixture to medium-high heat and bring the mixture up to 244-245º F, or lower end of firm ball stage (if you drop about a 1/2 teaspoon of the mixture into a bowl of refrigerator cold water it should form a ball, that is not soft but still malleable.) Stir often, scraping the bottom of the pan. As you get close to your target temperature you may want to turn the heat down to low if you are using a gas stove, or completely off if you are using an electric stove to slow things down. Your caramels can go from too soft to tooth breaking within a short time frame. You will also want to stir close to continuously as you get close to your target temp to prevent burning.
Remove from heat and quickly stir in the vanilla and coconut extracts. Pour caramel mixture into prepared 9- by 13-inch pan. Immediately sprinkle the surface of the caramel with an even layer of the toasted coconut; lightly press coconut into the surface of the caramel using a pancake turner to help get maximum adherence. Allow to cool at room temperature until barely warm to the touch. Use parchment paper to remove from the pan, then cut caramel into 1-inch squares, or whatever size pieces you prefer. I find the caramels easier to cut if they are slightly warm, and I spray my knife with a little bit of cooking spray. Wrap individually with waxed paper, and store in an airtight container.
Note: Caramel making is a bit trial-and-error based on humidity and other factors. If your caramels come out too soft, modify the final temperature up 1-4 degrees. If they come out too hard, modify down. This recipe scales down by half to an 8-inch square pan if you want to make a smaller amount or feel like experimenting!