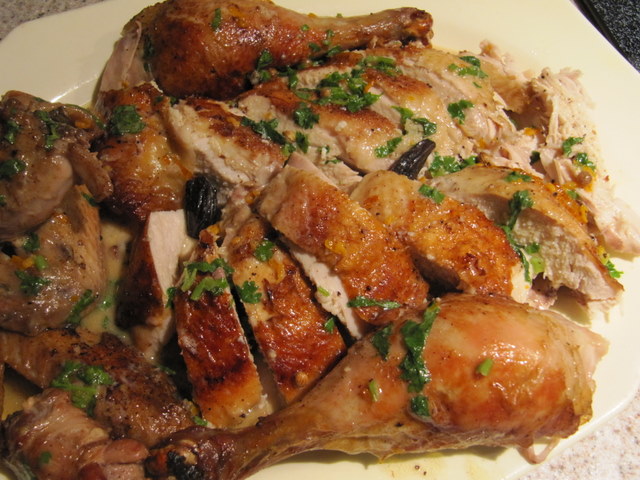 Author Notes: I have been wooed by black cardamom. While both types are uniquely aromatic, black cardamom pods have a heady, smoky quality that is difficult to describe or forget. I thought that braising would capture its essence. Jamie Oliver has an amazing chicken recipe that involves cooking a whole chicken in a mixture of milk, lemon zest, garlic and sage leaves. The resulting chicken is incredibly moist and flavorful. Changing up the ingredients, and keeping the lid on for the first 45 minutes concentrates the smoky black cardamom, the subtly spiced ginger and fragrant orange into a surprisingly delicately flavored chicken that is moist and delicious. Cream rounds out the sauce, while cilantro adds fresh brightness. - gingerroot
Serves 4
1

3-31/2 lb whole chicken, preferably organic

6

tablespoons unsalted butter

Extra virgin olive oil

sea salt

fresh ground black pepper

1

2-inch piece ginger, peeled, cut into four pieces, smashed with handle of knife

4

black cardamom pods

1

teaspoon whole coriander seeds

Zest of 1 orange

2 1/4

cups cups chicken stock

1/3

cup heavy cream

1/3

cup chopped cilantro, leaves and stems
Preheat oven to 375 degrees. Adjust oven rack to the lowest position (removing one if necessary).
Rinse chicken, removing giblets and neck; reserve giblets for another use. Pat chicken and neck dry with a paper towel and season with sea salt and freshly ground black pepper. Trim excess fat if necessary (around neck cavity especially).
Over medium-high heat, melt butter and a glug of olive oil in a cast iron enamel Dutch oven (preferably) just slightly bigger than the chicken. Once foam subsides, add chicken and neck and carefully cook on all sides until golden.
Transfer chicken to a plate. Carefully pour off all but 1 tablespoon of fat. Return chicken into pot, along with ginger, black cardamom, coriander, orange zest and chicken stock. Cover pot with lid and transfer to the oven for 45 minutes, basting chicken once halfway through. After 45 minutes, remove lid and cook chicken for 25-35 minutes more, until a meat thermometer registers an internal temperature of 165 degrees.
Remove from oven. Take chicken out and allow to rest 10-15 minutes before carving. Meanwhile, place Dutch oven on stovetop and whisk in cream and cilantro. For a thicker sauce, make a slurry with a tablespoon or two of cornstarch with an equal amount of the cream in a small bowl and whisk into sauce. If you are going the cornstarch route, you will need to turn the stove on (low-medium heat) to incorporate the slurry.
Carve chicken and transfer to a serving platter. Generously spoon sauce over chicken pieces and serve. Enjoy! Note: Remaining sauce can be transferred to a gravy boat and enjoyed over rice or mashed potatoes.
Jump to

Comments

(

48

)