Lemon Roasted Potatoes with Kalamatas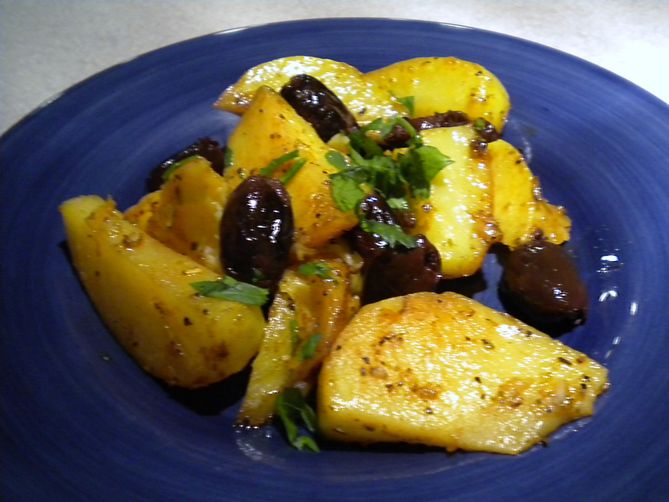 Author Notes: I've been making these potatoes for years and love to serve them with slow roasted Greek chicken. The olives mellow out with the long roasting... - inpatskitchen - inpatskitchen
Food52 Review: This is such a fabulous recipe that I plan to commit it to memory and to keep pitted kalamata olives on hand at all times. These roasted potatoes are so simple to make but the amazing flavor (garlic + lemon + kalamatas) will haunt you until every last melting potato wedge has been devoured. They would pair well with roasted chicken, broiled fish, or grilled lamb chops. Definitely an Editors' Pick! - AppleAnnie
Serves 4 as a side
5

medium Yukon Gold potatoes, peeled and cut into thick wedges

1/2

cup water ( plus more if needed)

1/4

cup extra virgin olive oil

4

minced garlic cloves

1/2

teaspoon salt

1/2

teaspoon black pepper

1/2

teaspoon dried oregano

1/2

teaspoon sweet paprika

1

lemon, juiced and zested

A 1/2 cup kalamata olives ( about 25 -30) pitted

1/2

cup roughly chopped parsley (optional)
Thoroughly combine all ingredients and layer them evenly in a 9 x 13 inch baking pan.
Roast at 400F for 30 minutes. If at this point the potatoes seem dry, add another 1/2 cup of water.
Turn the potatoes and roast for 30 more minutes. Serve sprinkled with the parsley, if desired.
Jump to

Comments

(

33

)