Fields of Green Tarte Tatin
27
Save
If you like it, save it!
Save and organize all of the stuff you love in one place.
Got it!
If you like something…
Click the heart, it's called favoriting. Favorite the stuff you like.
Got it!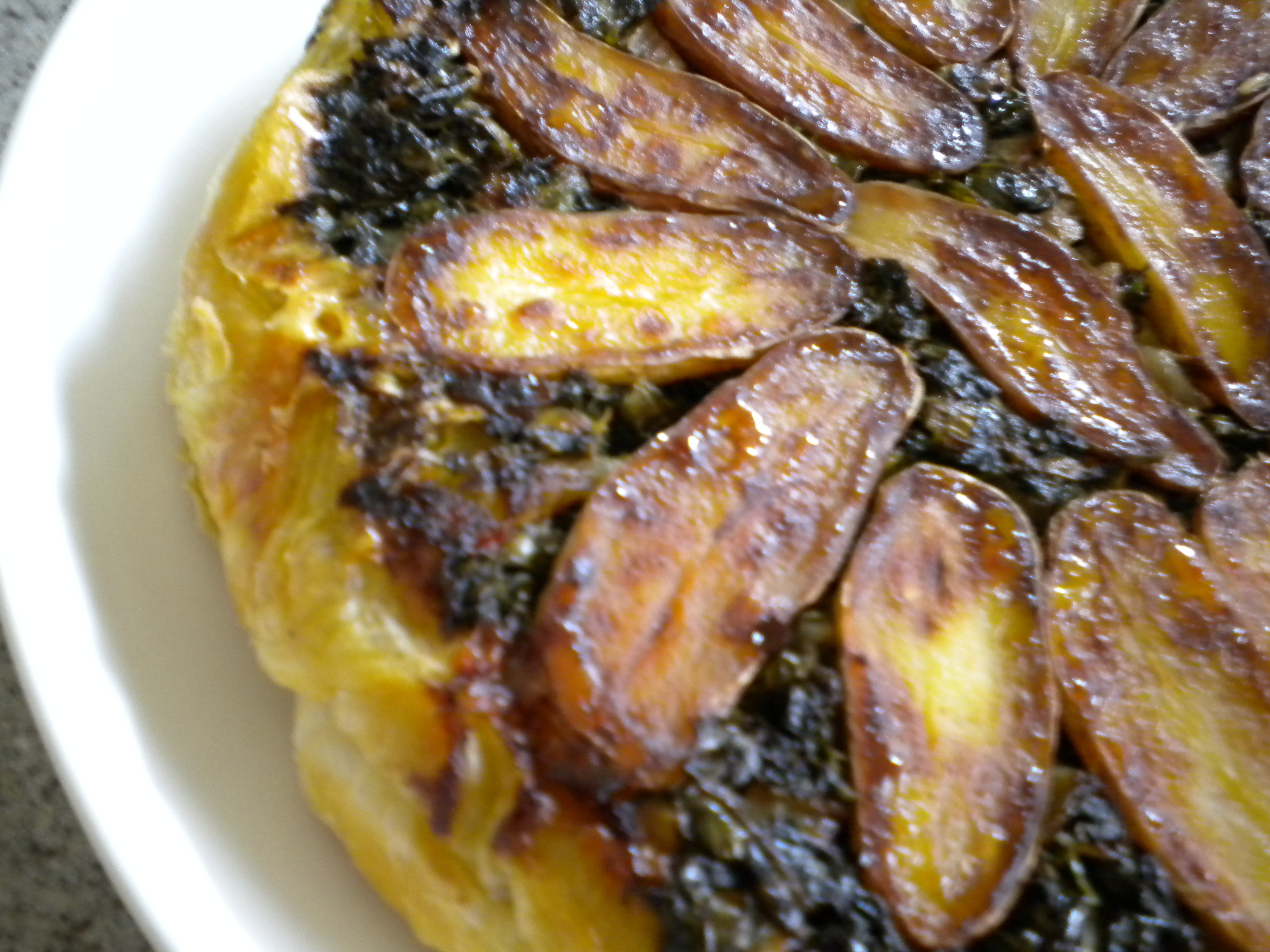 Author Notes: The first time I made a tart tatin was this past summer with a from Grand Rapids, MI. We had both seen the sweet Tomato Tarte Tatin recipe featured in the August 2010 Bon Appetit magazine, and adapted it into an earthy and savory version that uses an assortment of greens. - inpatskitchen
Food52 Review: WHO: Inpatskitchen is a retired teacher and paralegal from Troy, Michigan.
WHAT: A cheesy savory tart filled with buttered potatoes and leafy greens.
HOW: In a 10-inch sauté pan, brown halved fingerling potatoes in olive oil and butter. Cover them evenly with sautéd leek, fennel, kale, and escarole seasoned with salt and red pepper flakes. Sprinkle with Swiss cheese and cover with a puff pastry to bake until golden. Serve the tart inverted on a plate to display the potatoes.
WHY WE LOVE IT: If the only tarte tatins you've enjoyed have contained caramel and apples, this vegetable-laden take will make you wonder why you haven't found a place for savory tarts in your dinner rotation. The greens contrast the not-too-creamy cheese with a nutty bite from the fennel, while the potatoes and pastry provide a crunchy finish. Enjoy it as is, or drape some prosciutto over top for a truly decadent side dish. - The Editors
Makes one 10-inch tart (about 6 side servings)
For the potatoes:
1

tablespoon butter

1

teaspoon olive oil

8

fingerling potatoes, halved lengthwise
For the greens and assembly:
1/2

cup diced leek

1/2

cup diced fennel bulb (also known as anise bulb)

1

tablespoon olive oil

3

cups chopped kale

3

cups chopped escarole

1

teaspoon salt

1/2

teaspoon black pepper

A few tablespoons of water, as needed

1/4

teaspoon crushed dried red pepper flakes

1

cup shredded Swiss cheese

1

sheet puff pastry dough, thawed
Preheat the oven to 425º F.
In a heavy 10-inch sauté pan, melt the butter and olive oil. Place the halved potatoes in the pan cut-side down. Cover and cook over low heat for 10 to 15 minutes, or until the potatoes are tender and lightly browned. Let cool and arrange them in a pretty pattern in the pan. Set aside.
In a separate sauté pan, prepare the greens for the tart. Sauté the diced leek and fennel bulb in olive oil for about 2 minutes.
Add the kale, escarole, salt, black pepper, and red pepper flakes. Add a few tablespoons of water if the greens seem dry. Cover and let them steam for about 8 minutes. Let cool.
To assemble the tarte, cover the sautéd potatoes with the greens and sprinkle evenly with the Swiss cheese.
Roll and cut the puff pastry to fit over the pan, trimming the corners. Tuck any excess pastry into the pan with a knife.
Bake in the oven for 20 to 25 minutes, until golden brown. Let cool for 10 to 15 minutes. Take a knife around the edges to loosen the tart, then invert onto a serving platter. Serve warm or at room temperature.
Jump to

Comments

(

4

)