Smoky Black Bean Chili with Butternut Squash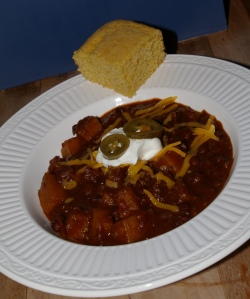 Author Notes: This winter has been unusually cold and snowy. We've started to feel like it will never end. Our beloved vegetable garden is buried deep in a snowy tomb making it hard to picture that we will ever be able to plant anything but icicles there anytime soon. And by soon, I mean in the next six months.

I am a New Englander. I expect winter to be long, but I don't have to like it. I do, however, have to try to invent ways to help keep us warm, fed, and not quite so frustrated with the longest indoor season. So, when my husband pointed out a new chili recipe in the February issue of Bon Appetit, I was all eyes. After I read the recipe, I felt a pang of guilt as I considered cheating on our beloved 1840 Farm Chili, but desperate seasons sometimes call for desperate measures.

Then my husband had to raise the stakes a little further and point out a recipe in the January/February issue of Men's Health for a chili puree from Chef Tim Love. Off I went to the pantry. I was in luck. I actually had all of the ingredients to make my own version of this recipe. I also love a challenge, so figuring out a way to modify these recipes and use them together seemed like a good way to spend my morning. Especially if it meant that there would be chili for dinner.

Tim Love's original recipe for chili puree calls for dried chilies. Since I didn't have them on hand, I substituted chipotle chilies in adobo which I always have in my pantry. I also added a little instant espresso powder to the mix to give the coffee flavor a boost.

- 1840 Farm
Serves 12
Smoky Chili Puree
8

ounces brewed coffee

3

chipotle chilies in adobo

4

tablespoons chili powder

1

tablespoon instant espresso powder
Place all ingredients in a blender or food processor. Puree until smooth. Set aside.
Smoky Black Bean Chili with Butternut Squash
2

tablespoons olive oil

2

onions, chopped

8

cloves garlic, minced

1

recipe smoky chili puree

56

ounces diced tomatoes in puree

1

pound dry black beans, rinsed

2

teaspoons dried oregano

10

cups water

2

pounds butternut squash, peeled and cubed

1/2

cup bulgur wheat

cheddar cheese, shredded

sour cream

pickled jalapeno pepper slices
In large stockpot, heat olive oil over medium heat. Add onions and saute for 8 to 10 minutes until translucent. Add garlic and cook 1-2 minutes until fragrant, stirring constantly. Add chili paste and stir to combine. Add tomatoes, beans, oregano, and water and stir to combine. Bring to a boil. Reduce heat and simmer with pot lid slightly ajar for 2 hours or until beans are tender.
Add butternut squash and bulgur wheat. Return mixture to a simmer and cook without lid for 30-45 minutes until squash is tender. Season to taste with salt and black pepper. Garnish with cheese, sour cream, and jalapeno and serve.
Jump to

Comments

(

0

)
Tags: chili, spicy, Vegetarian