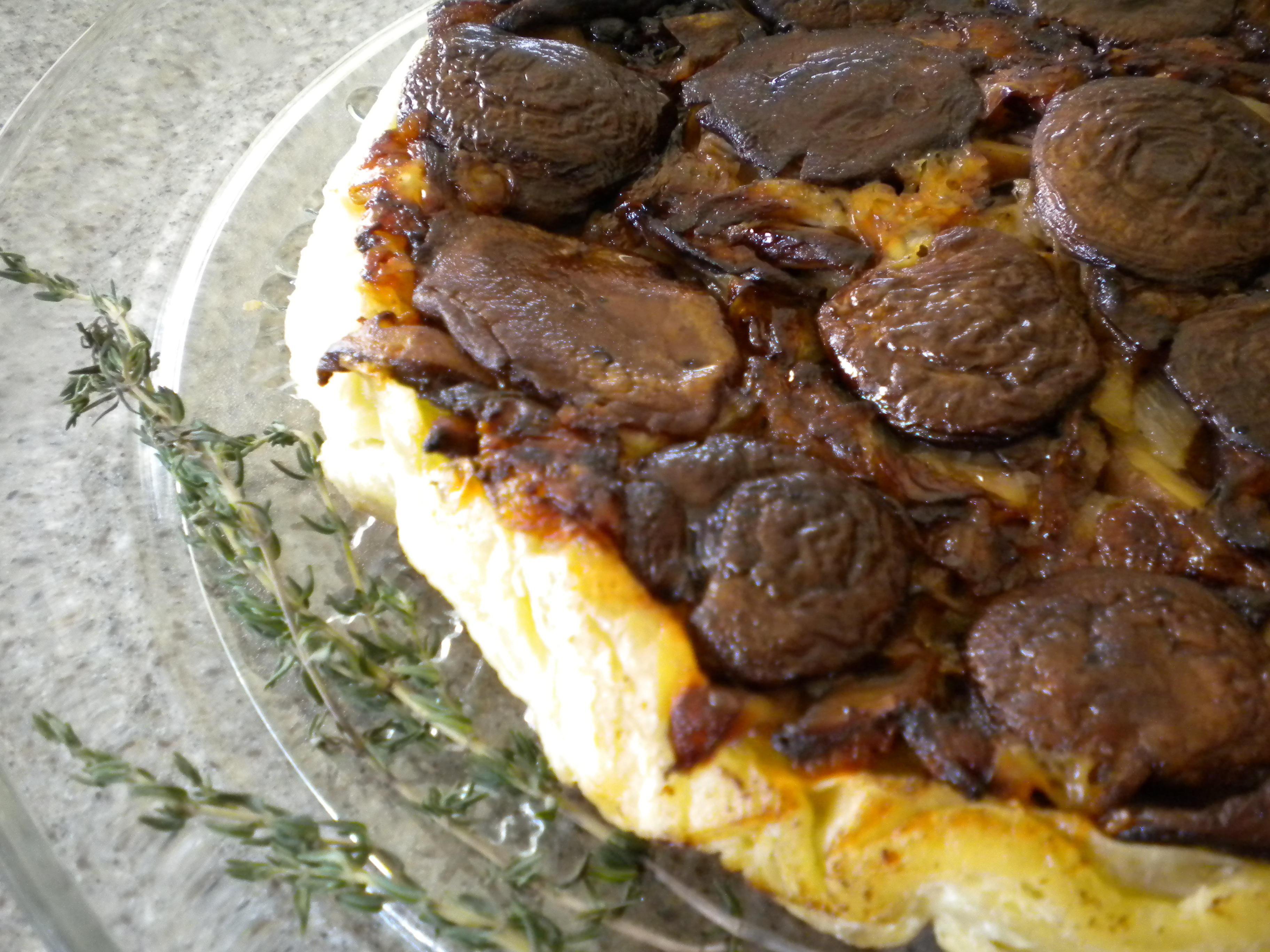 Author Notes: I've been enjoying making tarte tatin for the last few months - tomato, apple, field of greens....and since I love puff pastry and mushrooms, I tried this one. The onions and shitakes caramelize during the baking giving this upside down tart a rich, earthy flavor. - inpatskitchen
Serves 6 as an appetizer, 4 for a light lunch
For the sliced shitakes and onions
3

tablespoons butter

1

medium onion, sliced thinly

8

ounces sliced shitake mushroom caps

1/2

teaspoon salt

1/2

teaspoon black pepper

1

tablespoon fresh thyme leaves
In a large saute pan, saute the onions in the butter until just softened. Add the sliced mushrooms and salt and pepper and continue to saute until the onions and mushrooms just begin to brown.
Stir in the thyme, remove from the heat and set aside to cool.
For the shitake caps and assembly
14 to 16

medium shitakes ( about 4 ounces), stems removed

1

teaspoon butter

Mushroom onion mixture from part one of the recipe

1

cup shredded fontina

1

sheet from a 17.3 ounce package of puff pastry, thawed
In a heavy 10 inch saute pan, melt the butter and brush it over the bottom of the pan. Set the shitakes, cap side down, and cook over medium heat for just under a minute.
Evenly distribute the mushroom-onion mixture over the caps.
Evenly distribute the fontina over the mushroom mixture.
Place the sheet of puff pastry over the pan and trim the corners. Tuck in the excess pastry.
Bake at 425F for 20 minutes. Let cool for about 10 minutes and invert onto a plate using a table knife to loosen the edges if necessary.
Jump to

Comments

(

0

)