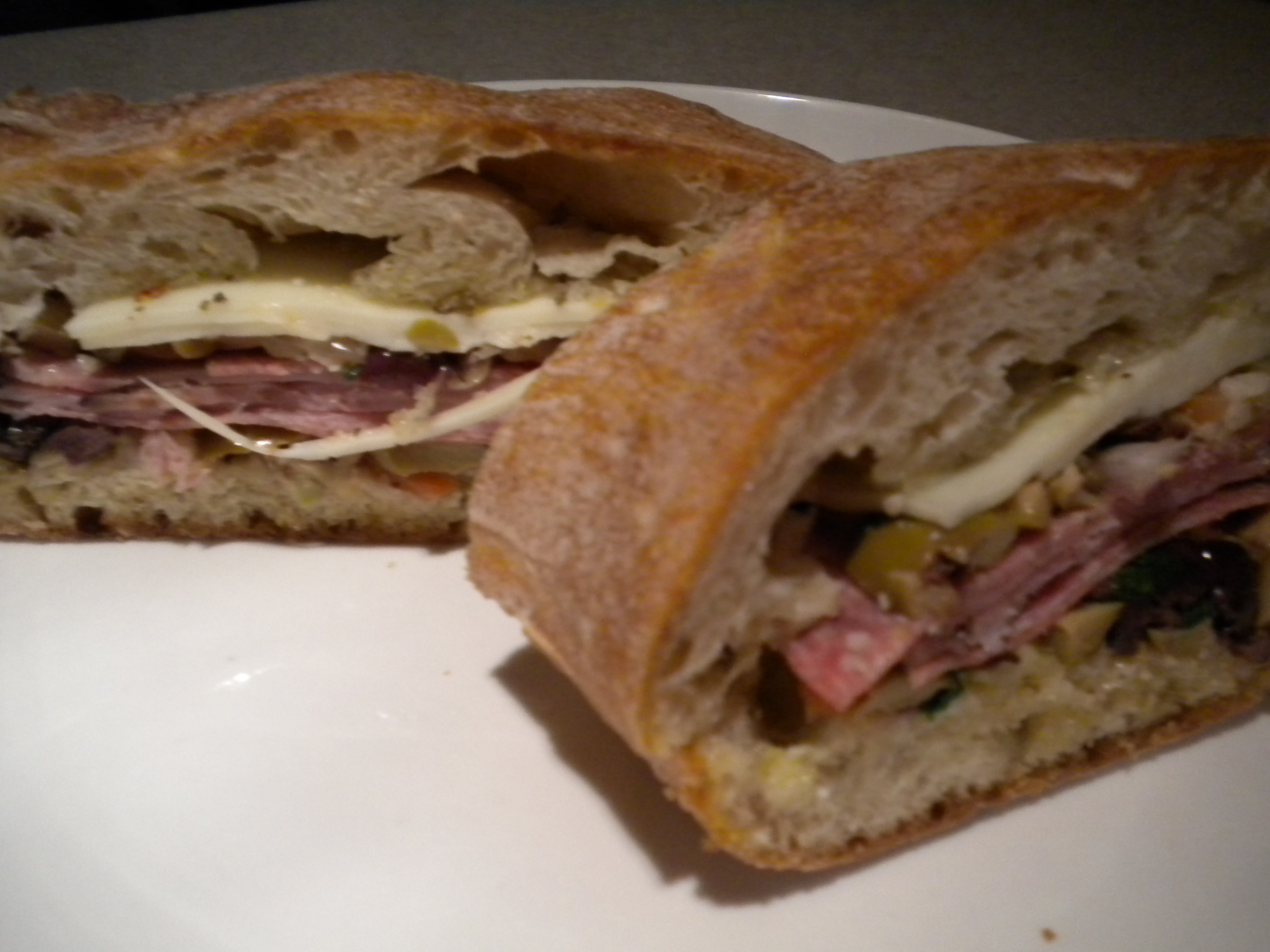 Author Notes: This is one of THE sandwiches of New Orleans. It's meant to be made ahead of time and enjoyed at your leisure.Traditionally served in a round loaf on sourdough or Italian bread, I chose ciabatta for its ease in slicing. This sandwich travels well and can be served cold or at room temperature. - inpatskitchen
Food52 Review: InPatsKitchen's NOLA Muffaletta drew me in right away with its vibrant olive salad, which is the backbone of these jam-packed sandwiches. The olive salad is vibrant in color and flavor, thanks to the addition of capers, giardinera, and red onion. The recipe made far more than I needed for my muffaletta, but I put it to good use in both pasta and potato salads, creating a trio of great road trip foods! The sandwich is by far the best option, of course: the ciabatta bread soaked up the juices of the salad and the flavors melded to create a wonderful, easy-to-pack, portable lunch!? - Brianne Du Clos
Serves 4 to 6
For the olive salad
1 1/2

cups Kalamata olives, finely chopped

1 1/2

cups pimiento stuffed green olives, finely chopped

1

cup giardiniera, finely chopped

1

tablespoon brined capers, chopped

2

cloves finely minced garlic

1/4

teaspoon crushed red pepper flakes

1/4

teaspoon dried Italian seasoning

1/2

cup finely chopped red onion

1/2

cup chopped flat leaf parsley

1/2

cup extra virgin olive oil
Combine all ingredients and refrigerate for at least an hour in order for the flavors to blend.
For the sandwich
1

loaf ciabatta bread (about 14 by 8 inches), sliced horizontally

1/2 to 3/4

pound deli ham, sliced thin

1/2 to 3/4

pound genoa salami, sliced thin

1/2

pound thinly sliced provolone cheese

as much of the olive salad as you like

extra virgin olive oil

dried Italian seasoning
Brush the cut sides of the ciabatta loaf with the olive oil and sprinkle on some Italian seasoning.
Layer the salami, ham, and cheese on the bottom side of the bread, finishing with a thick layering of the olive salad.(or sprinkle the olive salad between each layer of meat and cheese -- no rules!)
Place the top of the loaf on the sandwich, wrap tightly in plastic wrap, and place the loaf in the refrigerator with some weight on it for at least two hours. Slice and serve.
Jump to

Comments

(

11

)
Tags: filling, New Orleans, salty, travels well