Grilled Flank Steak with Cherry Tomato Vinaigrette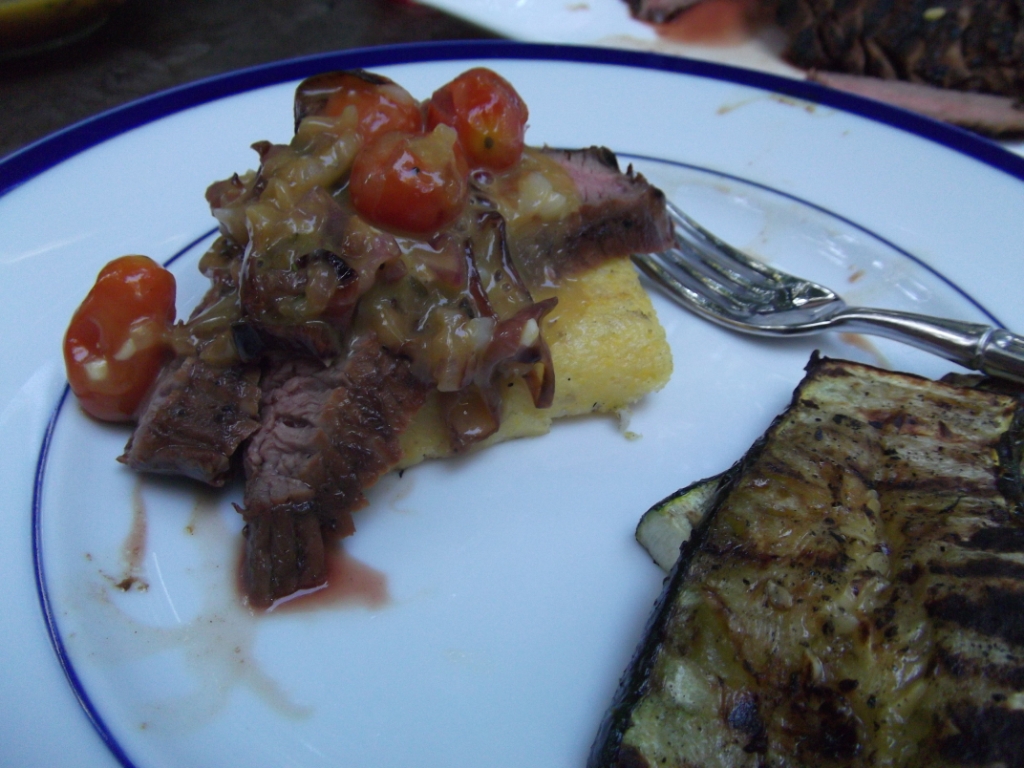 Author Notes: I always had flank steak growing up, actually it may have been our most used red meat. It has delicious flavor but can be a bit on the lean side so I thought this recipe would be a good way to add a little richness and balancing sweet and acidic tomato sauce. Roasting the cherry tomatoes and shallots makes them so sweet which is balanced by the tartness of the sherry vinegar in the sauce. The tomato vinaigrette would be good over any grilled meat. I would serve the flank steak over truffled polenta (http://www.food52.com/recipes/13422_grilled_truffled_polenta) or smashed potatoes. - meganvt01 - meganvt01
Food52 Review: Yum! Yum! Yum! This cherry tomato vinaigrette is so tasty that I'm planning to keep a container of it going in my fridge all summer to use on meat, fish, chicken … you name it, I think it will be great. I loved the combination of tomatoes and shallots -- both added a touch of sweetness and dimension to the overall profile. It also was a superb combination of flavors when paired with the balsamic-marinated flank steak. This is going to be a favorite in my household! - thehappycook - thehappycook
Serves 4-6
Cherry Tomato Vinaigrette
1

pint, cherry tomatoes

2

large shallots, sliced

1

tablespoon extra virgin olive oil

2

tablespoons sherry vinegar

1

clove garlic, minced

1

egg yolk

1/2

teaspoon kosher salt

1/2

teaspoon pepper

1/2

cup extra virgin olive oil

1

teaspoon dijon mustard
Preheat the oven to 425. Place the tomatoes, shallots, and 1 tablespoon of oil on a baking sheet. Season with salt and pepper, toss to combine and pull apart the little shallot rings.
Roast for about 10 minutes. Toss, turn on the broiler and cook for about another 1 - 2 minutes or until the tomatoes blister and break apart. Let cool.
Mix together the egg yolk, garlic, dijon mustard, vinegar, salt and pepper. Whisk in the olive oil.
After the tomato shallot mixture has cooled to warm, toss with the vinaigrette. It will thicken slightly.
Flank Steak
1

grass fed flank steak

2

tablespoons balsamic vinegar

2

cloves garlic, minced

2

tablespoons honey

2

tablespoons worcestershire sauce

1

tablespoon dijon mustard

1/2

cup extra virgin olive oil
In a plastic bag, mix together balsamic vinegar, 1 clove garlic, honey, Worcestershire sauce, Dijon, and 1/2 cup olive oil. Add flank steak. Let marinate for 4 - 6 hours in the fridge.
Heat the grill to medium high. Cook the steak 4 - 5 minutes per side for medium rare. Let rest for 10 minutes. Slice the steak thinly, against the grain.
Serve with the steak slice over polenta or potatoes and the tomato sauce over top.
Tags: grilling, savory, summery, universal sauce