Roasted Tomato Pasta...For the Ladies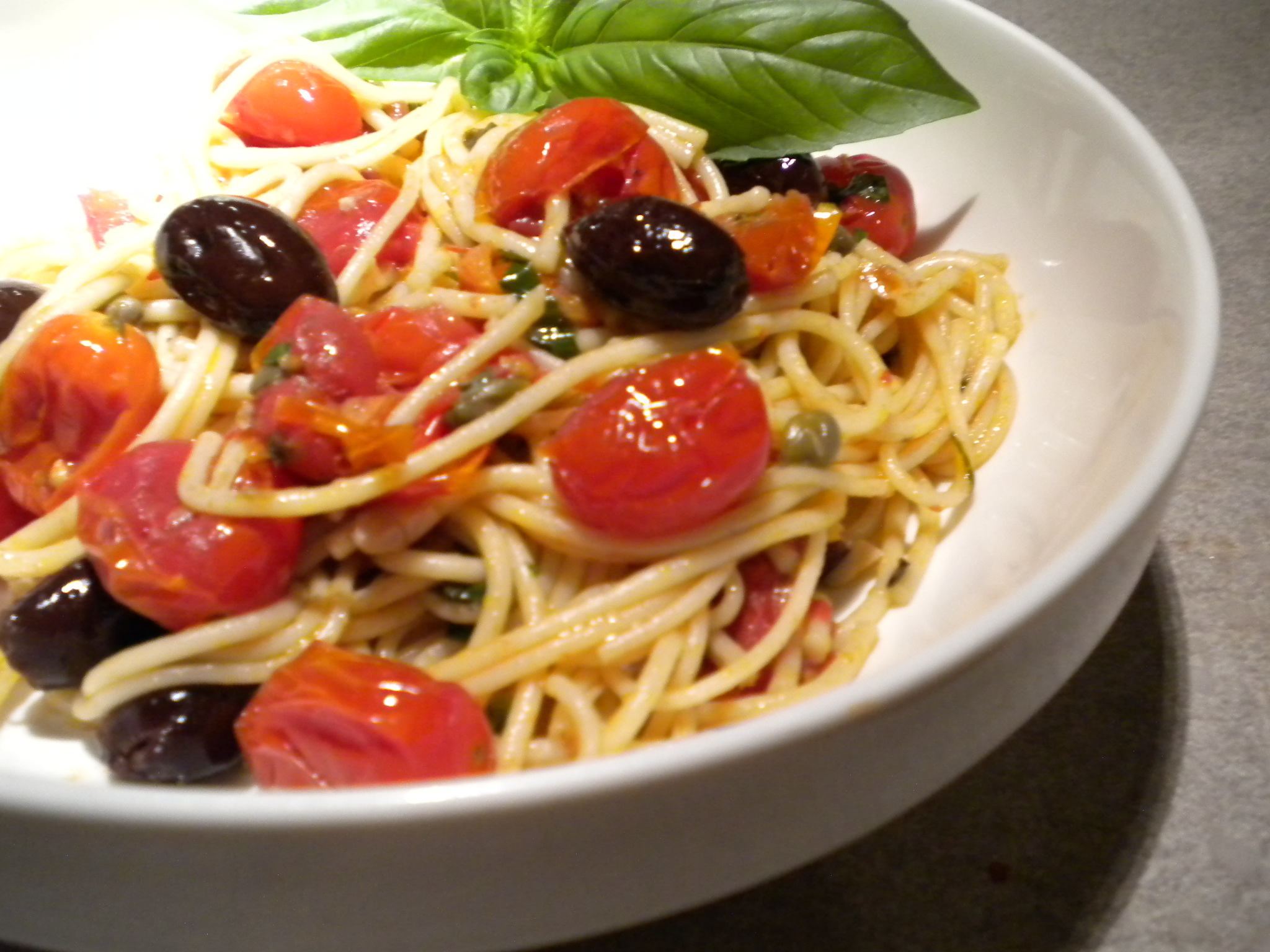 Author Notes: This is my take on pasta alla puttanesca, that salty somewhat spicy pasta that legend tells the ladies of the night would make . Mine isn't a quick sauce, but rather a roasted one which highlights the saltiness of the anchovies and olives and the sweet freshness of the tomato. You may worry that the sauce is too salty, but after combining with the pasta, you'll see that it's perfect! - inpatskitchen
Serves 4
2

pints small cherry tomatoes or grape tomatoes

1/2

cup dry white wine

1

tablespoon tomato paste

1/2

cup extra virgin olive oil

2

heaping tablespoons minced garlic

1

cup Kalamata olives

8

anchovy fillets, packed in oil and finely chopped

2

tablespoons capers in brine

1/2

teaspoon crushed red pepper

1

tablespoon chopped fresh oregano

1/2

cup sliced fresh basil leaves

10

ounces dry pasta
Stir the tomato paste into the white wine until it dissolves.
In a 9 x13 inch glass or ceramic baking dish, combine the tomatoes, wine and tomato paste mixture, garlic, anchovies, olives, crushed red pepper, capers and olive oil.
Roast the mixture uncovered for about an hour at 350F until the tomatoes start to soften and wrinkle a bit.
Cook the pasta according to package directions just before the sauce is finished.
When the sauce comes out of the oven, use the back of a slotted spoon to "break up" a few of the tomatoes.
Stir the oregano and basil into the sauce and combine with the hot cooked pasta. Serve it up nice and hot!
Jump to

Comments

(

23

)
Tags: a little salt, savory, sweet cherry tomato