The Drunken Hussy (Or Bourbon-Soaked Peach Tart)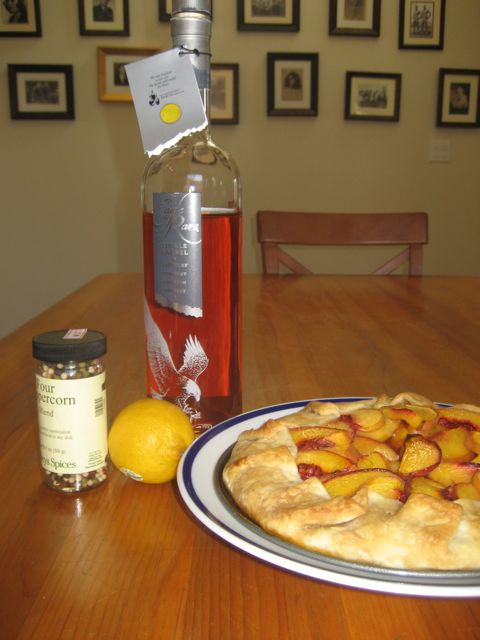 Author Notes: Confession number 1: I used a store-bought pie crust. I KNOW (she says with a wail), but I haven't made a pie since home economics class back at some point during the Reagan administration. I am more of a cookie or cake kinda gal. But since this week was pie or tart, well, I figured I'd rather have a tasty pie with tasty filling than tasty filling surrounded by a crumbled, half-scorched disaster of a crust. So sue me.

Confession number 2: I love bourbon. I really love bourbon. Very few of life's experiences couldn't be enhanced with a wee dram of the golden stuff. In this case, I've just made the participation a bit more....direct. For this recipe I would recommend using a decent quality bourbon - Maker's Mark or Knob Creek. I kept the sugar to a minimum, adding agave because I prefer not to wonder if I have developed type II diabetes after eating dessert. And rounded it out with some pepper, thyme and lemon to balance out the sweetness. - Niknud
Serves 4-6
1

cup water

2/3

cups bourbon

1/4

cup agave

1/8

cup plus 2 tablespoons suguar, divided

10

pink peppercorns (whole)

2

sprigs fresh thyme

4

strips of lemon peel (no pith - I use a veggie peeler)

3

peaches, halved, seed removed and thinly sliced

2

tablespoons flour

1

teaspoon lemon zest

1/4

teaspoon (scant) cracked black pepper

1

store bought pie crust (you couldn't make me feel more ashamed than I already feel)
Perform a quality check on the bourbon.
In a small sauce pan, combine water, 1/8 cup sugar, agave, bourbon, thyme, lemon peel and peppercorns. Bring to a boil, stirring to dissolve sugar. Continue to boil until the sauce is reduced and slightly thickened. Strain the liquid and discard the solids. You can do this part ahead. I made the sauce last night and just put it in the fridge until this morning.
Quality check the bourbon again.
Preheat your oven to 425 (standard Niknud caveat about me living at high altitude). Roll out your pie crust until it will overhang the edges of a buttered 9 inch springform pan bottom by about 2 inches.
Slice your peaches and put them in the thin syrup you made earlier.
In a small bowl, combine flour, remaining 2 tablespoons sugar, lemon zest and cracked black pepper. Stir to combine and spread evenly on the piecrust to the edges of the springform pan bottom underneath.
Arrange peaches on the pan bottom adding a few layers if you like. Fold up the edges of the pie crust and drizzle a little bit more of the syrup over top
Repeat Step 1.
Put the tart on a baking sheet and cook for around 25-30 minutes or until the pie crust is golden brown and the liquid is bubbly in the center. Remove and brush the crust with a little of the leftover syrup. Cool and enjoy.
Left over syrup can be boiled down even more and served over vanilla ice cream. I'm just saying......
Jump to

Comments

(

10

)