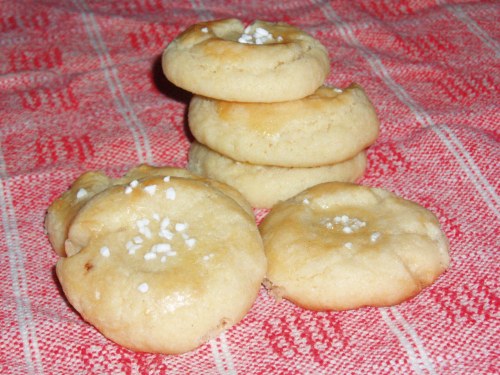 Author Notes: These are my very favorite Christmas cookies. They're a traditional Norwegian holiday cookie, and one of the few we ever baked in my family. (Growing up, the only time there were *ever* cookies in the house was Christmas. My brothers and I hated only get cookies once a year, but because of a few failed batches of cookies at other times of the year, we were also convinced that because of some curse the only time of year that our oven could actually produce decent cookies was at Christmas!).
Serinakaker are extremely simple, basically just buttery shortbread thumbprint cookies. Yet, somehow they taste so much more complex and delicious than you expect. They're so good that one of my friends became completely addicted to them, and last winter when out xc-skiing he got really tired and refused to go any further unless I came skiing by to offer him cookies. Miracle of miracles, my parents came by and they happened to be carrying some serinakaker in their pockets (this is what we do around Christmas instead of using energy bars), which they offered to him, and he finished the ski tour!
So yeah, they're that good.
The recipe I have is scrawled in Norwegian, in metric measurements, in an old falling apart notebook of my mother's. This version is my attempt at making it understandable for friends and others who wish to be able to make serinakaker. - fiveandspice
Food52 Review: With her Serinakaker, Fiveandspice has given us a classic cookie. It is all that is warm and comfortable in a butter-sugar cookie and, as promised, it is the perfect cookie to stash in a backpack for a wagon ride to feed the ducks at the pond. These cookies are a little denser than the soft cookies you can buy at the grocers but not at all heavy. And you can eat one with your morning cup of coffee and feel both full and not at all guilty. The one-bowl preperation method makes it ideal for cooking with children and the fact that you mush everything up with your hands had my four-year old in paroxyms of joy! I took fiveandspice's suggestion and sprinkled some crushed pecans over the top in lieu of the pearl sugar and added just a drop or two of almond extract to go with the nuts and they were warmly received. What wasn't devoured by my family this weekend I brought into work today and they were gone before nine!
- Niknud
Makes several dozen
4

cups sifted all-purpose flour

1

cup plus 6 Tbs. softened butter

1 1/3

cup granulated sugar

1

egg, lightly beaten

1

teaspoon vanilla sugar (or vanilla extract if you have no vanilla sugar)

1/2

teaspoon baking powder

1

egg white, for brushing the cookies with

pearl sugar, for sprinkling
Blend the flour, baking soda, and butter together in a bowl until it looks kind of like sand, using your fingers to rub the butter into the flour. Next blend in the sugar with your fingers. Finally, add the egg and vanilla, still with your hands, and mush, smash, rub, and stir the dough together. (Yes, you use your hands for the whole process. It's fun!)
When it is thoroughly mixed, form it into a ball, cover it with plastic wrap and put it in the refrigerator over night. When you are ready to bake, let the dough warm up a bit, otherwise it will be nearly impossible to work with.
Break off pieces of the dough, and roll them into balls that are about 1 to 1 ½ inches across, and put on cookie sheets. Once all the dough is made into balls, press your thumb into each to make an indentation. Most of the cookies will crack around the edges as you press into them. If they totally fall apart, just smash them up and roll them into new balls, but if there are just some cracks, that's part of the look.
Brush the tops of the cookies with the egg white to glaze. Then sprinkle some pearl sugar into each indentation. Pearl sugar is a special type of sugar for decoration that looks like tiny white rocks, or something of the sort. If you can't find any, you can also use finely chopped almonds, or sprinkles that you like to decorate with (though I wouldn't recommend using flavored sprinkles).
Bake the cookies at 350?F for 15 minutes until golden. Move to a cooling rack and allow to cool. These cookies are delicious with a cup of coffee in the afternoon, or a mug of hot spiced wine. However, they are the absolute very best as a snack while you're out on the cross-country ski trails, if you happen to be a cross-country skier. They keep for a week or two sealed in cookie tins, and they also freeze and defrost well, if you want to make them ahead.
Jump to

Comments

(

15

)