Flourless Tangerine-Almond Cake
15
Save
If you like it, save it!
Save and organize all of the stuff you love in one place.
Got it!
If you like something…
Click the heart, it's called favoriting. Favorite the stuff you like.
Got it!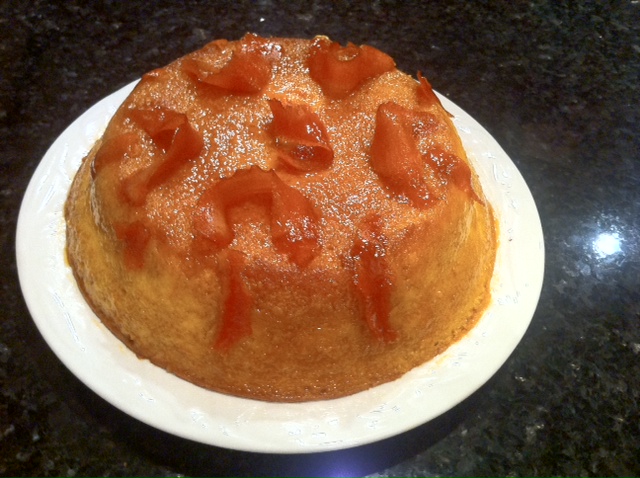 Author Notes: The recipe for this delicious, full of citrus flavor and beautiful cake is inspired by a recipe, which a read in a small Bon Appétit magazine Tastes of the World: "Flourless Lemon-Almond Cake" from Spain, and then made some adjustments. First I added the cooked tangerine puree; then ½ a cup more of almonds, 2 more eggs and some more sugar. I also added a little almond extract and made my own topping. The original recipe recommends serving the cake with homemade or purchased Almond Ice Cream. This cake would be equally delicious with any citrus fruit and gets even better when served next day. - Kukla
Serves 8 to 10
• 2 whole tangerines+ peel and juice of 2 more tangerines for the toping

• 2 cups sugar, divided

• 2 cups blanched slivered almonds

• 6 large eggs, separated

• ½ teaspoon cinnamon

• ½ teaspoon almond extract

• ¼ teaspoon coarse salt+ ¼ teaspoon for the egg whites
Place whole unpeeled tangerines in a large saucepan or stockpot, and cover with cold water. Bring to a boil over high heat. Reduce heat, and simmer gently, 2 hours. Drain; set tangerines aside to cool.
Preheat oven to 350 degrees. Butter and flour a 9-inch springform pan or a cake pan with high sides; (I baked mine in a deep round glass baking dish) line the bottom with parchment paper and set aside.
Halve cooked tangerines, and remove any seeds. Place the halves in a food processor, and pulse until pureed but still chunky. You should have about 1 cup; set aside.
Finely grind almonds with ¼ cup of sugar in food processor. In a large bowl combine egg yolks with ½ cup sugar; using an electric mixer, beat until thick and smooth. Stir in the tangerine puree, almond mixture, cinnamon, almond extract and salt.
Using clean beaters, beat egg whites and salt in a large bowl until soft pick form. Gradually add ½ cup sugar and beat until stiff but not dry.
Gently fold in into the tangerine and almond mixture in 3 or 4 portions. Transfer batter to the prepared pan. Bake until tester inserted into center comes out clean, about 40 to 45 minutes. Cool in the pan on a rack. Turn out onto platter or a cake stand, remove parchment paper.
Meanwhile make the topping: Using a sharp vegetable peeler, take of the peel of the 2 remaining tangerines; then with a small sharp knife remove all leftover white pith until the peel is translucent. Juice the tangerines.
In a medium saucepan, combine remaining 3/4 cup sugar with 1/2 cup water and the tangerine juice. Bring mixture to a boil, stirring until sugar has dissolved.
Add the tangerine peel to saucepan, and reduce heat to medium. Simmer gently until most of the liquid has evaporated and thickened into syrup, about 15 to 20 minutes. Remove from heat, and set aside to cool completely.
Arrange the caramelized tangerine peel and then pour any remaining syrup over top of cake. Cut into wedges, and serve. Or store, covered, in the refrigerator up to 2 days.
Jump to

Comments

(

2

)