White Pasta With Garlic Parmigiano Breadcrumbs
42
Save
If you like it, save it!
Save and organize all of the stuff you love in one place.
Got it!
If you like something…
Click the heart, it's called favoriting. Favorite the stuff you like.
Got it!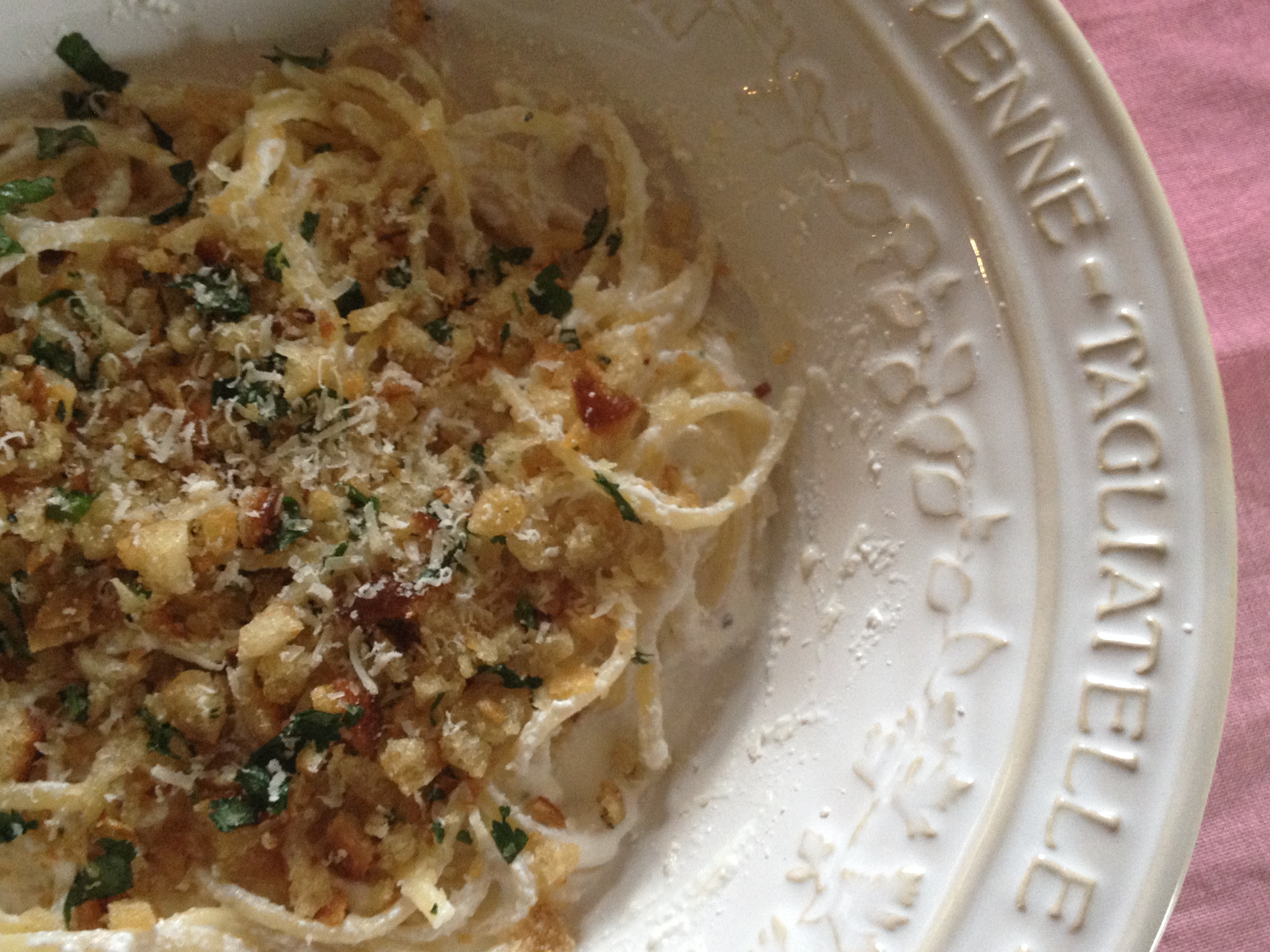 Author Notes: For a quick dinner I took an idea from my childhood and put my own spin on it, pasta of your choice (I use linguine) with ricotta and milk and a crumb topping, breadcrumbs, garlic, parsley, butter and parmigiano. Take the ricotta out of the refrigerator about 30 minutes before you prepare the dish, it will need to be room temperature. You don't have to be exact with the measurements tailor it to suite your taste. Double the ingredients to feed a larger crowd.
- sdebrango
Makes 2 substantial servings or 4 smaller
1/2

pound inguine (or whatever pasta you like)

2

cups ricotta (at room temperature)

1/2

cup milk

1/4

cup grated parmigiano or pecorino romano cheese

Salt and pepper to taste

Crumb Topping

1 1/2

cups fresh breadcrumbs

1/4

cup grated parmigiano

pinch of lemon zest

handfull flat leaf parsley chopped

2

small cloves garlic minced

2

tablespoons butter

splash of olive oil

salt and pepper to taste
In skillet melt butter with a splash of olive oil, add the garlic and cook until it just starts to brown. Add the bread crumbs and continue to cook until the crumbs are lightly browned. Take off heat and pour into mixing bowl, add the parmigiano, parsley and lemon zest stir to combine and set aside.
Bring large pot of water to a boil, when there is a rolling boil add a lot of salt, taste the water it should taste salty. Put the pasta in and stir to separate. While the pasta is cooking heat your milk until its hot to the touch,(I used the microwave, 45 seconds) put the ricotta and parmigiano in your serving bowl and add the hot milk, mix it up and season to taste. When pasta is done, (al dente) drain and add the hot pasta to the bowl with the ricotta milk mixture, toss to combine, top with the breadcrumbs a little more grated parmigiano and serve.
Jump to

Comments

(

18

)