Maple Braised Rabbit And Carrots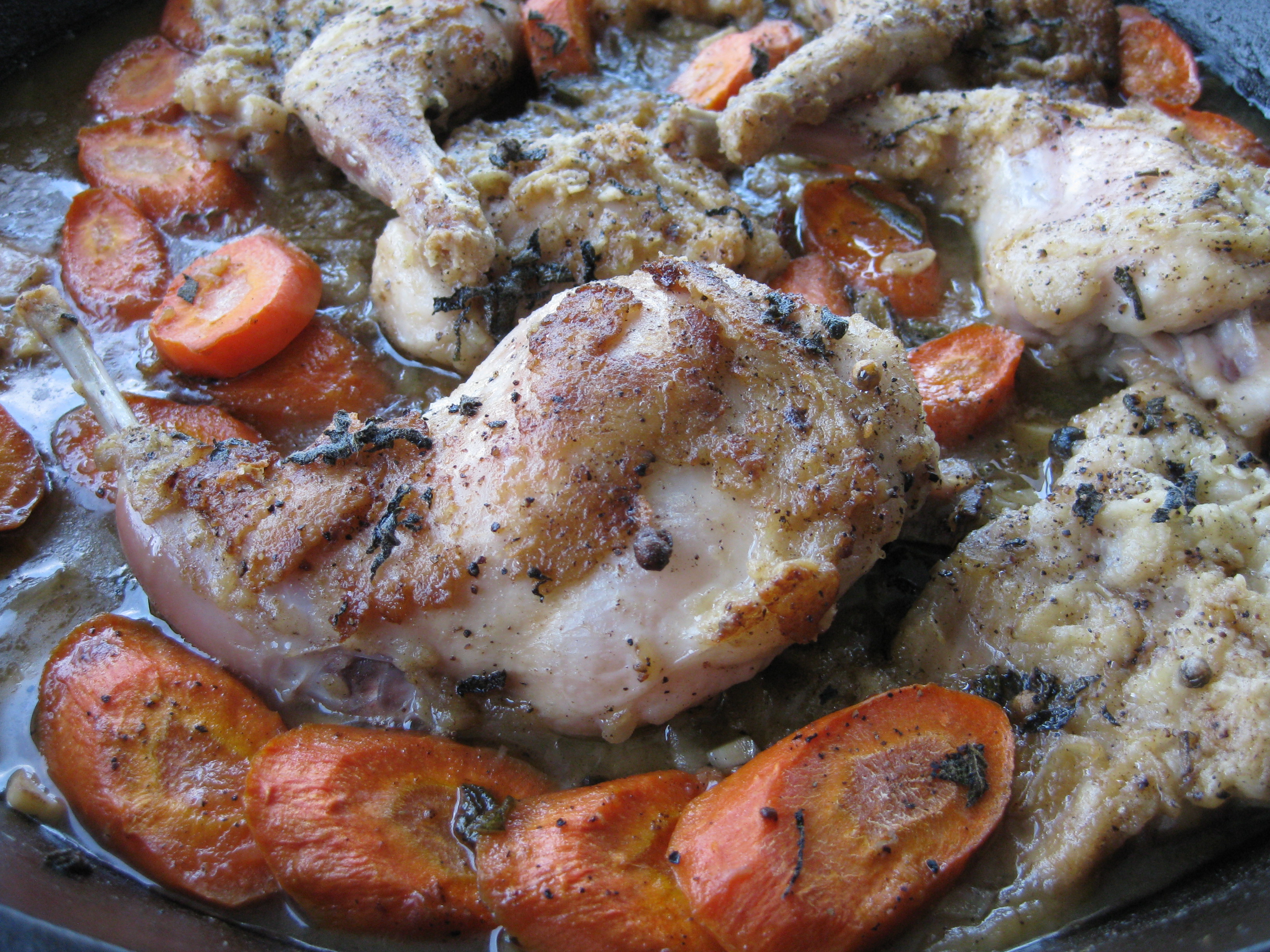 Author Notes: I don't like to brag ... wait, that's a lie, when it comes to food and it's good and I made it I can actually be a little braggy - anyhow, I will brag that this is one of the best rabbit dishes I have made to date. It is sweet and salty and juicy/tender. The rabbit meat is delicate and takes the brine nicely, and the roasted sweetness of the carrots are a great companion. I recommend serving this with a simple nutty grain accompaniment, we had red quinoa and bulgur. Also, just FYI, Ginger likes it too - what JRT wouldn't enjoy some bunny and carrots! Easter Dinner is ready to roll!!!

** this looks like a long ingredient list but once you have everything in place you can roll through cooking this in no time ** - aargersi
Serves 4
1

whole rabbit cut in 8

1

tablespoon whole white peppercorns

1

tablespoon whole black peppercorns

1

cinnamon stick

1/3

cup kosher salt (plus more for the flour)

1/3

cup sugar

3

cups water plus 3 cups ice

2

cups peeled carrot in 1/2 inch slices

5

cloves garlic - chopped

2

large shallots - peeled and sliced

8

fresh sage leaves - chopped into ribbons (chiffonade)

1

cup flour

3

tablespoons butter

1

cup dry white wine

1

cup chicken stock

1/4

cup grade B maple syrup
Is your rabbit cut up for you? If not - I use kitchen shears - first cut off the hoppers and the front legs. Then remove the spine and portion the saddle into 4 pieces. There is a side flap that you can leave loose (I do, I am lazy) or use to create a roll that you can secure with a toothpick.
Make the brine: Toast the peppercorns and cinnamon stick in a large saucepan for a few minutes until they are fragrant. Pour in the water then add 1/3 c salt and sugar. Bring it to a boil to dissolve the salt and sugar, then turn off the heat. Add the ice. Put the rabbit pieces in a large container and pour the cool brine over. Refrigerate for several hours (this is a good morning task - do the rest at dinner time)
Heat the oven to 325. Get out your biggest oven ready skillet - or you can brown in one and then move the rabbit to a baking dish. Melt the butter over medium heat. Put the flour with 2 tsp salt and 1 tsp pepper in a shallow dish. Remove the rabbit from the brine and try to get most of the peppercorns off. Pat it dry, then dredge each piece in flour and place in the pan. Don't over crowd them - you will likely need to do this in batches. Brown each piece on both sides to golden brown, then remove them from the pan.
When all of the rabbit is browned, add the garlic and shallots to the pan and brown them for just a couple of minutes. Add the wine, then stock, and scrape all of the good stuff off the bottom of the pan. Allow this to simmer for 4-5 minutes.
Now add the rabbit back in. Toss the carrots and maple syrup together, then arrange them in amongst the rabbit pieces. Drizzle the rest of the maple syrup over them. Sprinkle the sage over everything, hit it with a bit more pepper, then cover the pan with foil and bake for 30 minutes. After 30 minutes remove the foil and bake for 30 more. Finish the rabbit by turning the oven to 375 and cook for 10 more minutes, then remove it from the oven and allow it to rest while you take eleventy billion pictures.
That's all - hippity - hoppity dinner is ready!
Jump to

Comments

(

8

)