Green Green Dressing with a Little Salad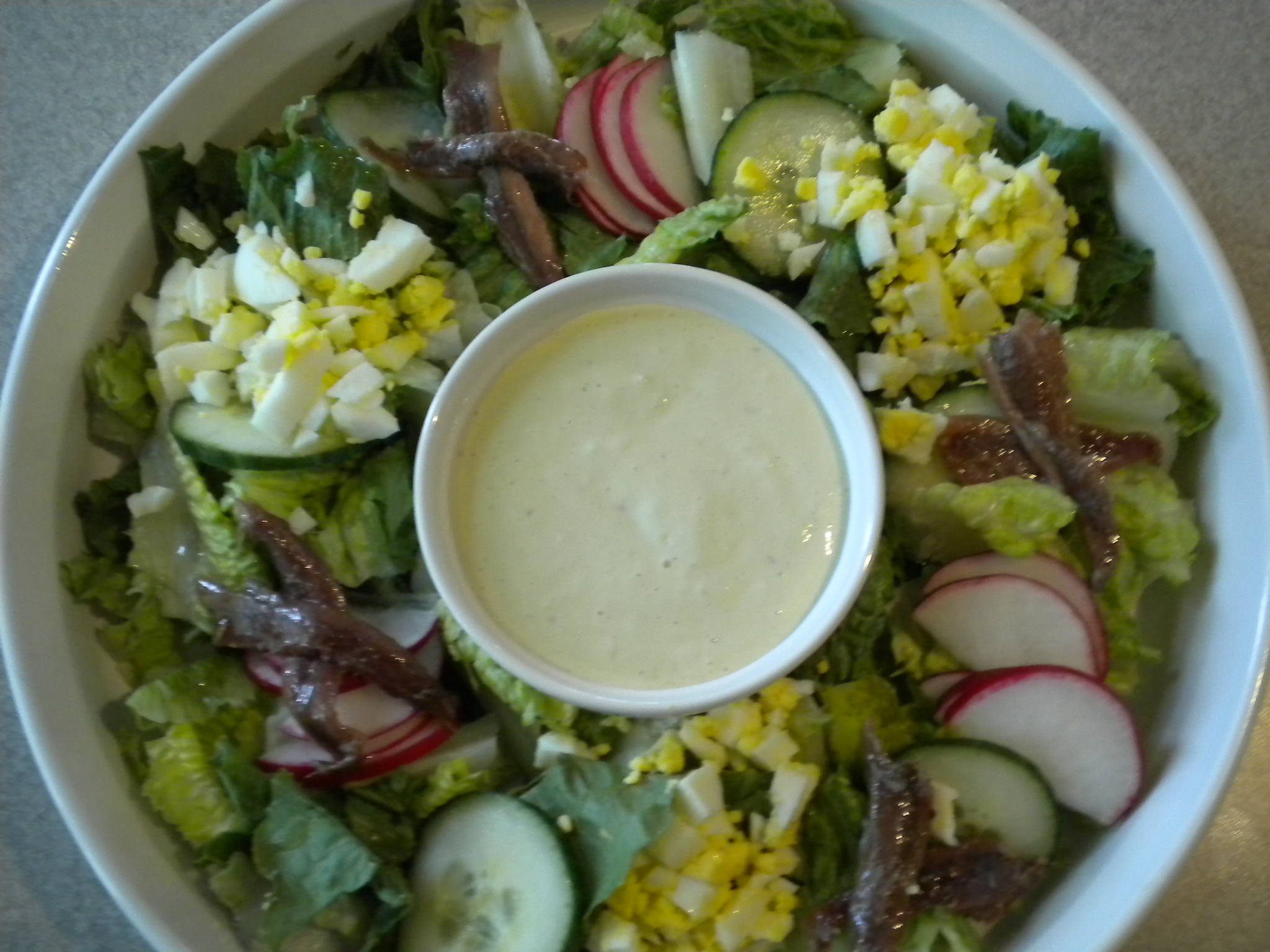 Author Notes: This dressing is not quite Caesar and not quite Green Goddess but rather something in between. Green garlic and green onion blended in a homemade mayo with anchovies for spark make for a great topping on a variety of salads. I offer an example of the salad I first made for the two of us. The dressing makes more than enough for this salad and will keep for a few days covered in the fridge. - inpatskitchen
Serves 2
Green Green Dressing (makes about one cup)
1

room temperature egg

1/2

teaspoon salt

1/2

teaspoon Dijon mustard

Juice of 1/2 a lemon

2

medium green onions, rough chopped

2

medium stalks of green garlic, rough chopped

3

anchovy filets from a 2 ounce tin (save the rest for the salad)

The anchovy oil from the 2 ounce tin of anchovies

3/4

cups neutral oil such as vegetable or canola
In a mini food processor place the egg, salt, mustard lemon juice, green onion, green garlic and anchovy filets. Begin processing and then slowly add the anchovy oil and vegetable oil through the tiny holes on the top of the cover of the processor. Process until smooth and rather thick. Cover and refrigerate until ready to serve with the salad.
Little Salad
1

Romaine lettuce heart torn into bite size pieces

6

thin slices English cucumber

1

large radish thinly sliced and then cut in moons

1

hard boiled egg, chopped

The remaining anchovies from the 2 ounce tin

The Green Green Dressing
Either toss or arrange all ingredients in a bowl or on a platter. Serve with the dressing.