Grilled Steak and Mango Salad with Avocado Buttermilk Ranch Dressing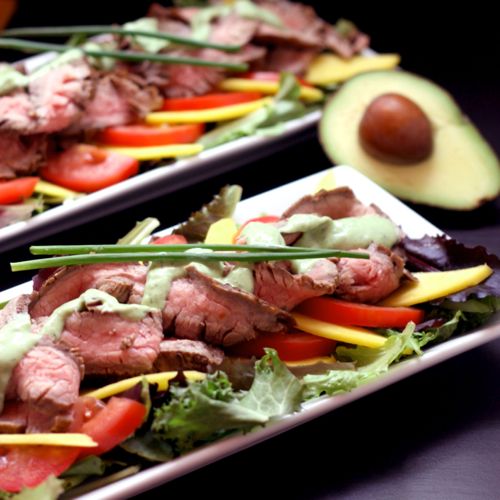 Author Notes: A delicious summer salad topped with grilled flank steak, sliced mangoes and tomatoes for color and texture, and a creamy avocado buttermilk Ranch dressing. The dressing was inspired by the Avocado Ranch Salad Dressing from Ann at Sumptuous Spoonfuls. - Brianne Izzo
Serves 2-4
Grilled Steak and Mango Salad with Avocado Buttermilk Ranch Dressing
4-6

cups mixed baby salad greens

6-8

ounces thinly sliced grilled flank steak

1-2

plum tomatoes, thinly sliced

1

mango, thinly sliced

Avocado Buttermilk Ranch Dressing (see below)
Divide salad greens between plates.
Top with mango, tomato, and steak slices.
Drizzle Avocado Buttermilk Ranch Dressing over the top.
Avocado Buttermilk Ranch Dressing
2/3

cups buttermilk

1

clove of garlic

About 4

fresh basil leaves

A few leaves

fresh parsley, or 1/2 t dried parsley

A few

sprigs fresh dill, or 1/2 t dried dill weed

1

teaspoon dried minced onion, or 1/2 t onion powder

8-10

chives

1

sprig fresh rosemary leaves

1/2

teaspoon honey

1/4

teaspoon salt

Freshly ground black pepper
Combine all of the ingredients in a blender or food processor, and puree until smooth.
Jump to

Comments

(

2

)