Avocado Onigiri with Ginger Kewpie Mayo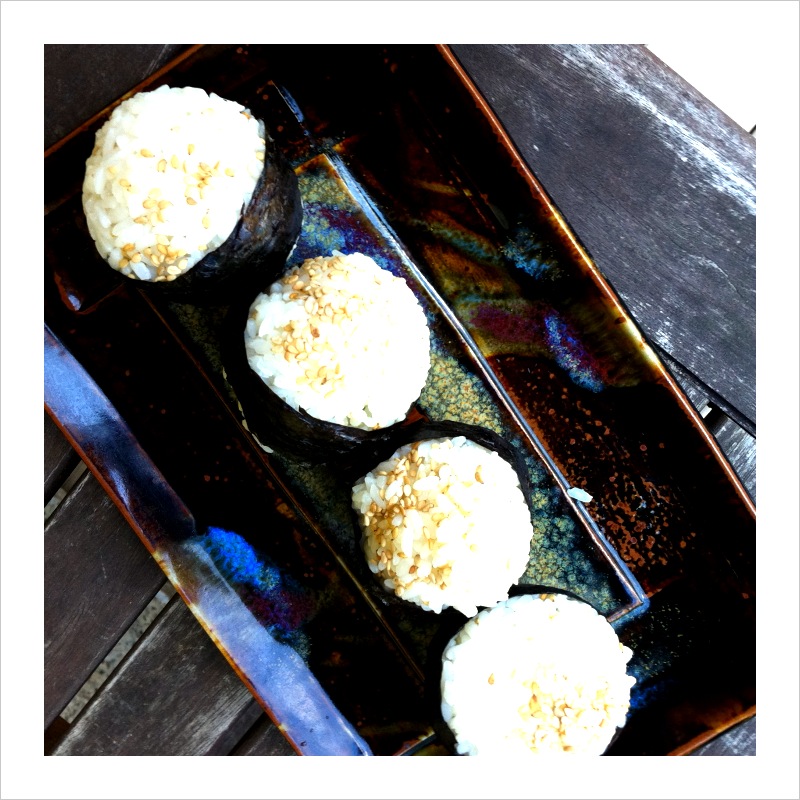 Author Notes: I had a roommate from college who surprised me with these on a road trip from Bennington to Burlington. His mother had always made onigiri for his family's road trips as a kid. I had never been so charmed by a snack before. I ate all of them almost immediately because I wanted to find out what was in the center of each. His were, of course, much prettier than mine. He covered them totally in nori and they were the size of a tennis ball. - Summer of Eggplant
Makes 10
4

cups cooked sushi rice

1/2

avocado sliced in to 1/2" pieces, run under cold water and patted dry

2

sheets toasted nori cut in to 1/2" strips

2

tablespoons Kewpie mayonnaise

1/2

teaspoon grated ginger

1

teaspoon sesame seeds
Stir the ginger into the mayonnaise.
Prepare a wide bowl full of salted water, this is for your hands so the rice doesn't stick to them.
Place a 12" x 12" piece of cling wrap in the center of a small bowl with it. Sprinkle in some sesame seeds.
Grab a golf ball sized amount of rice, shape it in to a ball and flatten it and place it in the bowl.
Put two 1/2" avocado slices in the center and a small dot of the mayonnaise.
Grab a tablespoon +/- amount of the rice and put it on top of the filling. Pull up the sides of the cling wrap and shape the contents into a ball. Remove.
Get your fingers wet in the water and drip a little on to the nori strip then make a belt around the rice ball with the nori. Repeat. These should be made the day you intend to eat them.