Red, White, & Blue-berry MINT Muffins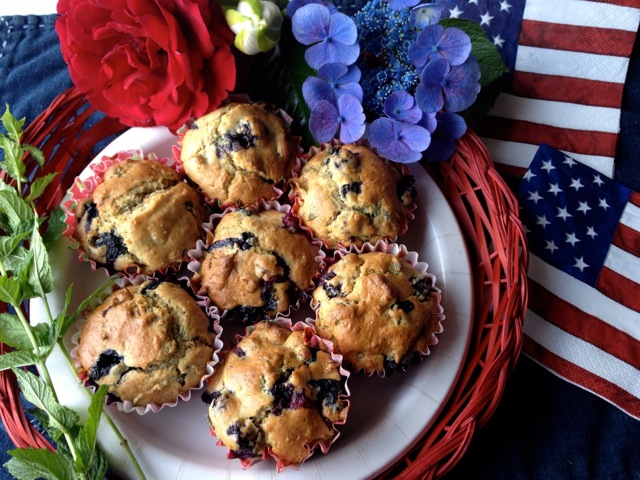 Author Notes: I wanted mint flavor to be more dominant than just as an herb, a COOL muffin. And summer means blueberries, this is a softer, smoother blueberry muffin with yogurt, and added mint for a clean summery taste. There are so many blueberries in here that muffin paper liners are recommended! These are not too sweet, so use any red jelly (but blueberry is good too). - BoulderGalinTokyo
Makes 12
oil spray

12

paper cup liners

1 1/4

cup all-purpose flour

2

tablespoons wheat germ

2

tablespoons ground flax seed

1

tablespoon baking powder

1/2

teaspoon baking soda

1/2

teaspoon salt

1/2

cup brown sugar, packed

2

eggs

1

cup plain yogurt

1/4

cup butter, melted

2

teaspoons vanilla essence, (If you want to mess with half a vanilla bean, be my guest)

1 1/2

cup fresh blueberries, washed, picked over, and drained well (I used 1 c. large blueberries & 1/2 c. small blueberries

1

cup fresh mint leaves, lightly packed, see directions below

white cream cheese (Philly is patriotic, I guess)

red jelly (hopefully) homemade
Prepare muffin tin. Paper cup liners are recommended for this muffin. Spray inside liners with oil spray for easy removal of muffins. Heat oven to 425°F. (210ºC)
Combine flour, wheat germ, flax seed, baking powder, baking soda, salt, and brown sugar, mix well.
Beat egg with a whisk, then add melted butter, milk and vanilla. Mix well.
Mix blueberries and mint. Add both to the dry ingredients and stir in gently. Take care that the mint doesn't clump together.
Pour wet ingredients into the dry ingredients and stir just until all is moistened.
Spoon into full-size muffin pan. (Each muffin was about 85% full) Bake for 15 to 18 minutes. (my gas convection oven took 13 minutes, hard to check with a toothpick because so many blueberries)
You can serve them hot but we liked the muffins cold muffin which made the mint stand-out. Serve with white cream cheese and red jelly.
MINT NOTES: Pick mint before the flower buds begin to form. Throw away any leaves with blemishes. Mint will quickly develop blemishes from hitting, cutting, bruising in exactly the same way that basil or shiso leaves will, so prepare a bowl of cold water. Begin pulling mint leaves off, the little one go directly into the water. The medium sized leaves are ripped in half, and the largest leaves just rip into thirds. Quickly put into the cold water. Don't use any stems. (You can cut with a knife but it seemed to take more time, switching from pulling to cutting. Use a stainless steel or ceramic knife) Put mint in measuring cup, and if its not enough, return prepared mint to the cold water bowl, then continue ripping more mint. Drain right before mixing into the batter (Salad spinner works great).