Chicken-Tofu Meatball Miso Soup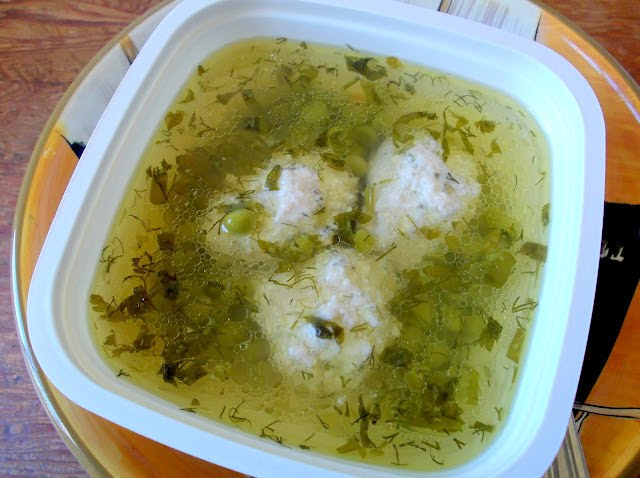 Author Notes: I like miso soup and often order it when we eat out in Sushi restaurants, but it is always so salty and most of the time just a bowl of clear broth. I have never cooked it at home, but decided to try by adding miso, tofu and other oriental ingredients to one of our favorite "Chicken Meatball Soup". My miso soup came out tasting great; rich in flavor and full of texture and it makes a deeply satisfying dish. The key to this recipe is a light homemade chicken broth made without salt, which gives you the ability to make the soup to your taste. - Kukla
Serves 6
For the chicken broth: Makes about 1 ½ quarts
• About 3 pounds whole chicken or bony chicken pieces ( necks, backs and wings)

• 2 quarts water

• 2 1-inche pieces fresh ginger, crushed with the back of a knife

• 2 lemon grass stalks, cut in half and crushed with the back of a knife

• 4 whole scallions, cut in half

• 3 garlic cloves, thinly sliced

• 1 teaspoon coriander seeds

• 1 teaspoon black peppercorns
Combine all ingredients in a large pot and slowly bring it to a boil. Skim off all the foam that rises to the top. Cover and simmer for 2 hours; then strain through a fine sift and discard residue. Cool or chill until ready to use. Can be refrigerated for up to 3 days.
For the meatballs and Miso soup
• 1 pound ground chicken, white meat

• 1 14-ounce package organic firm water-packed tofu, drained, rinsed and finely crumbled

• 1/2 onion, finely diced

• 1/3 cup homemade or Panko breadcrumbs

• 1 large egg

• About 1 teaspoon coarse salt

• 1/2 teaspoon chili flakes

• 1 1/2 teaspoons finely grated fresh ginger

• 1/2 teaspoon ground coriander

• 3 tablespoons white miso paste

• 2 teaspoons soy sauce

• 1 cup Edamame or green peas, fresh or frozen

• Green tops of 2-3 scallions for garnish, thinly sliced on bias

Fresh cilantro or any herbs of your choice for garnish, chopped
In a large bowl, mix chicken with tofu, onion, breadcrumbs, egg, salt, chili flakes, ginger and coriander until thoroughly combined. Refrigerate until ready to use.
Pour the broth into a large pot; bring it to simmer and dissolve miso and soy sauce. Using an ice-cream scoop or two spoons, drop meatball mixture into broth, (you should have 18 meatballs).
Simmer gently until meatballs float and are cooked through, 12 to 15 minutes. Just before serving, add edamame or peas to broth and let just warm thru for a few minutes. I also like to add chopped Baby Bok Choy or spinach and just to let it wilt and serve wedges of lemon or lime for a final sprinkling. Garnish soup with fresh herbs and scallions. Serve immediately and enjoy!
Jump to

Comments

(

0

)