Next Day Grilled Corn, Pineapple, and Peach Salsa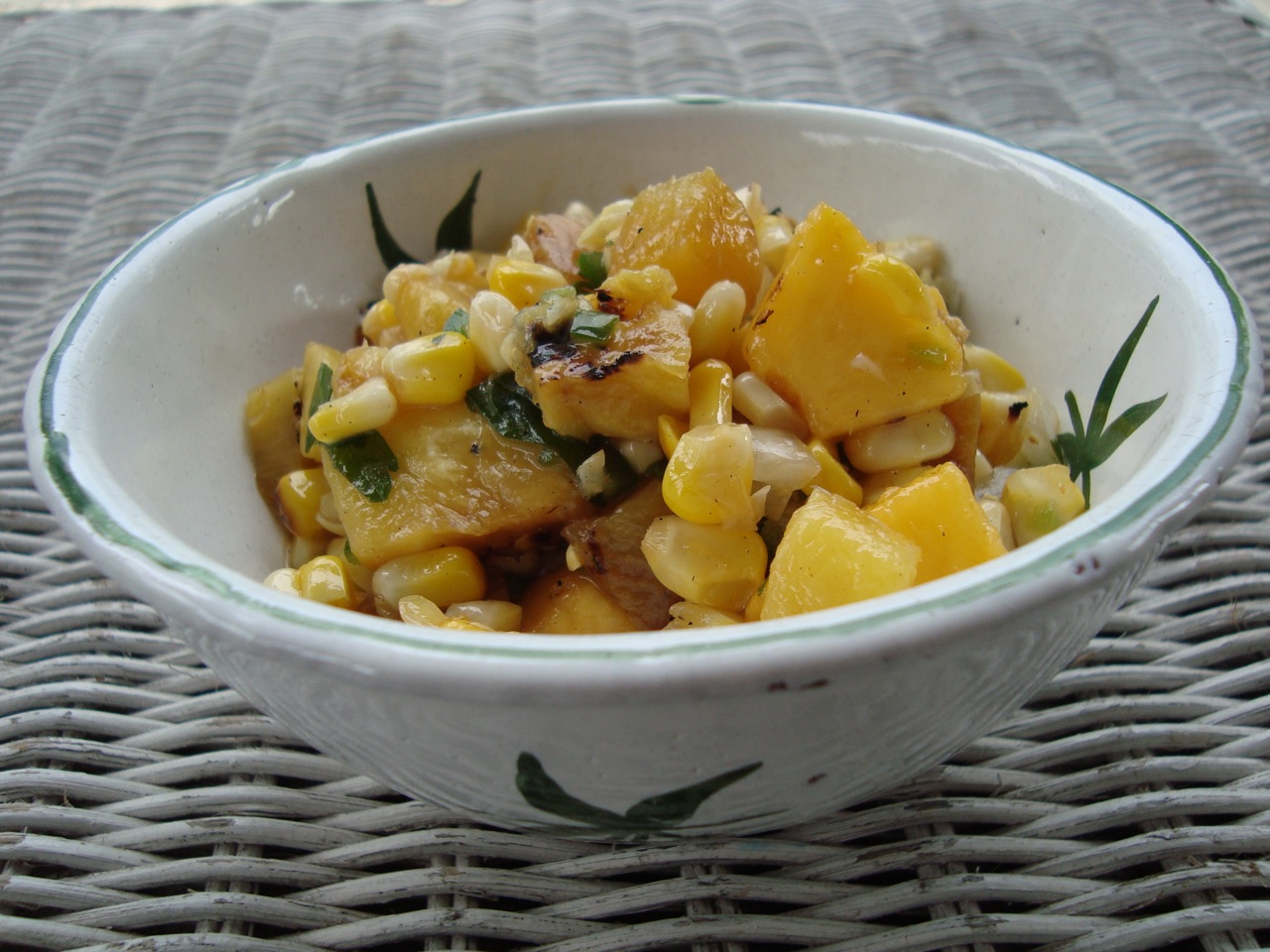 Author Notes: We grill corn and fruit all summer long. Our favorite way to eat the grilled "fruits" of our labors is corn on the cob, hefty slices of pineapple, and grilled peach halves helped along with just a bit of olive oil and a dash of salt and pepper on the corn. We always grill more than we can eat in one sitting so the leftovers can be refigured into salads and salsas to dress up meats, chicken, and fish. This salsa can be prepared the day after a good grilling. The addition of cilantro adds a wonderful, fresh sparkle to the salsa. You can eat this as a side, or add to your picnic to smear on all sorts of sandwiches and proteins. - Bevi
Makes about 3 cups of salsa
a bit of olive oil for grilling the corn

1

ear grilled corn on the cob

2

grilled peach halves

3

1/2 inch slices of grilled pineapple

1/4

cup chopped Vidalia or sweet onion

2

tablespoons coasrely chopped cilantro

1

tablespoon finely minced jalapeno pepper

juice of 1/2 medium sized lime

3

tablespoons olive oil for the dressing

1 to 2

tablespoon accumulated pineapple and peach juice

sea salt and pepper to taste

serious

dashes Cholula
Grill the corn by smearing a bit of olive oil, salt and pepper on your corn on the cob. Place the peach and pineapple slices directly on the grill. Rotate the corn cobs so you get a nice uneven char. Grill the pineapple for about a minute on each side, and grill the peach halves for about a minute. Place the pineapple and peach in a sealable container and refrigerate overnight. Place the corn in the refrigerator as well.
The next day, slice the corn off the cob and add to a medium sized bowl. Chop the pineapple slices, removing the core, and peel and chop the peach halves. Add to the bowl.
Make a dressing by combining the olive oil, lime juice, juice accumulated from the pineapple and peach, and salt and pepper. Mix well and set aside.
Add all the remaining chopped ingredients to the bowl, and then add the dressing. Mix well. Add dashes of Cholula to your taste - I have managed to slowly increase the heat in my salsas in my household!
Serve with grilled fish, chicken, and pork chops. This salsa is also great as a stand alone side dish.
Jump to

Comments

(

6

)