Quick Vanilla & (Asian) Pear Cake?with Almond—?Parve & Gluten-Free
28
Save
If you like it, save it!
Save and organize all of the stuff you love in one place.
Got it!
If you like something…
Click the heart, it's called favoriting. Favorite the stuff you like.
Got it!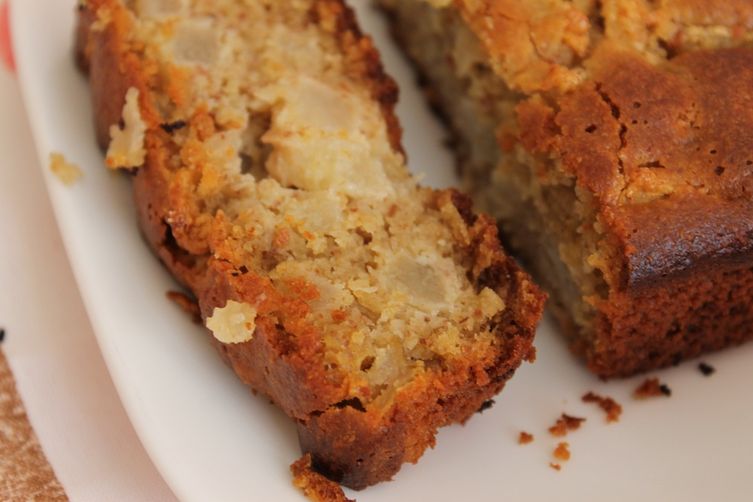 Author Notes: This is a magnificent cake was created by me one day out of frustration. I have been craving a proper vanilla pear tart but couldn't have it due to dreadful dairy intolerance. I used my basic coffee cake recipe which I use for many fruits of vegetables cakes. It's super healthful and incredibly delicious. The combination of vanilla and pears is delightful. It is also perfect for people with gluten intolerance. The olive oil sounds like a turn-off but actually it works well in the recipe. The cake takes about 10 minutes to prepare. 35 minutes to bake and then 10 minutes to vanish. ENJOY! p.s. It's a great cake for Passover. you can use matzo flour instead of the oat flour. - Shelly's Humble Kitchen
Makes 1 english cake
½

cups olive oil

2

tablespoons agave nectar or maple syrup

3/4

cup brown or plain sugar

1

teaspoon vanilla extract

2

large organic eggs

1

cup almond meal (or you can grind about 1 cup raw almonds in a food processor)

1/2

cup oat or whole-wheat flour (or you can grind about one cup rolled oats in a food processor)

2

teaspoons baking powder

1/2

teaspoon salt

2

medium asian pears?—?diced?—?about 1½ cups (you can use Bartlett pears instead)
Preheat the oven to 375°F. Line an English cake tin with baking paper.
In a large bowl, combine oil, agave, sugar, vanilla extract, and eggs and stir with a wooden spoon until all the ingredients are well combined.
Add the almond meal, oat flour, baking powder, and salt into the bowl and stir until you get a smooth batter. Add the pears?into the bowl and stir until the pears are blended in the batter.
Pour the batter into the lined tin, and bake until a toothpick inserted in the center of the cake comes out clean, about 35 minutes. Let it cool on a wire rack.
Jump to

Comments

(

7

)