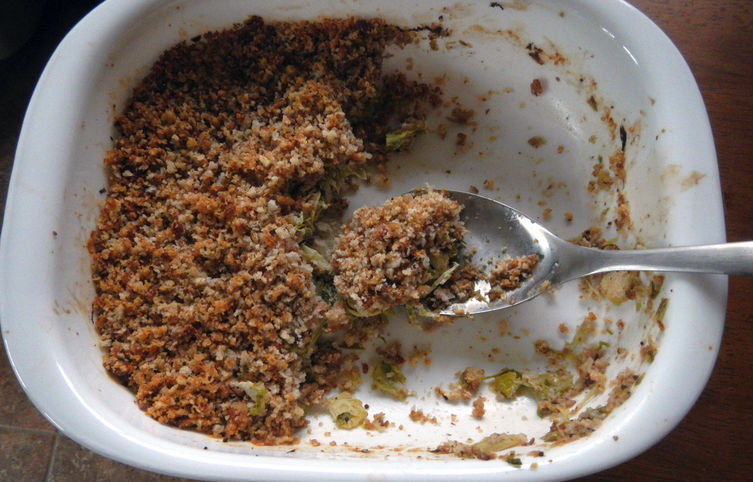 Author Notes: I decided to try turning one of my favorite brussels sprout salad recipes (Brussels Sprout Slaw with Mustard Dressing and Maple Glazed Pecans from the November 2009 issue of Bon Appétit) into a warm side dish. The mustard, maple and cream combo do wonders to both temper and enhance the natural sweet and bitter flavors of cooked brussels sprouts. If you want to keep the recipe vegetarian substitute mushroom or a non-sweet vegetable broth for the chicken broth. I recently tried Melissa Clark's method for making bread crumbs using the grating disc of a food processor, and think it works beautifully. Use any method you'd like for making the bread crumbs - but do make your own if possible. - hardlikearmour
Serves 6
Brussels sprouts
1 lb brussels sprouts

1 cup low-sodium chicken broth or stock

1/2 cup heavy cream

1 tablespoon whole-grain mustard

1 teaspoon maple syrup (grade B preferred)

1/2 teaspoon kosher salt

1/4 teaspoon freshly ground black pepper
Gratin topping
1 cup bread crumbs made from dry bread

1/2 cup chopped pecans

2 tablespoons unsalted butter, melted

1 1/2 teaspoons (1/2 tablespoon) maple syrup (grade B preferred)

1/4 teaspoon kosher salt
Preheat oven to 350º F with rack in the middle or lower middle position.
Remove hard stem end and and bruised or wilted leaves from brussels sprouts. Shred them using the slicing disc of a food processor, alternately use a mandoline set at 1/8- to 1/4-inch thick, or slice them by hand. Set aside
Whisk together remaining brussels sprouts ingredients in a medium bowl. Stir in the shredded brussels sprouts, then transfer mixture to a gratin or shallow baking pan (1-quart gratin or 8-inch square baking pan). Spread in an even layer.
Combine the gratin topping ingredients in a medium bowl. Toss until crumbs are well-coated and mixture is homogenous. Sprinkle in an even layer over brussels sprouts.
Bake until the topping is golden brown in the center and dark golden brown around the edges, about 35 minutes. Rotate the pan after 20 minutes to promote even browning. Serve immediately.
Jump to

Comments

(

2

)