WHITE CHOCOLATE GREEN TEA LEAVES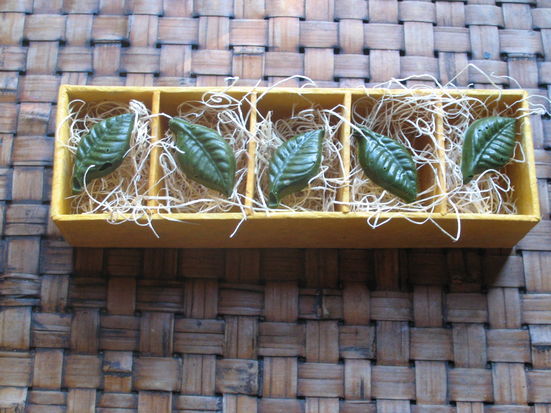 Author Notes: I have long been intrigued by the use of savory elements in desserts. While I feel like a 'Japanophile' in so many regards, I have never been able to enjoy unsweetened green tea (or natto, but the Japanese expect that!). But after adding sugar, I really like green tea (though it truly horrifies my Japanese hosts.) The tricky thing about powdered green tea -is that it can vary a bit in texture, intensity and flavor. So in candy making or baking with it, you have to experiment. In developing this recipe, i found that I wanted a very clear flavor presence of green tea. The correct strength also brought with it an excess of bitterness, but i was surprised to learn that the kosher salt, even in its small amount, countered and removed the bitterness. I find it matcha an excellent match for white chocolate because, like coffee, it is bitter enough to counter the cloying sweetness of even the best white chocolate. And its green tea flavor is able to shine through white chocolate, where it is rather obscured by dark chocolate. White chocolate has a lovely creaminess to it, and these small candy leaves rest very comfortably, melting in the roof of your mouth. With the added contrasting textures of a small amount of ground pistachios and krispies, the leaves gain another dimension of elegance. - LE BEC FIN
Makes approximately 18-20 leaves
3

ounces Caillebaut white chocolate, shaved/sliced small

1 1/2-2

tablespoon high quality green tea powder (matcha)

pinch Kosher salt (counters the bitterness)

1

teaspoon ground roasted unsalted pistachios

1

teaspoon crushed puffed rice cereal

1 or 2

CK # 90-13035 clear plastic leaf candy mold makes 14 leaves @
Spread out a layer of white chocolate in small ceramic dish or heavy plastic container. Put in microwave and cover lightly (not tight saran or a cover that snaps shut). At medium power, heat for 2 minutes. Stir with rubber spatula til chocolate is all melted , or repeat process til all melted. Should be smooth, shiny and loose. Remove dish from microwave; and add matcha, stirring with fork til smooth. If chocolate is not very loose, try further microwaving. a bit longer. Fill molds or add krispies and pistachios and then fill molds.
Use a narrow rubber spatula or teaspoon to fill the molds, taking care that the chocolate fills in the leaf stem. This is messy going! After the molds are filled, finish by holding straight up at a 90 degree angle a metal pastry scraper or dough scraper (or a 'graduated icing spatula',held sideways on its edge) and dragging it across the surface of the stationary mold, taking the extra chocolate drippings with it. Refrigerate the mold a minimum of 1/2 hour til leaves set up. Leaves will pop out easily. If you have more chocolate, remelt it, fill mold, chill and pop out as before.
* if surface of leaves is not shiny, wash out the mold with hot water and sponge, dry thoroughly and use again. ** If chocolate cannot be melted thin enough, a tiny amount of oil or crisco can be added to thin it. *** There are many sizes and shapes of leaf molds available on-line.
Jump to

Comments

(

4

)