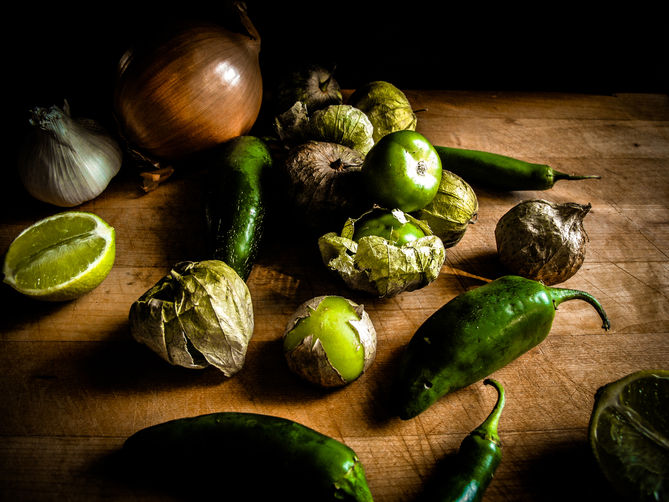 Makes apprx. 3 generous cups
4

large Jalapeños, sliced in half and roughly seeded, tops removed

4

large Serrano chiles, sliced in half and roughly seeded, tops removed

1

medium brown onion, peeled and roughly chopped into 1/8ths

1.5

pounds tomatillos, peeled (you may want to get a few extra, as you may find that a few are a little beat up under the skin) and halved

2

Tbsp good quality Extra Virgin Olive Oil

1/4

teaspoon sea salt (I prefer fine pink sea salt, but use whatever you like best - the amount of salt will slightly vary depending on the type and your prefer

1

tablespoon ground cumin

2

large, ripe Haas avocados, seeds removed

Juice of 2 limes

1

cup tightly packed of cilantro, stems removed (you can get a little lazy here, but take most of the stems off - it's just going into the food processor)
Pre-heat oven to 500° F. Line a baking sheet with foil (shiny side up).
Put tomatillos, both types of peppers, garlic and onion on the baking sheet. Drizzle with olive oil and sprinkle salt over the vegetables. Lightly toss by hand (pro-tip, WEAR GLOVES WHEN HANDLING PEPPERS - THIS INCLUDES CUTTING AND SEEDING, SERIOUSLY) to evenly coat.
Place into oven for 15-20 minutes, checking every 5 minutes or so. The goal here is to caramelize and lightly char the vegetables.
Once vegetables reach desired doneness, remove from oven and let rest 5-10 minutes.
Add all vegetables to food processor, being sure to get as much juice from the baking sheet into the food processor as possible. This is the good stuff! I like to use a large, sturdy silicone spatula for this.
Add cumin, lime juice and salt. Pulse this mixture until just combined.
Add in avocado and cilantro, then continue to pulse the mixture until you've reached your desired consistency. I personally like to leave the avocados a little chunky, but feel free to go smoother if you like it that way.
Jump to

Comments

(

0

)