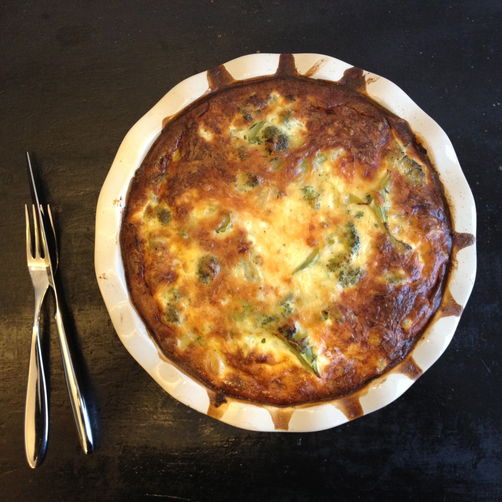 Author Notes: I sometimes wonder if savory pie has adopted the name of quiche so we don't mind eating it for dinner. I love a good quiche. What I don't always love, though, is packing in a cup or two of cream into an otherwise healthy dinner, alongside of a butter or lard-packed crust. I developed this Broccoli Leek Savory Pie in an effort to make a "quiche" that was guilt-free but completely delicious. In place of the broccoli and leek, you can use any variety of fillings, so feel free to be creative with this one! - EatSimplyEatWell
Serves 6
Crust
1/2

cup oatmeal

1/2

cup flour

2

tablespoons ground flaxseed (optional)

1/2

teaspoon salt

1/2

teaspoon baking soda

4

tablespoons butter, melted

1/2

cup greek yogurt or quark
Preheat oven to 400° F.
Combine the oatmeal, flour, ground flaxseed, salt, pepper and baking soda in a mixing bowl. Add the butter and yogurt and stir until well-combined.
Press the dough into a 9" pie pan so it covers the bottom and the sides.
Bake for 15 minutes or until crust is puffed and golden. Remove from oven.
Filling
1

leek, halved lengthwise and then cut into thin half-moons

1

head of broccoli, roughly chopped into thumb-sized pieces

2

tablespoons olive oil

1/2

teaspoon freshly ground black pepper

4

eggs

2

cups 2% milk

1

cup shredded mild cheese, e.g. Mozzarella or Edam
Heat the olive oil in a skillet over medium heat. Add the leek and the broccoli and cook, stirring occasionally, until the leek is tender and slightly translucent, about 5 minutes. Add the salt and pepper and stir to combine. Remove from heat.
In a medium-sized bowl, beat the eggs. Add the milk and beat to combine.
Arrange the vegetables over the crust in the pie pan. Sprinkle the cheese evenly over the top. Pour the egg mixture over the vegetables and cheese.
Bake the pie in the oven for 30-35 minutes until the center rises up into a dome and the surface is golden brown. Remove from oven and cool 10 minutes at room temperature before serving.
Jump to

Comments

(

0

)