Saffron-Infused Rice Pudding- Sholeh Zard, in the Persian Manner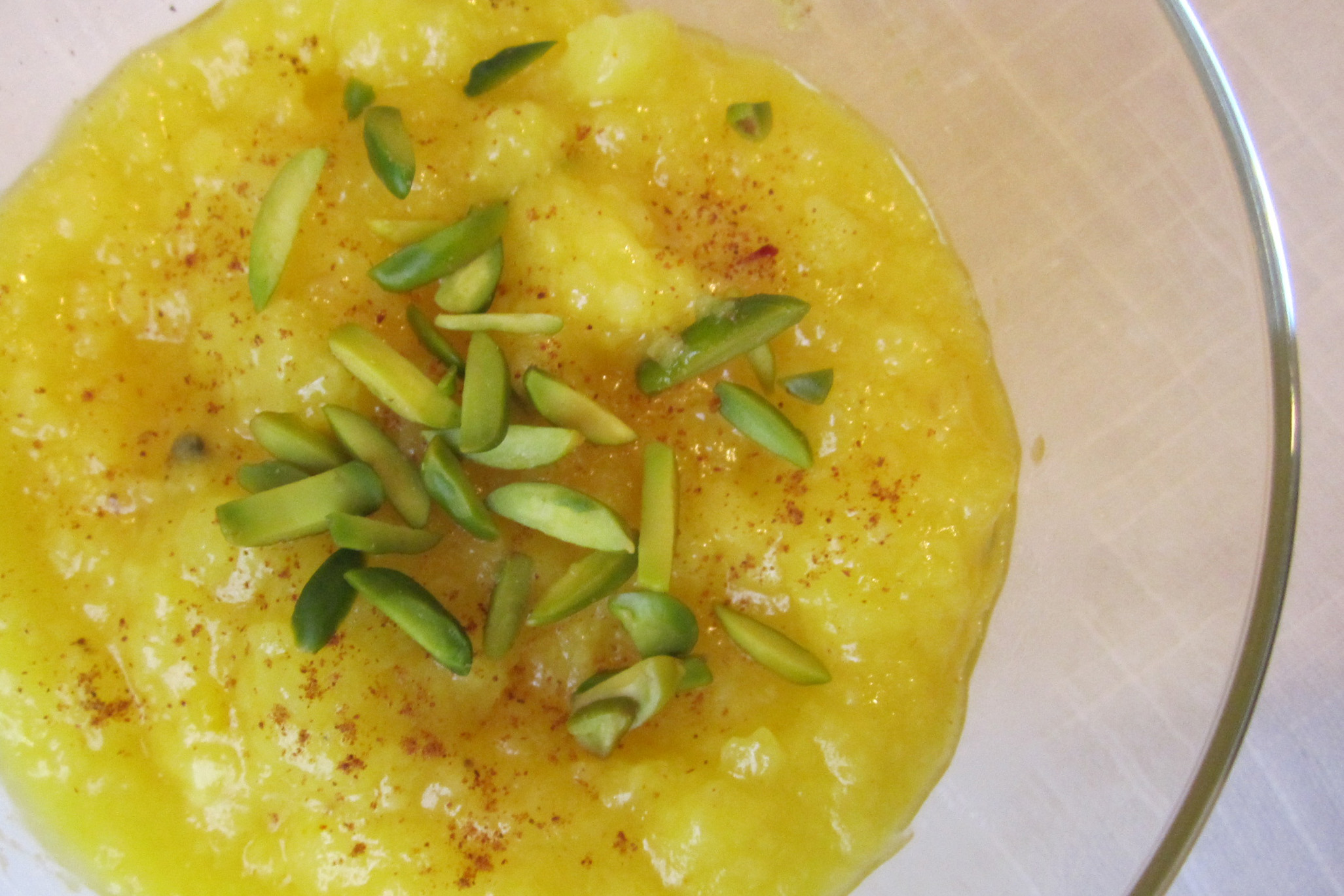 Author Notes: My paternal grandmother's grandfather, made his way from Sabzevar, Iran to Pakistan to spread Sufism. Persian cooking traditions endured in our family, even though my grandmother was born and brought up in Pakistan and later, married an Afghan. She knew how to elegantly bring Afghan and Persian cuisine together. (She was also adept at Ikebana, but that is a story for another place and time). She would prepare this rice pudding, infused with saffron water for Nazri; a religious vow of offerings of charity food to the needy. To prepare this, the rice is cooked till the separate rice grains disappear. Sounds like sacrilege coming from a Persian-Afghan kitchen, doesn't it? Don't be put off by this, the addition of rosewater, cinnamon and cardamom makes a delicious dessert. I serve my guests a few tablespoons of this rich, fragrant pudding in a glass, feel free to double it if you think 1/2 c. of Basmati is not enough for 4. NB: It is up to you- you can make the pudding so it is 'all'onda' like risotto, or continue cooking it in the end to make it more thick. - shayma
Serves 2-4
1/2

cup Basmati rice

1

plus ½ tsp saffron strands

4

cups cold water

1/2

cup sugar (you may add more, I like my rice pudding on the less-sweet side)

1

cup hot water

4

tablespoons unsalted butter

1/4

cup rose water (my mother adds 1/2 cup)

3

cardamom pods; seeds extracted, pods discarded

1

cinnamon stick

1/4

cup slivered almonds, unsalted

handful slivered pistachios, unsalted, for adornment

cinnamon powder for adornment

a heavy-bottomed pan, minimum 8-in diameter
Wash the Basmati in cold water 6 times till the milky water begins to run clear and soak for 1 hour;
In the meanwhile, take 1 tsp of the saffron threads and crush with a pestle & mortar or back of a spoon in a small bowl; To this mixture, add ½ tsp of whole threads and 1 tbsp of warm water. Set aside;
Add the Basmati to a pot with 4 cups of cold water on the lowest heat; let the Basmati simmer for 30 minutes till you see it has cooked and moistened and the water has almost evaporated; The moistened rice will not be smooth like Basmati usually is; it will be curly and almost jagged-edged, that is what you want.
To the moistened rice, add sugar mixed in hot water, rose water, butter, a cinnamon stick, almonds, cardamom seeds and the saffron infused liquid (including the saffron strands) and stir gently;
Cover and let cook for another 20 minutes; You will have to stir it occasionally, but gently, to ensure the rice is not sticking to the bottom of the pot;
Uncover the lid and cook for another 20 minutes;
Remove and discard the cinnamon stick and ladle pudding into 4 individual cups;
Refrigerate for at least 2 hours or overnight; and
Serve with a sprinkling of powdered cinnamon and slivers of pistachios.
Jump to

Comments

(

3

)
Tags: Persian, rice pudding, serves a crowd