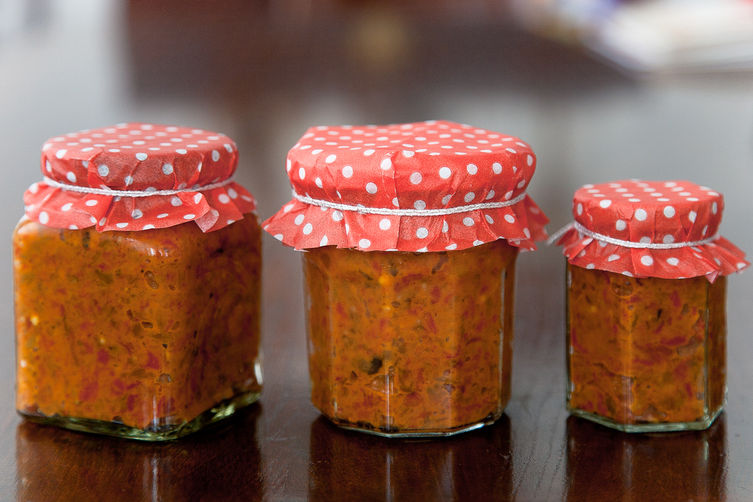 Author Notes: Ajvar (pronounced Ayvar) is a magnificent red pepper spread from the Balkans. I will not attempt to attach its origin to any of the sub-cuisines of the peninsula, as there are many heated debates and disputes over who created it first, the most notable one between the Macedonians and the Serbs. But the name, derived from the Turkish word for caviar (havyar) tells volumes about this dish. In Serbia, where I grew up, late summer and early autumn, when red peppers are at their sweetest, were the Ajvar-making season. Making of the Ajvar is not just making of the dish, it is a ritual. Entire villages would gather over open fire to roast the piles of peppers, peel them, blend with salt, garlic, sunflower oil and sometimes eggplant and vinegar, simmer the paste in a gigantic pot over low heat, and then carefully preserve in jars for the long winter. In the city, we would do it in our backyards and our courtyards, together with a block party. My mother and grandmother had an Ajvar-dedicated weekend, two full days spent on Ajvar making and preservation activities. Sadly, these traditions have almost disappeared, having been replaced with the industrially produced Ajvar, which is only a pale version of the real stuff. To get the distinctive taste of the authentic Ajvar, you will have to make it from scratch. And it is not such a big deal. So here it goes…

p.s. … before you start: Choose the sweetest, the best possible red peppers in the market, at the peak of the season. Ideally, you want the horn shaped red cubanelle. Or a late summer red pepper. For a different color and flavor, you can also throw in a couple of yellow and orange peppers. However, whatever you choose, bear in mind that bell peppers from Holland will not do. Having made Ajvar on the American continent for over a decade, I still miss the peak harvest red peppers from the Balkans. To compensate, I cheat a little by adding a pinch of sugar. Other than that, the steps below are what the generations of cooks used to make the magic.

p.s.1 And how do various Ajvar masters achieve their unique flavor and texture? Well, Ajvar is an incredibly tolerant dish and you can vary the proportions of peppers, eggplant, garlic and oil to achieve your very special blend. You can reduce the oil to a tiny amount, which will yield Ajvar that feels fresh and light, and is eaten as a salad. The more generous amount of oil, yes I know, has its drawbacks, but will result in a complex spread you should eat with tiny spoons, like cavair. - QueenSashy
Makes two to three 13oz jars
4

pounds red peppers

2

large poblano peppers (optional, Ajvar can be mild, spicy or very hot, so add your hot peppers accordingly, I like poblanos as they add extra smokiness to the blend)

1

large eggplant (about 1 1/2lb)

4-6

cloves of garlic

3/4

cups of your best sunflower oil

1

teaspoon sugar (optional)

Salt
Preheat the broiler. Place washed peppers and the eggplant on a baking sheet and roast, turning occasionally, until their skins blister and turn black (and I mean black, not just charred). Make sure to roast all sides and the tops and bottoms. (Us poor city folks are reduced to using the oven, but if you own a grill, or can burn fires in your backyard, definitely go for it.)
Place the roasted vegetables in a bowl. Cover and let the vegetables cool. This will allow the flesh to separate from the skin.
Once the peppers are cool enough to handle, peel them with your fingers carefully and remove seeds. (Keep a large bowl of water to rinse your hands as you peel the peppers. Do not rinse the peppers, it will also rinse the flavor away!)
Using a tablespoon or an ice-cream scoop, remove the pulp of the eggplant. Discard the thickest seeds and the skin.
Using a meat grinder, grind the vegetables coarsely. (Ajvars can vary in their chunkiness, and you can also chop the vegetables by hand, or grind them into a smoother pure.)
Transfer the mush into a large pot. Add the smashed garlic, oil, and season with salt. Place the pot over low heat and simmer for about an hour (or longer for larger quantities), until the liquids are gone and the mush is reduced into a thick spread. This is when all the flavors come together, so do not cut corners.
If you are not preserving your Ajvar, let it cool, let it rest for a day before eating, and store covered in the fridge for about a week. (Ajvar also freezes beautifully.)
If you are planning on preserving your Ajvar, have a canner filled with hot water and boiling. As soon as you take the pot from the stove, fill each sterilized jar with Ajvar, leaving about quarter inch air space on top. Close tightly and process at a simmering boil for 10 minutes. Remove jars, cool and store.
Jump to

Comments

(

6

)