Jalapeño-Cucumber Sherbet
4
Save
If you like it, save it!
Save and organize all of the stuff you love in one place.
Got it!
If you like something…
Click the heart, it's called favoriting. Favorite the stuff you like.
Got it!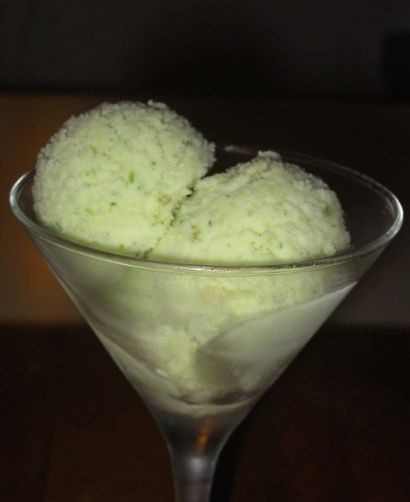 Author Notes: Sherbet, cool and refreshing, is similar to sorbet in that they both are made with pureed fruits, but in this case I tweaked, using garden fresh jalapeño and cucumber; the added dairy product, heavy cream, makes it a sherbet.

This sherbet is sweet and refreshing with a definite taste of jalapeño and its heat after every bite.

Recipe is inspired by our garden's bounty and my previous F52 Sherbet posting.
- lapadia
Makes one quart
Jalapeño Simple Syrup – better to make a day ahead and refrigerate
1/2 cup water

1/2 cup granulated sugar

6 small or 3 large jalapeños (green or red), remove stem and split into fourths
Combine 1/2 cup water and 1/2 cup granulated sugar in a saucepan over medium heat.
Bring to a boil; stir until the sugar is dissolved. Turn the heat down to a simmer.
Place the jalapeños, seeds and all, into the syrup. Continue to simmer, covered, for 20 minutes.
Cool the syrup. Refrigerate if making a day ahead.
Before making the sherbet, strain out the jalapeños, seeds and all, set aside until needed.
Sherbet
7 tablespoons strained jalapeño simple syrup

1/2 cup powdered sugar

1/4 cup light corn syrup

3 cups cubed, peeled cucumber (peeled or not, I leave a little for a green speckle effect), discard seeds.

1/2 cup heavy whipping cream

2 tablespoons Cucumber Vodka - preferred, but plain will work
In an eight cup container with spout and handle, combine the strained simple syrup, powdered sugar and corn syrup, whisk until incorporated.
Into a blender, place the cucumber, the strained jalapeños - seeds and all, and a pinch of sea salt; blend until smooth.
Add the sugar mixture, puree until smooth. This will take about 30 seconds, depends on your blender.
Pour the blended puree back into the container with spout and stir in the cream and vodka until incorporated.
Chill the puree in the freezer about 20 minutes up to 30 minutes.
Place the freezer bowl and attachments needed onto the machine, turn ON; stir the puree a couple times, then pour into the freezer bowl and let churn until thickened, about 25 – 30 minutes. The sherbet will have a soft texture at this point.
Cover and place bowl back in the freezer or transfer to an airtight container and freeze until firmer.
Note: Instructions written are using a Cuisinart Yogurt-Ice Cream & Sorbet Maker; place the freezer bowl in the freezer overnight. Or follow your ice cream maker instructions.
Jump to

Comments

(

6

)