Roasted Brussels Sprouts with Apple, Chile & Walnuts
19
Save
If you like it, save it!
Save and organize all of the stuff you love in one place.
Got it!
If you like something…
Click the heart, it's called favoriting. Favorite the stuff you like.
Got it!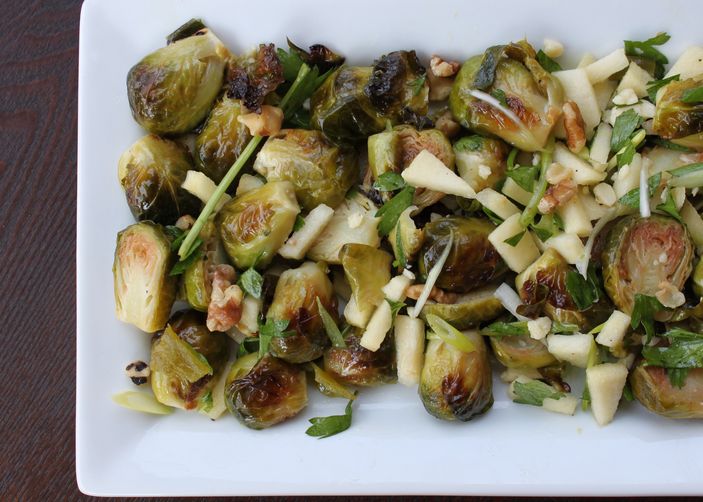 Author Notes: This salad is inspired by the Brussels Sprouts Salad with Green Apple at Puppatella, my family's favorite pizza place in Arlington; the Apple Salad with Walnuts and Lime from a recent Bon Appetit, which the editors called one of the best dishes they'd had in the past year (that's high praise for an apple salad!); and my very favorite Northern Spy's Kale Salad on this site, which made me fall head over heels for aged cheddar with green leafy vegetables. I took my favorite parts of each salad and combined them -- plus decided to add some chile since I like my Brussels sprouts with a little kick. - EmilyC
Serves 2 to 4
1 pound Brussels sprouts, trimmed and cut in half lengthwise

3/4 tsp Aleppo pepper (or lesser amount of red pepper flakes), or to taste

Olive oil to evenly coat vegetables (for roasting), about 1 to 2 T

Kosher salt + freshly ground black pepper

1 tart, crisp apple, cut into 1/2" dice (peeling optional)

2 T lime juice, plus more to taste, from 1 to 2 small limes

2 scallions, thinly sliced lengthwise at an angle into thin slivers (white and light green parts only)

2 T roughly chopped parsley

2 T roughly chopped mint

¼ cup walnut halves, toasted

1 to 2 T walnut oil, or to taste

¼ cup finely chopped or crumbled aged cheddar (I used Cabot clothbound)
Heat oven to 425 degrees F. Spread Brussels sprouts on a rimmed baking sheet or casserole dish, and toss to evenly coat with Aleppo pepper and olive oil and season well with kosher salt and freshly ground black pepper. Roast, stirring occasionally, until the Brussels sprouts are tender, golden brown, with a few crispy, singed leaves, about 20 to 30 minutes. Remove from the oven and let cool. During the last 5 to 10 minutes of roasting time, toast your walnuts on a separate baking sheet, making sure to not burn. Remove Brussels sprouts and walnuts from oven, and let cool about 10 minutes before adding them to other ingredients in Step 3.
While the vegetables and walnuts are in the oven, toss apples, lime juice, scallions, parsley and mint in a large bowl.
Add the Brussels sprouts to the other ingredients. Season to taste with salt and pepper. Add cheese, walnuts and walnut oil; toss gently. Squeeze some more lime juice over the top if more acidity is needed. The salad is best served slightly warm or at room temperature. It can be made several hours in advance; the lime juice prevents the apple from turning brown.
Jump to

Comments

(

2

)