Tomato and Concord Grape Tart with a Cornmeal Black Pepper Crust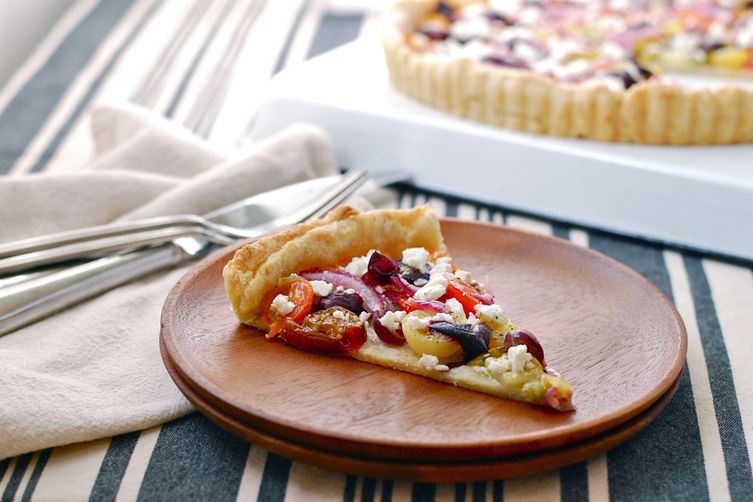 Author Notes: Sweet grapes and bright, acidic cherry tomatoes come together beautifully in this simple fall tart recipe. The tart is fantastic just out of the oven, but after one day the flavors mellow considerably, making for some seriously delicious leftovers. I used a blend of Concord and seedless grapes and loved how they played against sweet orange cherry tomatoes. This simple tart is inspired by a tomato chevre tart I made earlier in the summer. - Elizabeth Stark
Serves 8
For the cornmeal black pepper crust
1

cup unbleached all-purpose flour

1/4

cup masa harina or finely ground cornmeal

8

tablespoons cold unsalted butter

3/4

teaspoons sea salt

1/2

teaspoon freshly ground black pepper

6

tablespoons ice water
For the toppings
1 1/2

cup cherry tomatoes, halved and seeded

1/4

cup Concord grapes, halved and seeded

1/4

cup seedless red or purple grapes, halved

1/2

teaspoon sea salt

2

tablespoons olive oil

1/2

teaspoon freshly ground black pepper

1/4

cup red onion, sliced thin

1/3

cup feta, crumbled
To prepare the dough, combine the flour, cornmeal, and sea salt in the bowl of a food processor.
Chop up the butter, scatter on to the flour mixture, and then pulse 5 to 6 times to combine.
Drizzle ice water over the mixture, and pulse just until dough holds together.
Turn out onto a lightly floured surface, gather into a disc, and then wrap tight in plastic. Chill in the fridge for at least 30 minutes.
Preheat the oven to 425 degrees F. Place a large rimmed baking sheet in the oven to preheat as well. Grease a 10 inch tart pan and set aside.
Prepare the tomatoes and grapes, sprinkle with sea salt, and set aside.
On a lightly floured sheet of parchment, roll the dough out into a 12 inch circle. Press into the tart pan, folding and excess dough into the sides. Place tart shell in the freezer to set up for 10 minutes.
Brush the crust with olive oil and sprinkle on a pinch of sea salt. Arrange the tomatoes in concentric circles, and then dot with the grapes and onions.
Set the tart on the preheated baking sheet, and bake for 20 minutes. Remove tart from oven, dot with feta, and bake for 5 minutes more.
Cool tart for 20 minutes, or more, slice, and serve with a salad of bitter greens.
Jump to

Comments

(

1

)