Haya's Wax Beans or Green Beans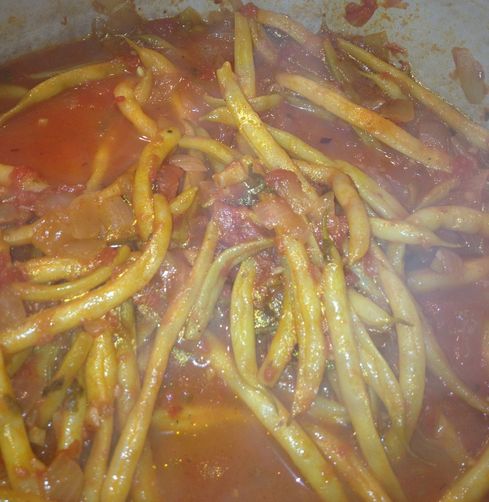 Author Notes: Haya was my cooking mentor when I lived in Israel many years ago. She never measured ingredients using standard tools. She taught me to enjoy foods I never thought I would eat, and she took me to the greenmarket and taught me how to find the best produce. She made delicious beans using only a few ingredients; and every year, when I can use fresh, local produce, I make these beans regularly. You can adjust the heat of the sauce very readily by adding or subtracting the amount of crushed red pepper you use. - Bevi
Makes 4 portions
2

tablespoons olive oil

4

large cloves of garlic, minced

1/4 to 1/2

teaspoon crushed red pepper flakes

1

large onion, chopped coarsely

1/4

teaspoon Hungarian paprika

2

very large handfuls of either wax or green beans; romano would work as well

2

cups marinara sauce - fresh, canned, or jarred

water if needed

sea salt and ground pepper to taste
Prepare the beans by snapping off just the "stem" end of the bean. Haya always left the end tip on the bean.
Heat the olive oil over medium heat in a 12 inch Dutch oven. Add the crushed red pepper and the chopped garlic and saute slowly. Make sure the garlic does not get too browned - just a very light touch of color. You may get a sniff of the red pepper, particularly if you have used 1/2 teaspoon.
Add the chopped onion to the garlic and red pepper and saute until translucent - about 5 minutes. Add the paprika and sauté, stirring, for a few more minutes.
Pour the marinara sauce into the Dutch oven and cook with the garlic, onion, paprika and red pepper for a few minutes.
Add the beans and stir them into the sauce. The sauce should almost cover the beans. If necessary, add about 1/2 cup water to the beans. Add a few grindings of salt and pepper.
Cover the beans and lower the heat to a simmer. Stir the beans every 15 minutes for almost an hour. Remove the pot lid and decide if the sauce is thick enough so sopping it up with bread will be enjoyable. If too thin, allow the beans to cook a few more minutes uncovered.
Serve either hot or at room temperature. They are delicious with eggplant parmesan, Mediterranean dishes, lamb, and fish. They are also good chopped after cooking and added to your favorite cooked grain.
Jump to

Comments

(

6

)