Tuscan Kale Gratin For Two
8
Save
If you like it, save it!
Save and organize all of the stuff you love in one place.
Got it!
If you like something…
Click the heart, it's called favoriting. Favorite the stuff you like.
Got it!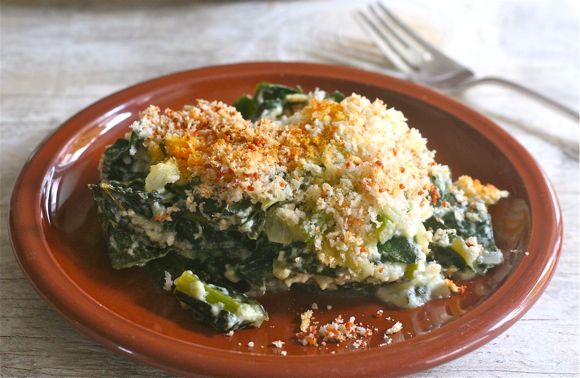 Author Notes: You can't go wrong serving a vegetable gratin this time of year. My only complaint is that most recipes serve up to a dozen folks, and we are a family of two. So I adapted my gratin recipe to make about four servings, enough for leftovers. Healing from a hip injury, I streamlined the cooking method by buying pre-washed packaged kale and - gasp - cooking it in the microwave. - Lizthechef
Serves two, generously
2

tablespoons unsalted butter

1

small yellow onion, chopped

2

tablespoons all-purpose unbleached white flour

1 1/2

cup whole milk

1

pinch freshly ground nutmeg

1

pinch cayenne pepper

3/4

cups Gruyere cheese, coarsely grated

1

10-ounce package washed and chopped organic Tuscan kale

1/2

teaspoon kosher salt

1/4

teaspoon ground black pepper

1/2

cup panko breadcrumbs

2

tablespoons Parmesan cheese, finely grated

sweet Hungarian paprika

1

tablespoon unsalted butter, chopped
Preheat the oven to 375 degrees.
Heat the milk, using a glass measuring cup, for 1 minute on high in the microwave.
Melt the butter in a large skillet. Add the chopped onion and cook over medium heat until the onion is limp but not browned, about 3-4 minutes. Add the flour and hot milk. Whisk sauce until it thickens and will coat the back of a wooden spoon. Add the nutmeg and cayenne. Stir and turn off the heat.
Add the Gruyere and stir to combine.
Open one small end of the bag of kale and microwave on high for 1 minute.
Add the kale, salt and pepper to the gratin. Turn the heat back on and cook until the kale begins to just wilt, about 3 minutes.
Turn into an 8-inch glass baking dish or similarly sized gratin dish. Combine the panko and parmesan, then sprinkle over the gratin. Dust with paprika and dot with butter.
Cook 25-30 minutes, until hot and bubbling.
Jump to

Comments

(

0

)