Caesar-Style Kale Salad with Roasted Onions and Ricotta Salata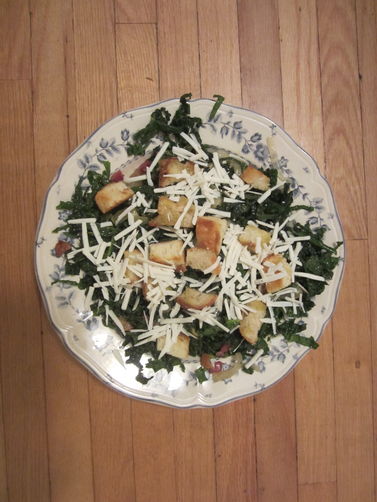 Author Notes: I came relatively late to kale salads, but now my favorite way to eat kale is raw. At Spinnaker's. a gastro-brew pub in Victoria, my favorite dish on their menu is their kale salad. They do a Caear spin on it and garnish it with bacon and foccacia croutons. I wanted to recreate the salad at home, but along the way I deviated a bit from the Spinnaker's salad. Some people I have served kale salads to do not like the raw texture. I found that if some hot ingredients were added to the raw kale, it wilts the kale just enough to tone down the grassy chewiness. I kept the capers in the dressing, but upped the umami quotient with a good dose of lemon and anchovy. I have been a fan of roasted onions ever since Merrill posted her recipe for Tomao Salad with Corn, Summer Squash and Roasted Onions. Now I am never without this condiment in my refrigerator. I have adapted her recipe slighly, lowering the heat, to prevent burning and adding a flavor boost from fresh thyme and rosemary. Despite a few steps (making croutons, and roasting onions), this dish comes together fairly quickly. - cookinginvictoria
Serves 2-3 as a dinner side dish or a lunch entree
Salad Dressing
1 1/2

tablespoon freshly squeezed lemon juice

1/2

tablespoon rice wine vinegar

12

capers, roughly chopped (if salt packed, rinse before chopping)

1-2

large anchovies, roughly chopped (if salt packed, remove tail, fins, and bones before chopping)

1/2

teaspoon Worcestershire sauce

1

teaspoon Dijon mustard

1/4

cup extra virgin olive oil

Kosher salt and freshly ground pepper to taste
The rest of the salad
2

sweet onions, preferably Vidalia or Walla-Walla

2

sprigs fresh thyme

1

sprig fresh rosemary, about 1 inch long

3 1/2

tablespoons extra virgin olive oil, divided

2-3

slices day-old, best quality bread (I like ciabatta or sourdough boule)

1

small bunch Lacinato kale

2

slices thick cut bacon

1/2

cup grated Ricotta Salata cheese (or you can substitute feta)

Kosher salt and freshly ground pepper to taste
MAKE SALAD DRESSING: Add lemon juice, rice wine vinegar, capers, anchovy, mustard and Worcestershire sauce to bowl of blender and whir until thoroughly mixed and smooth. (If you'd rather not deal with the hassle getting your blender out, you can make this dressing with a hand blender.) With motor of blender or hand blender running, add olive oil in a thin stream until thoroughly emulsified. Taste – the dressing should taste vibrant and lemony. Add a pinch or two of salt, a grind or pepper and more lemon if needed. Put dressing aside until needed. (Note: Dressing can be made a few days ahead. Keep in a glass jar in the refrigerator and let sit out for about 15 minutes before dressing the salad.)
ROAST ONIONS: Preheat oven to 350 degrees. Cut onions in half, then slice in half moons about ¼ inch thick. Place onions, thyme and rosemary on rimmed baking sheet. Drizzle with 2 tablespoons olive oil and mix with your hands until herbs and onion slices are coated with oil. Add a ¼ teaspoon salt and a grind or two of black pepper. Mix with your hands again. Place pan in oven and roast for about 60-75 minutes or until onion slices have turned golden and soft and are caramelized. Start checking after about sixty minutes and remove onions before they begin to char. Burnt onions are not delicious!
MAKE CROUTONS: Cut bread into large bite sized cubes. Keep crusts on for more rustic croutons. Heat 1 ½ tablespoons olive oil in large heavy pan. (I use a cast iron pan.). Tilt pan, so oil is covering the bottom surface of the pan. Add bread cubes and cook over low heat, turning occasionally, until all surfaces of bread cubes are toasted and golden. Remove and set on paper towel lined plate. Sprinkle with salt while still warm and set aside. (Croutons can be made a few days ahead. Store in airtight container at room temperature.)
PREPARE KALE: Wash kale in cold water. Several rinses may be needed to remove dirt and grit. Dry kale with a few layers of kitchen towels. Working carefully, remove thick stems from kale and roll kale leaves, cigarette fashion. Cut kale into very thin strips. Add kale to salad bowl or serving plate. Pour ¾ of the salad dressing over kale and toss with tongs or your hands until all leafs are coated.
COOK BACON: When onions are just starting to turn golden at the tips, slice bacon lengthwise and then cut into 1-inch pieces. Saute bacon in small skillet over medium low heat until cooked and crunchy. Pour bacon onto kale. If there is any rendered bacon fat in the skillet, add a spoonful of this to the kale, if you like. Remove onions from the oven and add half of the onions and any juices to kale. (Save rest of onions for another use – as a salad ingredient, sandwich topping, or to fill omelettes or burritos.) Mix thoroughly with your hands or tongs. Hot onions and bacon will slightly wilt the kale.
FINISHING THE SALAD: Add croutons and Ricotta Salata cheese to salad. Pour in reserved salad dressing, if salad looks a little dry. Toss again. Taste and adjust seasonings if needed, adding a pinch or two of salt, a grind of pepper or additional lemon. We enjoy this salad for dinner with a hearty vegetarian soup or fresh fish, simply prepared. Enjoy!