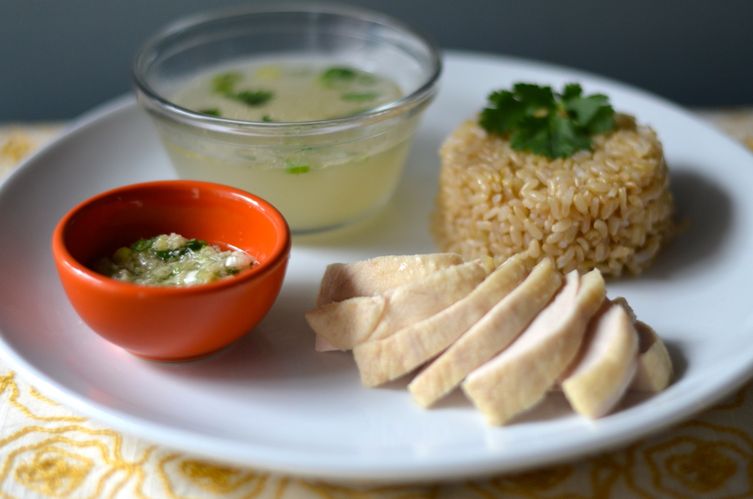 Author Notes: When I was growing up, my mom called her version of this very simple chicken dish "cold boiled-chicken" because it was essentially a boiled chicken served cold or sometimes sort of tepid but never blazing hot. The Chinese version, known as Hainanese chicken, is usually served with salted, skin-on peanuts and a garlicky, gingery condiment. The Thai version, called khao man gai, is usually served warm on a bed of rice that's been cooked in chicken broth with a thick, spiced soybean paste and cucumber slices on the side.

My mom is Chinese and my dad is Thai, so is it any wonder that simple chicken and rice is one of my favorite dishes? For this recipe, I've streamlined the process considerably and made a simple mish-mash of the two styles; instead of cooking the rice in the chicken broth made by the cooking the chicken, I just spoon a little of the savory liquid over the top, and the condiment I use is heavy on the green onions and only contains chiles if I'm craving them (because despite my genetic predisposition to like really spicy food, I don't). This recipe also employs the use of residual heat to cook the chicken, which warms the cockles of my energy-efficiency-loving heart.

Use white rice to go old-school or use brown for some flavor and fiber. If you have the patience and don't plan on eating the chicken sooner than later, go ahead and use the chicken cooking liquid to cook your rice. It will only make it that much more delicious.

To mince the green onions for the condiment, I slice them in quarters lengthwise before I work my way down each stalk; it's a good knife-skills exercise and helps to get evenly sized pieces of onion.

I usually eat my chicken warm-ish, but it's also great cold. The variations on this recipe are endless. Sometimes I'll go for a pho-like flavor in the broth, adding in a stick of cinnamon and a piece of star anise and a clove or two. You can also add a chunks of bitter melon (or another vegetable) to the broth to make it extra fortifying. - vvvanessa
Serves 4
1

chicken, about 3.5 pounds

4

slices of fresh ginger (peeled or unpeeled) plus 2 tablespoons finely minced (or grated on a a Microplane) ginger

3

cloves garlic, peeled and lightly crushed

1/2

teaspoon black peppercorns

coarse-grain sea salt

3

tablespoons finely minced green onions (both green and white parts)

1

Thai chile, seeded and finely minced, optional

2

tablespoons mild vegetable oil

cooked rice (white or brown, cooked in water or chicken stock)

optional garnishes: salted and roasted skin-on peanuts; cucumber slices; fresh cilantro leaves; tomato slices; fried shallots or garlic; sliced green onions; chile sauce like sriracha; soy sauce

special equipment: a stock pot or deep Dutch oven with a tight-fitting lid
Put the whole chicken, breast and legs down, in the pot, and add in the chunks of ginger, garlic, black peppercorns, and 1 teaspoon of salt. Cover the chicken completely with cold water, about 3--5 quarts, depending on the size of your chicken and pot. Full immersion of the chicken is key.
Bring the pot to a boil, and let it go at full boil for ten minutes. Skim off the scum if you like. Cut the heat and cover the pot with a tight-fitting lid. Let the chicken sit for one hour.
While the chicken cooks, make the condiment. Mix the minced ginger, green onions, oil, 1 teaspoon of salt, and chiles (if using) together in a small bowl; the result is supposed to be salty and strong-tasting. Set aside until ready to use.
Carefully lift the chicken out of the pot and onto a platter or cutting board. Do not lift the chicken by any of its limbs or they will come off. Check to make sure the internal temperature is at least 170ºF. Unless you have a freakishly large chicken, this should not be a problem. Let the chicken cool until it is not longer too hot to handle.
Bring the broth back to a boil, then simmer it while the chicken cools down. Taste it and add a teaspoon or so more salt if you like (I like mine on the salty side).
To serve, cut the chicken in pieces (I avoid chopping the legs in pieces because they tend to splinter and would rather just serve them whole) and place them alongside or on top of hot rice that has been doused with a tablespoon or so of chicken broth. On the side, serve a small bowl of strained broth garnished with cilantro and green onions. Use the ginger-green onion condiment sparingly.
Jump to

Comments

(

4

)