my husband's broccoli nut salad
0
Save
If you like it, save it!
Save and organize all of the stuff you love in one place.
Got it!
If you like something…
Click the heart, it's called favoriting. Favorite the stuff you like.
Got it!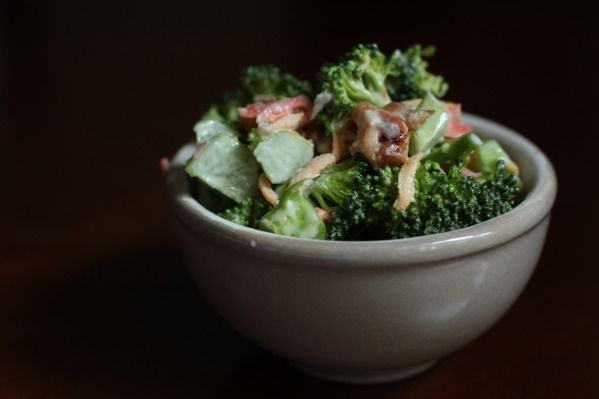 Author Notes: broccoli nut salad is a southern potluck staple. raw broccoli florets are combined with grated carrots, diced red onions and candied walnuts then tossed with a slightly tangy and sweet dressing. some folks add bacon bits, others add dried cranberries or raisins, and then there are those that mix in salted peanuts but we like ours with candied walnuts.
however you like it, it is perfect for a summer meal served outdoors.

to make our bowl of salad in the photo, we used heirloom carrots, a red and a yellow carrot to be exact. while you could always make your own candied walnuts, we picked up a bag on our last trip to trader joe's. - janeofmanytrade
Makes about 6 cups
4

cups broccoli florets, chopped into bite size pieces

2

carrots, peeled and grated

1/3

cup red onion, finely diced

3/4

cup candied walnuts, chopped

1

cup mayonnaise

2

tablespoons wildflower honey

1-2

tablespoons cider vinegar

1/4

teaspoon sea salt
in a mixing bowl, toss together the broccoli, carrots, onions and walnuts. set this aside while you prepare the dressing.
in a small mixing bowl, whisk together the mayonnaise, honey and 1 tablespoon of the vinegar. taste the dressing, if you like it fine, if it is too sweet, add the other tablespoon of vinegar. add the salt, combine and pour over the vegetables.
toss the vegetables with the dressing to coat them. cover the bowl and refrigerate for several hours or overnight. toss the salad right before serving to coat the vegetables with dressing again and serve it chilled.
Jump to

Comments

(

0

)