Maple Walnut Steelcut Oatmeal with Peach Compote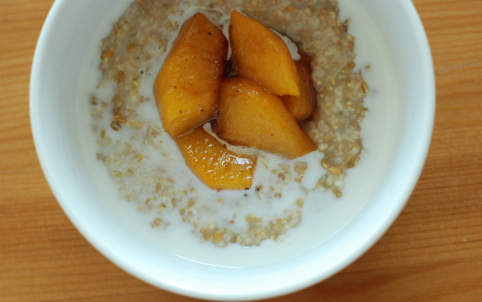 Author Notes: I love the rough texture and nuttiness of steelcut oats. Here, they're coaxed into submission with butter, maple syrup, milk, and a bit of walnut oil. When peaches aren't at their prime, the compote can be made with frozen fruit. - Rivka
Serves 2
For the oatmeal:
1

cup steelcut oats

2

cups water

1

tablespoon butter

1.5

teaspoons maple syrup

1

teaspoon walnut oil

1/8

teaspoon salt

1/8

cup whole milk or cream, for finishing
In a small pot, bring water and salt to a boil. Add oats, stir to incorporate, and turn heat down to low. Let oatmeal simmer, stirring regularly, for about 25 minutes, until water is absorbed and remaining liquid is thick, as with grits or polenta. While oatmeal is cooking, make peach compote.
For the peach compote:
2

cups fresh peaches, peeled, sliced, and halved, or 2 cups frozen peach slices

1

tablespoon butter

2

tablespoons maple syrup

1/2

teaspoon cinnamon

1/2

cup water

splash white wine or lemon juice
Combine all ingredients in a small saute pan. Simmer over medium heat until liquid is reduced and syrupy, about 10-15 minutes.
Serve oatmeal in deep, comfort-food bowls, with a drizzle of cream and peach compote.