Creamy Sausage Stuffed Mushrooms
3,031
Save
If you like it, save it!
Save and organize all of the stuff you love in one place.
Got it!
If you like something…
Click the heart, it's called favoriting. Favorite the stuff you like.
Got it!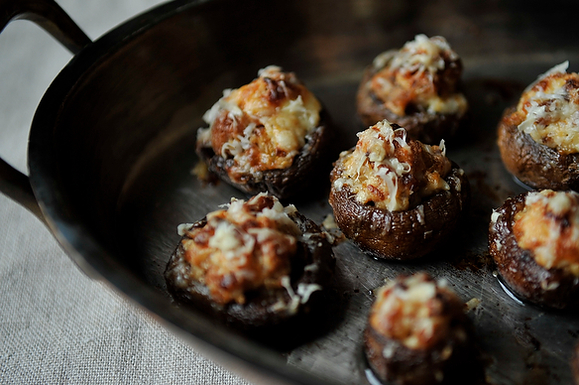 Author Notes: This is a twist on my ex-boyfriend's mother's recipe which I couldn't help but think I could make so much better, and I did. This is something I make for Thanksgiving and even the children who don't like mushrooms love it. - ADRIENE
Food52 Review: Adriene's stuffed mushrooms are the kind of coveted hors d'oeuvres that go all too fast at a party -- so it's a good thing this recipe makes enough for a big crowd. The splash of balsamic that cloaks the mushrooms prior to their first go-round in the oven infuses them with a touch of sweetness and acidity that acts as a wonderful counterpoint to the savory sausage-laced cream cheese stuffing. We chose an aged Asiago and, though it didn't melt as well as a fresh one would, we loved the earthy, piquant accent it added to these rich, addictive little 'shrooms. - The Editors
Serves 15-20
5

PINTS OF BUTTOM MUSHROOMS

4

ITALIAN SAUSAGE LINKS

8

ounces CREAM CHEESE (room temperature)

2

YELLOW ONIONS MINCED

5

GARLIC CLOVES MINCED

5

ounces ASIAGO CHEESE SHREDDED

7

tablespoons OLIVE OIL

3

tablespoons BALSAMIC VINEGAR

SALT & PEPPER
Wipe mushrooms clean with a damp cloth and pull out the stems and discard. Toss the cleaned de-stemmed mushrooms with 5 tbs of olive oil, balsamic vinegar, salt and pepper. Spread out on a sheet pan and bake in a pre-heated oven at 350 degrees for 30 minutes. Set aside and cool.
Slit the Italian sausage and remove casing. Crumble in a heated pan and saute until golden brown. Break up into small pieces while it is cooking. Set aside and cool.
Add the remaining 2 tbs of olive oil in a saute pan and add the onions. Cook until dark and caramelized, about 15-20 minutes. Then add in the garlic and cook for a minute.
Now add the cooked sausage, onions and garlic, cream cheese, salt & pepper, and 3 oz of shredded Asiago cheese to a bowl and mix well with your hands. Break apart any large pieces of sausage.
Line up your mushrooms in a greased baking dish with the core side facing up. Stuff each mushroom with a generous portion of the creamy sausage mixture. Top the mushrooms with the remaining Asiago cheese.
Now put the baking dish in a pre-heated oven at 375 degress for roughly 45 minutes or until the cheese on top is golden brown. (This dish can be made up to 3 days ahead of time and put in the cooler unitl you are ready to put in the oven.)
This recipe is a Wildcard Contest Winner!
Jump to

Comments

(

36

)
Tags: dinner party, mushrooms, sausage