Apple and Fennel Salad with Blood Oranges, Feta, Mint Chiffonade and Honeyed Walnuts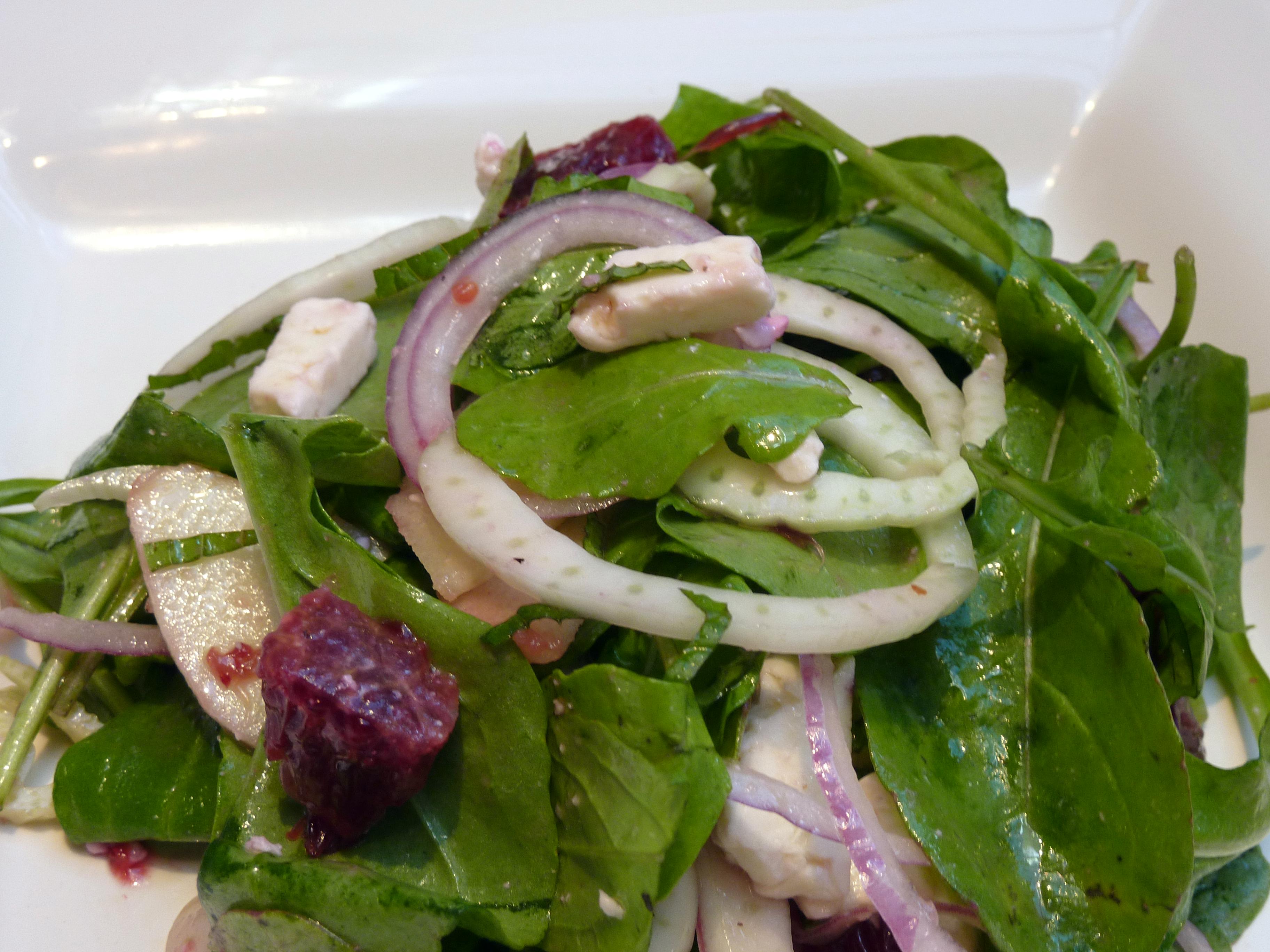 Author Notes: Confession: I've never bought nor cooked with blood oranges. I don't even know if I've eaten one, except I had a blood orange vodka once, but that's another story. I always wondered, "Are they really that different from other oranges"? The answer is, of course, yes. And what a difference! In my experimenting, I found that I really liked the combination of these 5 flavors: apple, fennel, blood oranges, feta cheese and mint. I first tried a simple saute. It was good, but needed some 'punching up' of the flavor. The blood orange became too muted from the heat, and the flavors all went together a little too well with nothing really standing out. So I tried a salad and found what I was looking for. It's a simple composed salad with each flavor really standing out individually but also playing together quite well - especially the blood orange. I used a small mandolin slicer to thinly slice the fennel, apple and red onion. The walnuts are optional, and I didn't do it for mine due to my allergy to nuts, but others loved the addition. - TheWimpyVegetarian
Serves 4
Apple Fennel Salad
1 1/2

cup arugula leaves (packed), washed and dried

1

Granny Smith (or other tart) apple, peeled, cored, thinly sliced

1

medium fennel bulb, thinly sliced

1

small red onion, thinly sliced

1

blood orange, peeled and segmented removing the membrane

1/3

cup feta cheese, broken up

1/2

teaspoon mint leaves, chiffonade cut (about 10 leaves)

1/4

cup honey glazed walnuts (see below instructions for how to make these)
To make the honey-glazed walnuts, preheat the oven to 350F. Place the walnuts on a foil lined cookie sheet and pour 2 tablespoons of honey over them. Toss lightly to coat them and separate on the sheet. Bake for about 10 minutes. Remove from the foil and set aside to cool.
Make the dressing - the recipe follows this.
Combine all ingredients and toss with salad dressing and serve.
Honey - Apple Cider Vinegar Salad Dressing
1/4

cup apple cider vinegar

2

tablespoons juice from a blood orange

1

tablespoon Dijon mustard

1/8

teaspoon ground black pepper

1/2

teaspoon kosher salt

1/2

cup extra virgin olive oil
Whisk together all the ingredients except the olive oil until well combined. Slowly add the olive oil while whisking.
Jump to

Comments

(

0

)
Tags: colorful, entertaining, Healthy, Vegetarian