Silky Smooth Vegetable Soup with Asparagus Pistou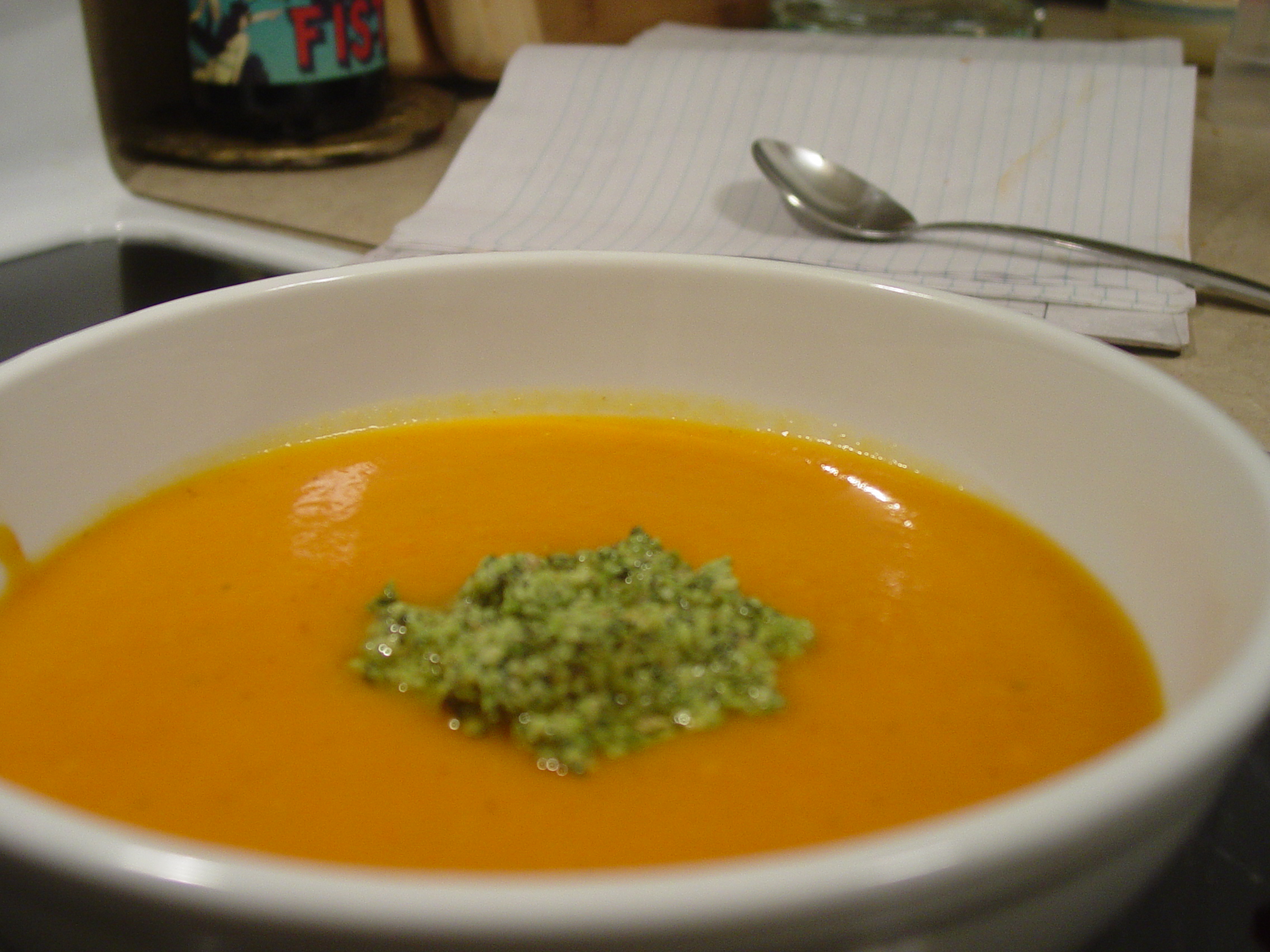 Author Notes: I love pureed soups. Don't get me wrong, I won't turn my nose up at thick, chunky, soups/stews. Nor will I refuse to make them. But, the sight of a perfectly blended soup is one to behold, especially when it is a vibrant color such as the one I have made here. Plus, soup is a perfect meal made in one pot and who does not love one pot meals? This soup also involves the blender so nothing has to be finely chopped. You can also be creative and switch this soup up with different vegetables and variations of pistous. This soup looks reminds me of a warm sun (summer not so far off), while also very evocative of the leaves turning colors during the fall season. It is also comforting while also being filling and healthy to boot. I serve it with a dollop of my asparagus pistou on the top and a rough slice of crusty bread. - testkitchenette
Serves approximately 6
Silky Smooth Vegetable Soup
2

tablespoons olive oil

1

onion, chopped

5

cloves garlic, chopped

pinches of salt

few good grinds of pepper

1

sweet potato/yam, chopped (mine was a little less than a pound)

1

red/yellow/orange bell pepper (just not green)

4

carrots, chopped

1

tablespoon tomato paste

4

cups low sodium vegetable stock

1

bay leaf

salt and pepper to taste if needed
In a large stockpot, heat olive oil over medium-high heat. Add onion, garlic, sweet potato, carrots, and bell pepper and toss to coat. Add a pinch of salt and a few grinding of pepper and saute over medium heat (my stove gets really hot so adjust yours to suit) for a few minutes. Put cover on and sweat vegetables for about 5-8 minutes. Uncover and add tomato paste, bay leaf, and vegetable stock. Bring to a boil, cover, and reduce heat to low and simmer for about a half hour, until carrots and sweet potato are soft. Remove bay leaf. Puree soup in a blender (you may need to do it in two batches), use an immersion blender in stock pot or your food processor and process till silky smooth. Return soup to pot and get ready to serve it after you make the pistou.
Asparagus Pistou (a vegetable infused riff of the classic)
1

packet fresh basil (I don't measure it but it's probably about 2-3 cups)

1

pound bunch of asparagus, blanched

3-5

cloves garlic

1/2

teaspoon harissa (Moroccan red pepper paste/sauce) or red pepper flakes, optional

squeeze of lemon juice

few glugs of olive oil

salt to taste
Blitz all ingredients until roughly of pesto consistency (they are of similar origins) and dollop on hot soup. Eat soup from the center out taking little bits of pistou with each bite of soup.
Jump to

Comments

(

0

)