Merguez and Goat Cheese Stuffed French Toast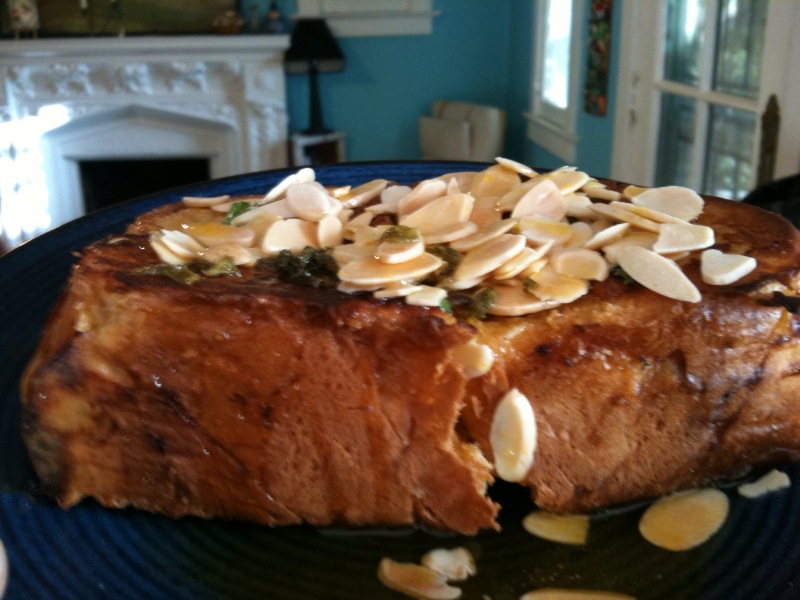 Author Notes: I really enjoy sweet and savory together for breakfast and I am a big fan of Middle Eastern flavors. Other dishes, such as Morrocan pastillas, combine powdered sugar with spiced meats. If orange blossom water is not available where you live you can leave it out. If you cannot get Merguez in your area I would recommend a spicy sausage such as chorizo or hot Italian sausage. This recipe also works well for lunch or dinner. - clintonhillbilly
Serves 2
French Toast
1

Merguez sausage

3

ounces Goat cheese

2

Eggs

1/4

cup Almond or regular milk

1

handful Sliced toasted almonds

1

teaspoon Chopped fresh mint

2

Very thick slices raisin challah

1

teaspoon Powdered sugar
Remove sausage from casing and crumble or dice and sautee until cooked through.
Beat eggs into milk in a bowl.
Make a slit in the center of each challah slice and fill with merguez and goat cheese.
Dip each side of bread in egg mixture.
Heat olive oil on a pan and fry in each side until golden brown.
Serve sprinkled with powdered sugar, fresh mint, an sliced almonds and drizzles with citrus syrup.
Citrus syrup
1/2

cup Orange or tangerine juice

1/2

cup Sugar

1

teaspoon Lemon zest

1

teaspoon Fresh mint, chopped

1/4

teaspoon Orange blossom water
Combine ingredients and bring to a boil, stirring.
Cook until reduced to syrup.
Jump to

Comments

(

1

)
Tags: savory