Horseradish Roquefort Burger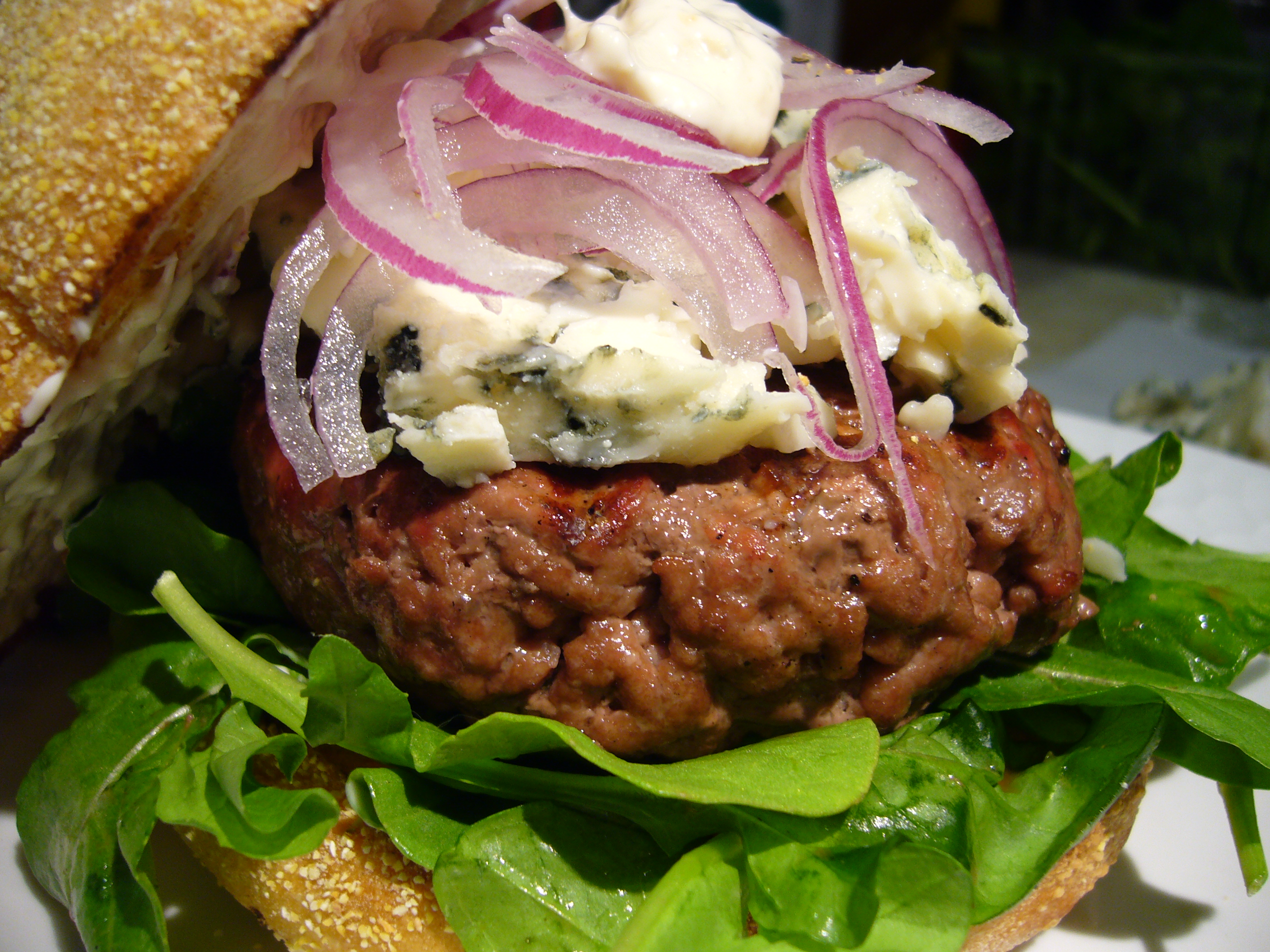 Author Notes: We've been on the little league travel baseball circuit for several years now. I remember one evening in particular. A lot of the games were played around supper time, and the parents usually brought snacks along. Each week it seemed we tried to outdo our previous snacking experience, and by the end of the season, we saw things like homemade pizza, pasta, cheese platters, some wine (for the grown ups) and an infamous roast beef sandwich, with Roquefort, red onion and horseradish mayo on a baguette, which I made one time, and which people still rave about. This burger is based on my roast beef sandwich. - mrslarkin - mrslarkin
Food52 Review: Mrslarkin's delectable burger with Roquefort and red onions made the most sinful lunch I've had in a long time. It tasted like a great bar burger, ramped up. Every element was sheer perfection, from the horseradish heat to the bite of arugula. Make this. Soon. You won't regret it. - MrsWheelbarrow - A&M
Serves 4
1 1/2

pound 85% lean ground beef

salt and pepper

4

large hamburger buns of your choice

use a sturdy roll that has a texture more like a ciabatta, with a good chew

good quality mayo and prepared horseradish, equal parts, mixed together well

4 - 6

ounces Roquefort, or any good quality blue cheese, divided into 4 parts and chilled

fresh baby arugula

1/2

large red onion, thinly sliced
Heat grill or ridged grill pan to medium-high. Have all your burger ingredients ready for assembly on your counter or table, except for beef.
Form ground beef into 4 patties. Don't pack the meat, or handle it too much. Use a light hand for the best juicy burger results. Season with salt and pepper. Grill for 4 to 5 minutes per side, or to your taste. Remove to a clean platter.
While burgers are grilling, lightly toast your buns on the grill. Remove to a clean platter.
Now build your burger!
Spread both cut sides of buns with horseradish mayo.
On bottom bun, place a small handful of arugula.
Followed by a hot burger.
Then a hunk o' cold cheese.
Some sliced onions.
And another dollop of horseradish mayo, if you like.
Put your bun tops on.
And have at it!