40
Save
If you like it, save it!
Save and organize all of the stuff you love in one place.
Got it!
If you like something…
Click the heart, it's called favoriting. Favorite the stuff you like.
Got it!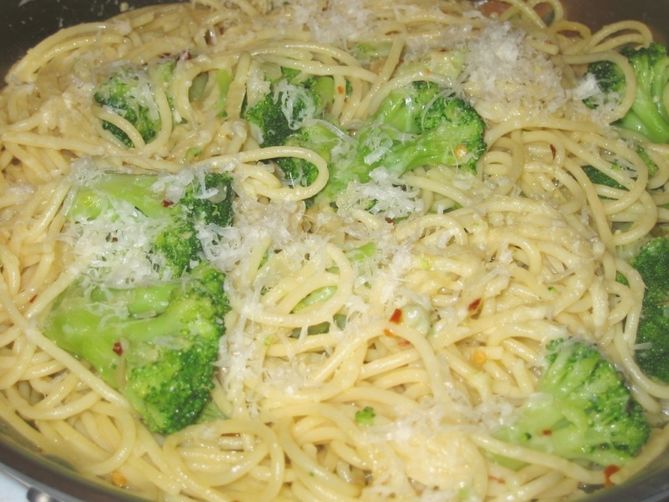 Author Notes: Spaghetti and Broccoli is simple, delicious comfort food and a typical dish from Southern Italy, especially from the Puglia region, where my mom came from.

Growing up we had it often, it is a family favorite handed down from one generation to the next. This recipe is adapted from my Grandma Angelo who made her pasta cheesy and mild, as did my mother, but I like it tweaked it up with lemon zest and red pepper flakes.

A fitting tribute was paid to my Grandmother, after funeral services, when we served endless Spaghetti and Broccoli – definitely a true Celebration of Life, in our family.
- lapadia
Serves a crowd
1 lb. dry spaghetti (I prefer De Cecco)

1 lb. broccoli flowers and stems (I use 1 bag of frozen when broccoli is no longer garden fresh)

6-8 large garlic cloves, 1/2 of them minced, 1/2 sliced

Zest from 1 lemon

1-2 teaspoons dried red pepper flakes - to your taste

6 tablespoons extra virgin olive oil…divided in half

1 medium onion, diced

3/4 teaspoon sea salt…plus extra for the boiling pasta water

1/4 cup pasta water...divided in half

1 cup micro-plane grated Pecorino/Parmesan mix - divided in half.

Extra cheese for individual plates after serving.
In a small bowl, add the minced garlic, lemon zest and red pepper flakes; whisk and reserve for later.
Place a large heatproof serving dish or bowl in the oven, heated @ 200 degrees. Note: I sometimes use a large saute pan.
Start a large pot of salted water to boil. Cook the spaghetti noodles half way. Add the broccoli. Finish cooking until pasta is al dente and broccoli is tender. Reserve 1/4 cup of the pasta water - divide in half.
Meanwhile, in a nonstick pan, heat the first 3 tablespoons of olive oil; add onion and saute until soft.
Add the sliced garlic and 3/4 teaspoon sea salt, stir until the garlic is pale yellow colored.
Take pan off the heat. Stir in the reserved minced garlic/lemon zest/red pepper flakes and add 2 tablespoons of the pasta water. Reserve until needed in step #8.
Drain the spaghetti/broccoli and transfer to the warmed serving bowl or dish. Add the last 3 tablespoons of olive oil and the remaining pasta water - toss to coat.
Now add the reserved onion/garlic, olive oil mixture (from step #6) and the first half of grated cheese, toss to combine.
Sprinkle with the last half of the grated cheese and serve.
Or at this point you can cover with foil and let sit in oven for up to a half hour - the pasta and broccoli will be cooked a bit more…but personally, I like it that way.
Jump to

Comments

(

18

)