Summer Corn and Fish Chowder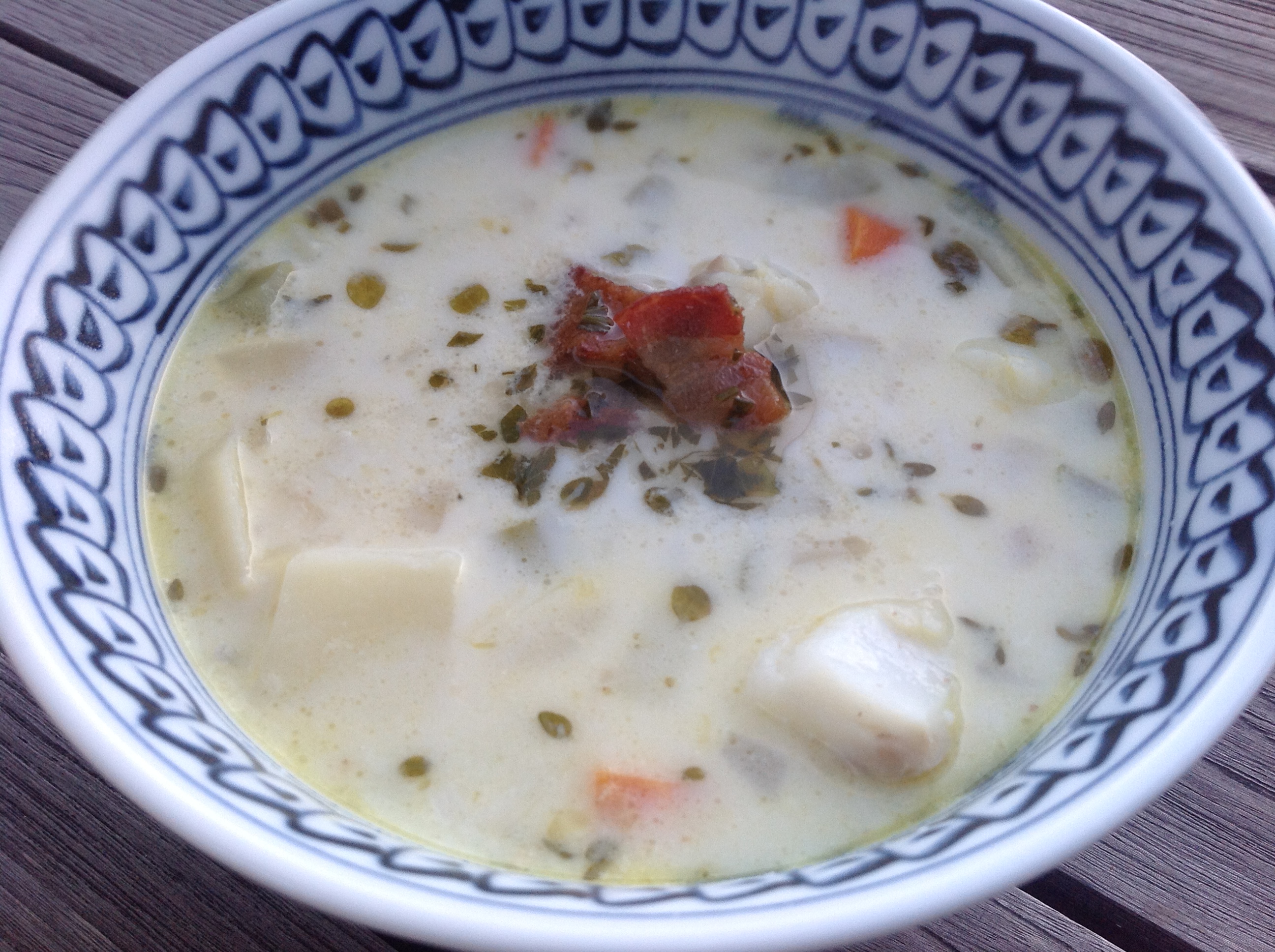 Author Notes: Here is one of our favorite soups – a corn and fish chowder scented with fresh marjoram, thyme and bacon. It's often cool here in the summer, so we eat a lot of this during corn season. To get as much corn flavor as possible into this soup, I make a simple stock using the cobs, right after cutting off the kernels. Lately, I've been keeping a jar of bacon vinaigrette on hand, which works particularly well to garnish this. Enjoy!! ;o) - AntoniaJames
Serves 4
3 ears of corn, uncooked

1 large onion, cut into ½ inch dice

1 tablespoon olive oil

1 tablespoon unsalted butter

½ cup of finely chopped celery and leaves (I use Chinese celery, but conventional will do)

½ cup carrots, cut into ½ inch dice

½ cup dry white wine

1 tablespoon of fresh thyme leaves, coarsely chopped, unless they're small

4 cups chicken stock (preferably homemade)

1 teaspoon finely chopped fresh marjoram, or more or less to taste

3 slices of natural bacon, cooked and drained, and cut into ½ inch dice

½ cup half-and-half (See note below.)

1 ½ cups whole or 2% milk

1 to 1 ½ pound firm white fish (we generally use cod), cut into bite-sized pieces

3 or 4 tablespoons parsley, finely chopped

Salt

Freshly ground pepper, to taste
PREPARE THE CORN STOCK: Remove the kernels from the corn, using a sharp knife or whatever other method you prefer. Put the cobs in a wide pot with a lid; cover with 3 cups of cold water and turn the heat on high. When it starts to boil, turn it down and simmer for at least ten minutes. Remove the cobs to a plate to cool, while continuing to simmer the stock.
When the cobs are cool enough to handle, squeeze all of the milky stuff off of the cob and into the stock, stir well and simmer for a few more minutes. You should have about 2 cups of stock.
MAKE THE SOUP: Soften the diced onion in the oil and butter with a small pinch of salt.
Add the celery and carrots and cook for a few minutes over medium heat, stirring occasionally. Then add the garlic and cook it for about a minute, stirring frequently, lest the garlic burns.
Deglaze the pan with the white wine.
Add the thyme leaves, the chicken stock and the corn stock (no more than 2 cups) and bring the soup to a boil. Immediately turn it down and let it simmer, uncovered, for about five minutes. The carrots should be tender but still firm.
Turn the heat off, and add the corn and the marjoram. Cover the pot, and let it sit for another ten or fifteen minutes, or more if you have the time.
A few minutes before you are ready to serve the soup, bring the soup back to a low simmer, and add the fish. Bring it back to a simmer, and add the milk and the half and half. Cook over medium heat just long enough to heat it through. Do not under any circumstances allow it to boil.
Test for salt and add some, if necessary. Add freshly ground pepper, to taste.
Stir in the fresh parsley and serve topped with the chopped bacon pieces.
N.B. For a lighter soup, use just 2% milk (2 cups) and no half-and-half.
Enjoy!!