Mint Pesto Pizza with Grilled Chicken, Peaches and Provolone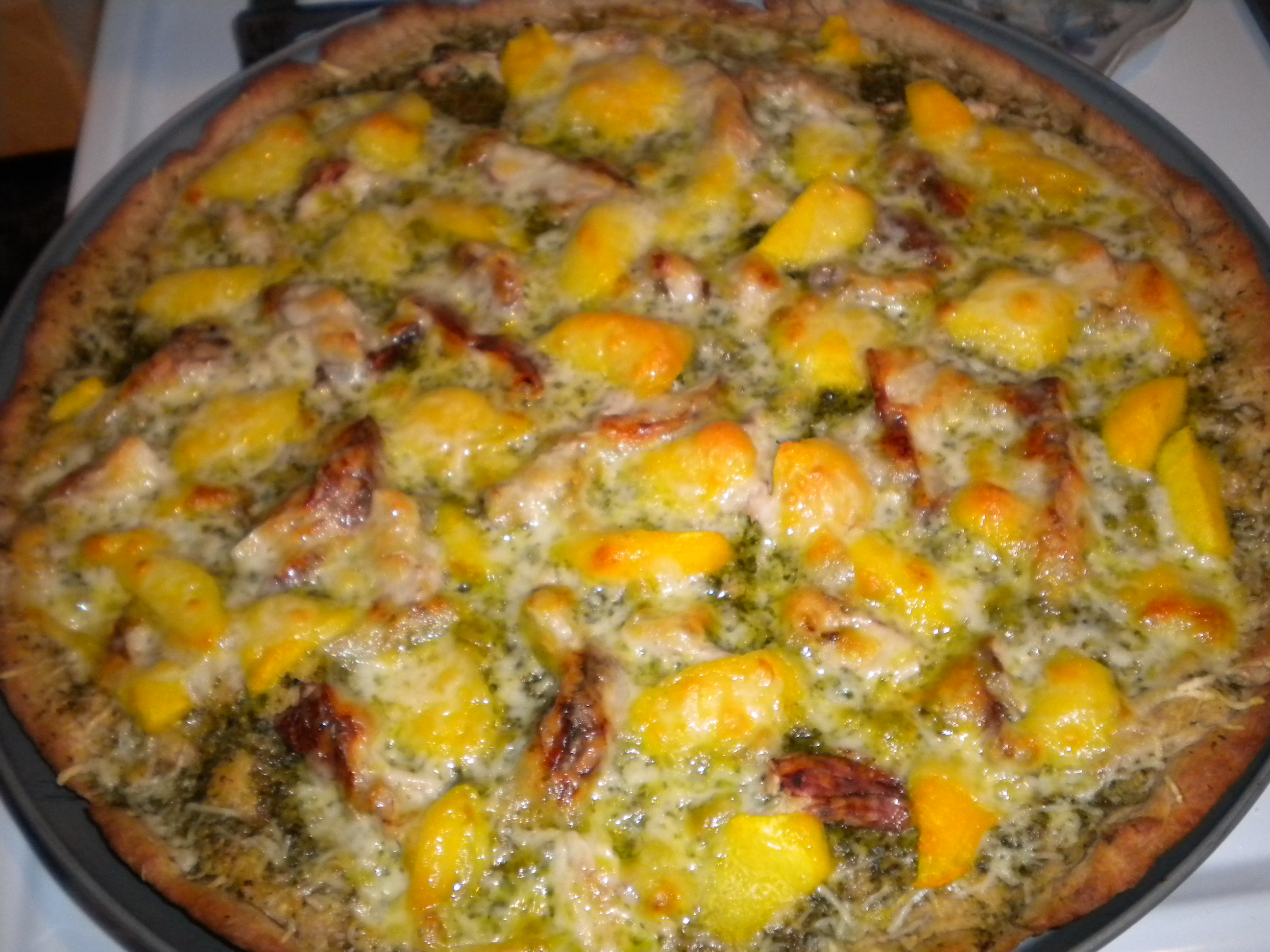 Author Notes: This pizza is inspired by one I had a few summers ago at a charming little cafe in Raleigh, NC, called Zest. I remembered loving the fact that there were peaches on the pizza and with the pesto, they provided a really nice contrast. It may sound odd, but all of the components come together really beautifully. I also thought it might be fun to try making a mint pesto for the base. It makes for a great late summer pizza. - tiptoesinthekitchen
Serves 6-8
Grilled Chicken
1/4 cup

balsamic vinegar

2 Tbsp.

Extra Virgin olive oil

1 Tbsp.

light or dark brown sugar

1 tsp.

less sodium soy sauce

pinches mixed dried herbs
Whisk all of the ingredients together in a bowl. Place the chicken breast in a shallow dish or zip lock bag, pour marinade over and make sure the chicken is fully coated. Let sit in the refrigerator to marinate for at least an hour an up to overnight.
Grill on each side over medium high heat for about 5 minutes on each side. Slice in thin pieces.
Pesto Base and Pizza Ingredients
Pesto Ingriedients:

1/2 cup

fresh mint leaves

1 1/2 cups

fresh basil leaves

1/4 cup

toasted pine nuts

1/4 cup

grated parmesan cheese

1

clove of garlic

about 2/3 cup

Extra Virgin olive oil

1/4 tsp.

fresh ground pepper

1/4 tsp.

salt
Combine basil, mint, pine nuts, parmesan, garlic, salt and pepper in a food processor and pulse until the ingredients are finely chopped. With the food processor still running, gradually add olive oil until the pesto is thick and smooth.
Assembling the Pizza Use a spatula to spread the pesto thinly and evenly over your favorite pizza dough. Sprinkle the edges of the crust with some parmesan cheese. Place chicken over pizza, followed by the peach slices (from 3-4 peeled fresh peaches) and 6 or 7 discs of provolone cheese (or about a cup shredded) Bake at 475 degrees for about 10-15 minutes.
Jump to

Comments

(

0

)